Air Picnic 2018 – 21st Tactical Air Base Swidwin (Piknik Lotniczy Świdwin)
Es gibt nicht mehr viele Air Forces, welche die SU22 als Kampfflugzeug in den eigenen Reihen haben. Glücklicherweise ist die Polnische Air Force noch eine von den wenigen, welche sie noch immer im aktiven Dienst hat. Auch dies ist einer der Gründe gewesen, warum wir uns das diesjährige Air Picnic 2018 im Kalender angestrichen haben, denn die SU22 wird leider ein immer seltener werdendes, aktives Fluggerät. Zudem ist der 21. Taktische Luftstützpunkt, welcher das 8. Eskadra Lotnictwa Taktycznego und 40. Eskadra Lotnictwa Taktycznego beheimatet, der einzige Stützpunkt, welcher die SU22 vorweisen kann. Das Air Picnic 2018 fand am 30. Juni statt und glücklicherweise war die Großwetterlage der vorherigen Wochen so konstant gut, dass sich auch an diesem Tag die Sonne mehrfach zeigte.
There are only a few Air Forces which have the SU22 as an active fighter in their fleet. The Polish Air Force (Siły Powietrzne) is one of those countries, who keeps them still active. Luckily we were able to join this year's Piknik Lotniczy in Świdwin cause as we all know that SU22 are not common anymore. Besides that the 21st Tactical Air Base in Swidwin is the only fighter squadron in the Polish Air Force, where the SU22 can be seen. The 21st Tactical Base is the home of the 8. Eskadra Lotnictwa Taktycznego and 40. Eskadra Lotnictwa Taktycznego. The Piknik Lotniczy Świdwin took place on the 30th of June. The weather conditions were quite good and stable during the past weeks and also on that day the sun appeared for several long periods.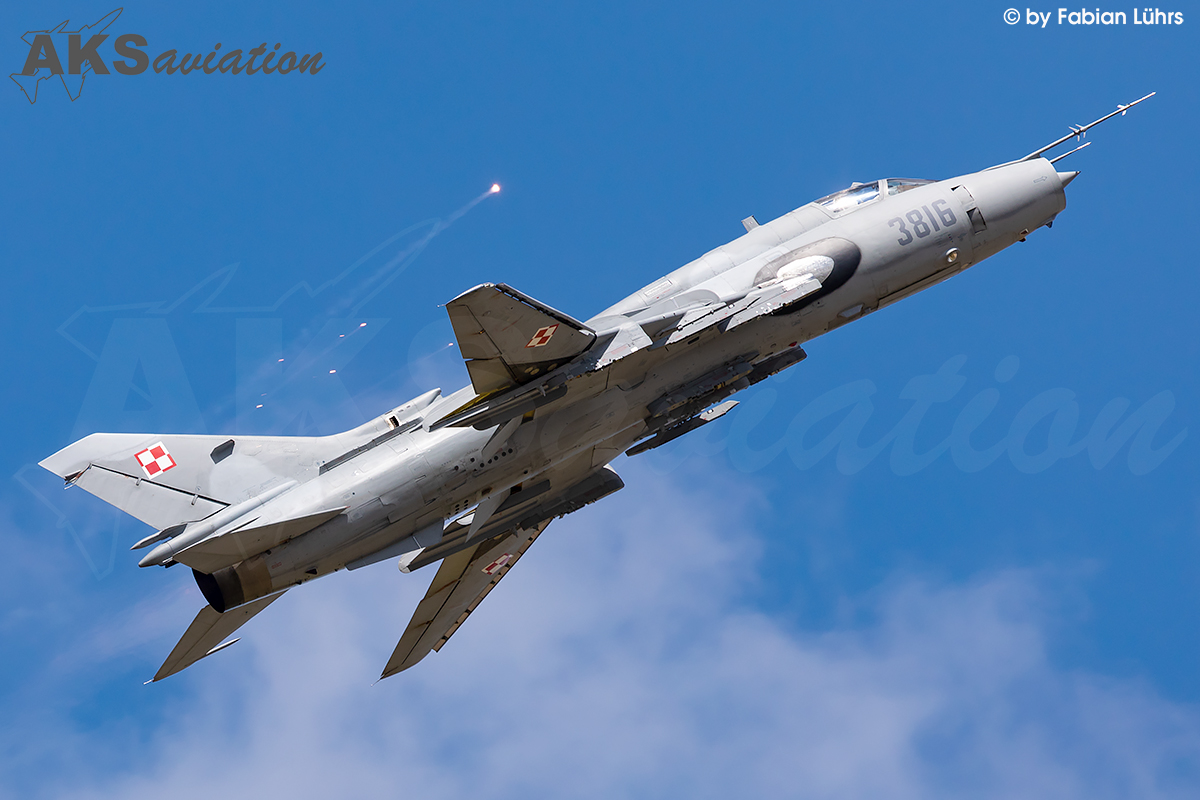 Aufgrund des 100 jährigen Bestehens der Polnischen Streitkräfte, fiel das diesjährige Air Picnic größer aus, als es in den letzten Jahren war. Alle Flugzeuge des flying displays flogen eine zweite Runde am Nachmittag, was uns die Möglichkeit gab, die erste Runde zu fotografieren und die zweite Runde zu genießen. Nur die Mig29 machte eine Ausnahme und zeigte sich dem Publikum nur am Vormittag. Folgende Flugzeuge nahmen am Flying Display Teil:
SU22, MIG29, XA-41, RWD-5, JAK18, EXTRA300, ZODIAK.
Es ist wichtig zu wissen, dass das Air Picnic Swidwin keine Air Show ist, wie wir als Luftfahrtfreunden sie kennen. Die Zielgruppe sind eher die interessierten Leute aus der Umgebung, Freunde des 21. Taktischen Luftstützpunktes und Angehörige von dort stationierten Soldaten. Dennoch war es die weite Reise wert. Es war ein kleines aber gut organisiertes und nicht überfülltes Event, was das ganze sehr angenehm machte.
Due to the 100th anniversary of Polish Air Force, the event was exceeded as against the events of the previous years. Except the Mig 29 all flying aircrafts performed a second wave of their flying display, which gave us the chance to take pictures in the first step and enjoy the show during their second run. The following aircrafts had flown a display:
SU22, MIG29, XA-41, RWD-5, JAK18, EXTRA300, ZODIAK.
It needs to be said that Piknik Lotniczy is not an Air Show as you might expect. The audience of this event are the people living in the near neighborhood, friends of the 21st Tactical Base and the families of the soldiers. Nevertheless it was a nice and not overcrowded event, which we can recommend to visit!