Frisian Flag 2018 – Friday arrivals
On Friday we've visited Leeuwarden Air Base for the arrivals of this years Frisian Flag exercise. The French, Polish and Spanish Forces received our attention.
For german see below
Today the exercise Frisian Flag started at Leeuwarden Air Base. We travelled to Frisia on friday to collect the fighters on their arrival. As we arrived at minutes to 8am we decided to choose the spotters hill on the runway 05 approach as the wind blowed from southeast. As the polish C-130E and the first two german Eurofighters arrived on runway 23 we decided to change our location and we headed to the approach area for runway 23. As we left the C-130E also left again.
As we arrived at the other side of the base it didn't take long before the polish F16s arrived from Krzesiny Air Base.
After a couple of Dutch F16s from Volkel the French Air Force arrived with four Mirage 2000D and nine Rafale B/C.
As support for the Spanish Hornets there was a C-130 expected around 12:30pm. Because of an aircraft change we received a camouflage coloured KC-130H TK.10-06/31-51.
In the afternoon the Spanish Forces arrived with seven EF-18A/B Hornets from ALA15 in Zaragoza. For the last five Hornets we decided to switch back to the spotters hill. The Polish Air Force sent another three C295M during the day as support for their F16s and MiG29s which arrived the day before. The Dutch F16s included a former Arizona based twin-seater, still with AZ markings and another one with a Tiger tank.
Here is a Log of the day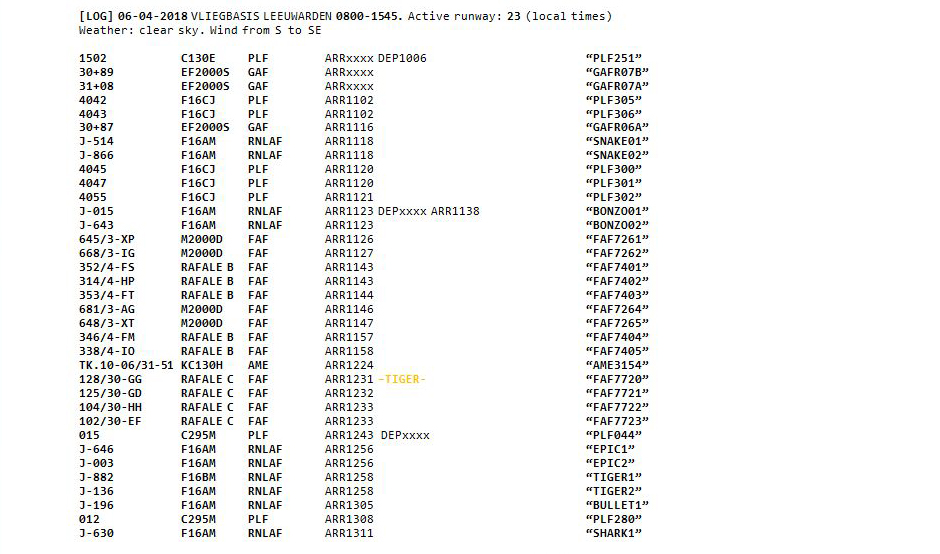 ---
Frisian Flag 2018 – Friday Arrivals
Am Freitag haben wir uns auf den Weg nach Leeuwarden gemacht, um die Arrivals des diesjährigen Frisian Flag zu verfolgen. Dabei erhielten die Franzosen, Polen und Spanier unsere Aufmerksamkeit
Heute startet an der Leeuwarden Air Base die Übung "Frisian Flag". Am Freitag fuhren wir nach Friesland um die Figher bei ihrer Ankunft einzusammeln. Als wir kurz vo 8 ankamen, entschieden wir uns für den Spotterhügel auf der Anflugseite für die Runway 05, da der Wind aus Südost bließ. Als die polnische C-130E und die ersten beiden deutschen Eurofighter auf der Runway 23 landeten, entschieden wir uns den Standort zu wechseln und machten uns auf den Weg in den Anflug 23. Als wir den Hügel verließen, verließ auch die C-130E Leeuwarden wieder.
Als wir auf der anderen Seite ankamen dauerte es nicht mehr allzu lange, bis die polnische F-16 der Basis Krzesiny in Posen eintrafen.
Nach einigen niederländischen F-16 aus Volkel kamen folgten die Fanzosen mit vier Mirage 2000D und neun Rafale B/C.
Als Support der spanischen Horents war um 12:30Uhr eine C-130 erwartet. Auf Grund eines Flugzeugwechsels erhielten wir eine camouflage lackierte KC-130H TK.10-06/31-51, anstatt der ursprünglich geplanten grauen Hercules.
Am Nachmittag trafen dann die EF-18A/B Hornets der spanischen ALA15 in Zaragoza in Leeuwarden ein. Für die letzten fünf Hornets entschieden wir uns zurück zum Hügel zu wechseln, da die Sonne inzwischen sehr weit rumwanderte. Die Polnische Luftwaffe schickte derweil im Tagesverlauf drei C295M als Support für ihre F16 und MiG29, welche am Tag zuvor schon ankamen. Die niederländischen F16 enthielten eine ehemals in Arizona stationierte F-16BM, die immernoch die AZ markings trug und eine andere F-16, die einen Tiger-Tank mitführte.
Hier ist der Log des Tages