Florida 2017 – Classics and more
In Florida gibt es einiges zu entdecken. Auch die Vielfalt älterer Flugzeuge ist durchaus beeindruckend. Wir hatten die Möglichkeit Anfang Dezember einige dieser im Großraum Miami auf den Chip zu brennen.
There are many things to discover in Florida, especially a nice variety of classic aircrafts. Last December in Miami we got the opportunity to take photographs of some of them.
Am 28. November ging es für uns mit TUI Belgien ab Brüssel ins schöne Florida. Da wir erst im Dunkeln in Miami (KMIA/MIA) ankamen, entschieden wir uns dafür an diesem Abend nur noch unsere gebuchte BnB-Unterkunft aufzusuchen und ausgeschlafen an den nächsten Morgen ranzugehen.
On November, 28 we left Brussels on a TUI Belgium flight to Florida. As we arrived in the evening, we decided to head to our BnB to get enough rest for the next morning.
Der Flughafen Miami bietet einige sehr interessante Fotopositionen. Eine davon ist die Sackgasse am El Dorado Furniture Outlet, am Ende der Runway 09. Auf dem Weg dorthin fiel uns eine DC-8, auf der Platte vor der LATAM-Halle, auf. Hierbei handelte es sich um die OB-2059-P der Peruvian Airlines. Da sich dieser Klassiker jedoch während unseres gesamten Aufenthaltes nicht vom Fleck bewegte, blieb uns nur ein Notschuss vom gegenüberliegenden Zaun.
The airport of Miami offers a couple of nice spotting locations. The dead end street next to the furniture oulet "El Dorado" at runway 09 is one of them. Heading towards this spot we noticed a DC-8 aircraft resting on the ramp next to the LATAM hangar. This was OB-2059-P of Peruvian Airlines. Unfortunately this classic bird didn't move during our stay at Miami and so we just had the chance to take an emergency shot from the opposite fence.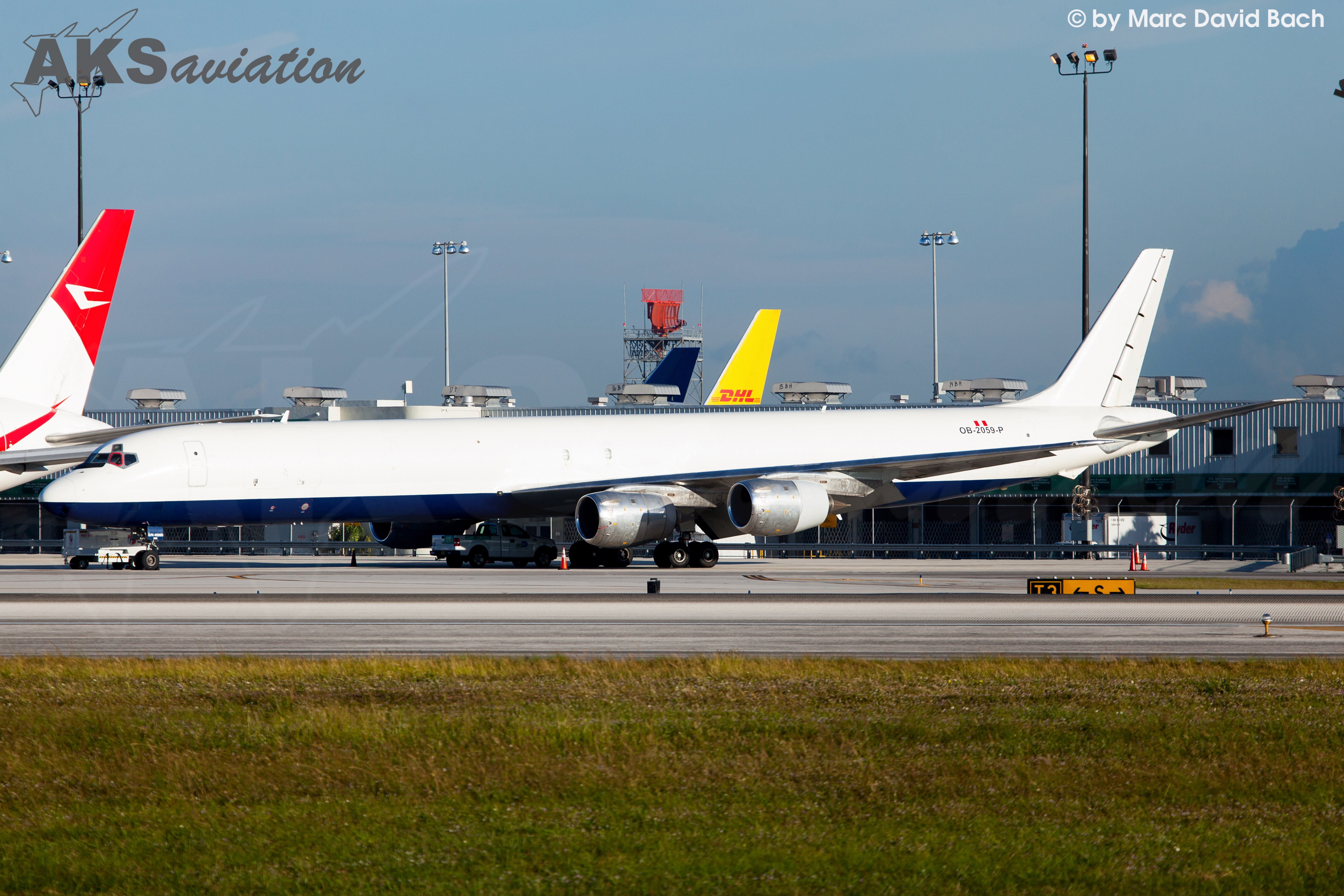 Wir verbrachten in den Tagen, die wir vor Ort hatten, einige Zeit am Furniture Outlet, um insbesondere die südamerikanischen Carrier einzusammeln. Jedoch bietet insbesondere die Nordbahn am Flughafen Miami die exklusivere Auswahl an klassischen Flugzeugen. Neben der morgentlichen DC-3 der Atlantic Air Cargo, die mit einem 7-minütigen Flug den nördlich gelegenden Flughafen Opa-locka mit dem internationalen Flughafen MIA verbindet, bedient die IFL Group mit ihren Convairs diverse Inseln in der Karibik und Länder Südamerikas. Leider waren wir hier nicht sonderlich erfolgreich, da diese von ihren Ausflügen meist erst nach Sonnenuntergang zurückkehrten.
We spent a lot of time at the "El Dorado" spot to take shots of the south american carriers. But especially the northern runway at Miami offers the more exclusive variety of classic aircrafts. In addition to the DC-3 of Atlantic Air Cargo in the morning, which performed a 7-minute flight from Opa-locka, the IFL Group, with its Convairs, connects Miami to several carribbean islands and countries in Southern America. Unluckily we weren't successful with them, because they just returned as the sun was gone.
Wesentlich erfolgreicher waren wir hingegen mit der Boeing 727 der IFL und auch mit der letzten verbliebenden Boeing 727 von Amerijet International.
We had more success with the Boeing 727 of IFL and the last remaining Boeing 727 of Amerijet International.
KMIA ist auch für seine große Anzahl an Frachtflügen bekannt. Sowohl FedEx, UPS und DHL, als auch Atlas Air, Kalitta, ABX Air und viele Weitere wickeln Ihre Flüge über das weit ausgedehnte Frachtzentrum in Miami ab.
There are several cargo flights going thru Miami. FedEx, UPS, DHL as well as Atlas Air, Kalitta, ABX Air and many more are processing at the large cargo center at Miami.
"The Holes"
Ein weiterer, sehr bekannter, Punkt, an dem sich in Miami ausgezeichnet fotografieren lässt, ist eine kleine Wiese nahe des Touchdown-Punktes der Runway 12. Hier sind Löcher in den Zaun eingesetzt, durch die sich sowohl anfliegende Flugzeuge kurz vor dem Aufsetzen, als auch zum Start rollende Flieger fotografieren lassen. Ein großartiger Service des Flughafens Miami, der auch kurz nach unserem Aufenthalt für Aufsehen sorgte. Nur wenige Tage nach unserer Abreise hatte der Flughafen die Löcher, aus weitgehend unbekanntem Grund, schließen lassen. Glücklicherweise wurden diese dann jedoch nur einige Wochen später wieder geöffnet.
One of the most popular spots at Miami International are "the holes" next to the touchdown zone at runway 12. From this spot you are able to take great photographs of landing aircrafts close to touchdown or of aircrafts taxiing for departure. A great service of the airport, that was changed just days after our departure. The airport decided to close the holes by unknown reason. Luckily just a couple of weeks later they were reopened.
Insbesondere europäische Langstreckenverbindungen sind hier häufig anzutreffen, aber auch inneramerikanische Verbindungen fliegen einem hier immer wieder vor die Linse.
Especially european long haul services appear often, but american connections can be seen as well from this spot.
Opa-locka Executive Airport (KOPF/OPF)

Im Norden von Miami gelegen, dient der Executive-Flughafen Opa-locka der Entlastung des internationalen Flughafens. Neben unzähligen Business-Jets haben sich auch einige lokale Fracht-Carrier in KOPF niedergelassen. Hier stechen insbesondere Florida Air Cargo, mit ihren DC-3s und Conquest Air Cargo, mit ihren Convairs, heraus. Conquest Air verbindet Opa-locka in erster Linie mit Nassau auf den Bahamas.
North of Miami, the executive airport of Opa-locka provides relief capacity for Miami International. Besides countless business jets a couple of local freight carrier settled down at KOPF. First of all Florida Air Cargo with its DC-3s and Conquest Air Cargo with its Convairs are operating out of Opa-locka – Conquest Air is heading to Nassau, Bahamas.
Auch die amerikanische Küstenwache hat hier seinen Standort. Leider war es uns nicht möglich mit der Coast Guard einen Basisbesuch umzusetzen. So blieb uns nur die Möglichkeit außerhalb des Zauns Fotos zu schießen.
The U.S. Coast Guard is also based there. Unfortunately we weren't able to organize a base visit with the Coast Guard, so there was just the opportunity to take photographs from outside the fence.
Da wir über den Großteil dieser Reise gutes Wetter hatten und eine ganz nette Auswahl an Flugzeugen festgehalten haben, konnten wir am 05. Dezember ziemlich zufrieden die Rückreise antreten.
We were very lucky with the weather most of the time and so we were satisfied as we headed back home on December, 5.