Naval Air Station Fallon, NV
Am 04.05.2018 hatten wir die Möglichkeit eines Basisbesuchs der Naval Air Station Fallon, Nevada. Nachdem wir auf die Basis eskortiert wurden, konnten wir uns auf dem Vorfeld der NAS Fallon nahezu beliebig austoben.
On May, 4th we had the opportunity to visit Naval Air Station Fallon in Nevada. After being escorted onto the base, we were able to enter the ramp where we had the possibility to photograph the aircrafts like we want.
In Absprache mit dem zuständigen Büro für Öffentlichkeitsarbeit der NAS Fallon konnten wir, für den Zeitraum unseres Aufenthalts in den USA, für den 4. Mai einen Basisbesuch, und die dazugehörende Fotoerlaubnis, ausmachen. In der Kommunikation vorab wurden wir für 08:30 Uhr eingeladen, und sollten uns am Passbüro einfinden. Dort wurden wir sehr freundlich in Empfang genommen und eingewiesen. Dabei wurde uns auch erklärt was wir fotografieren dürfen und was nicht.
In coordination with the Public Affairs Office from NAS Fallon we were able to organize a base visit to Naval Air Station Fallon for May, 4th. We were invited to be at the passes and permits office at 8.30am. As we arrived we were welcome very friendly and received an introduction what we are allowed to take photographs of.
Währenddessen schepperten im Hintergrund schon einige Jets in den teilweise blauen, teilweise aber auch schleierbewölkten Himmel über Fallon. Durch einen Wartungshangar gelangten wir dann auf die Platte und stellten zu unserer Verwunderung fest: Voll bis unters Dach! Vor uns fanden sich diverse Variationen von Kampfjets, einige standen mit offenem Cockpit dort, andere waren geschlossen, einige rollten zur Startbahn, wiederum andere hatten diese schon lange erreicht und schossen die Bahn entlang. Neben der Möglichkeit uns am Taxiway zu positionieren, wo jedoch die Jets nur im Gegenlicht abzulichten waren, hatten wir die Chance uns auf der Rampe frei zu bewegen, durch die Reihen der Jets zu laufen oder diese beim rausrollen von der Parkposition zu erwischen.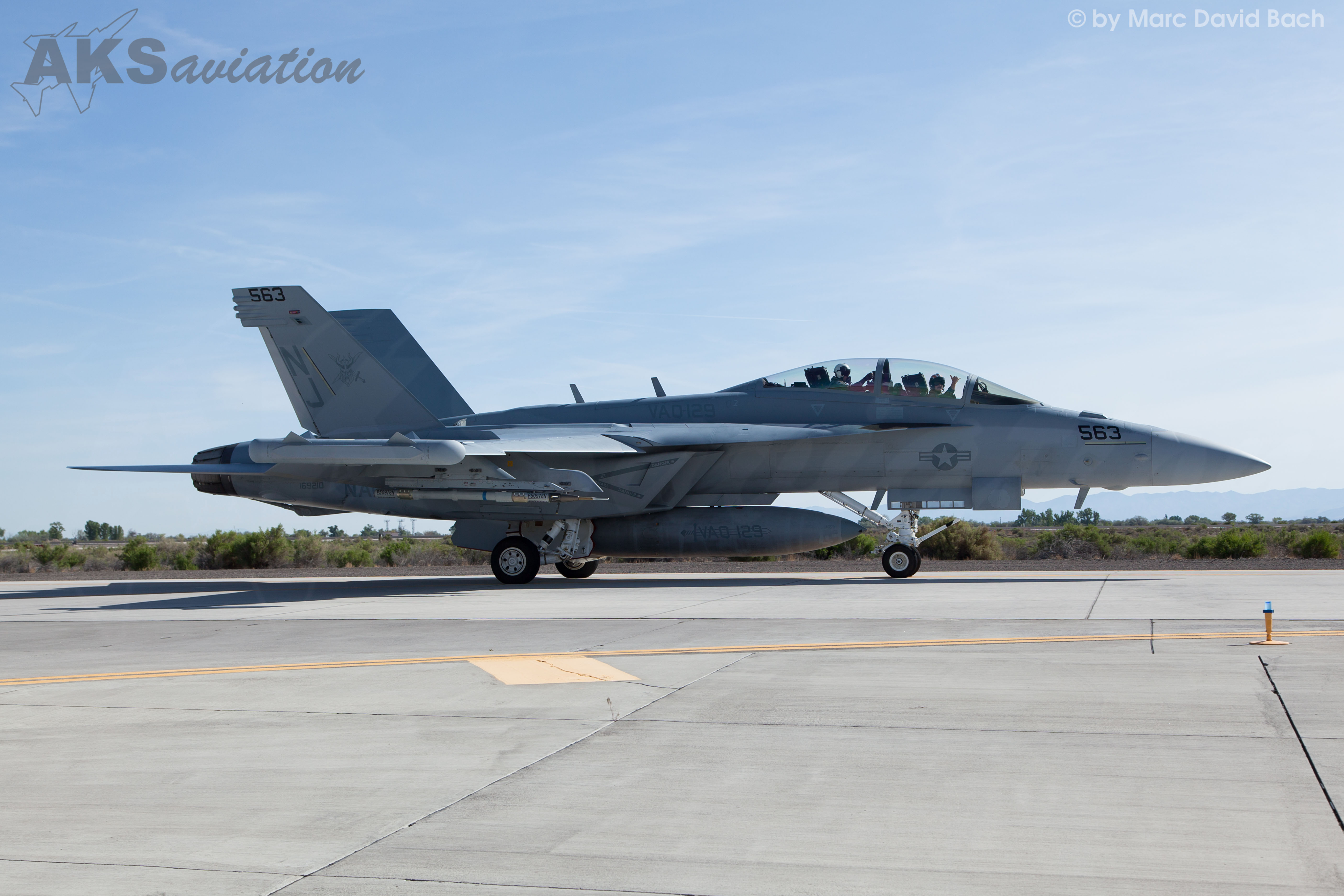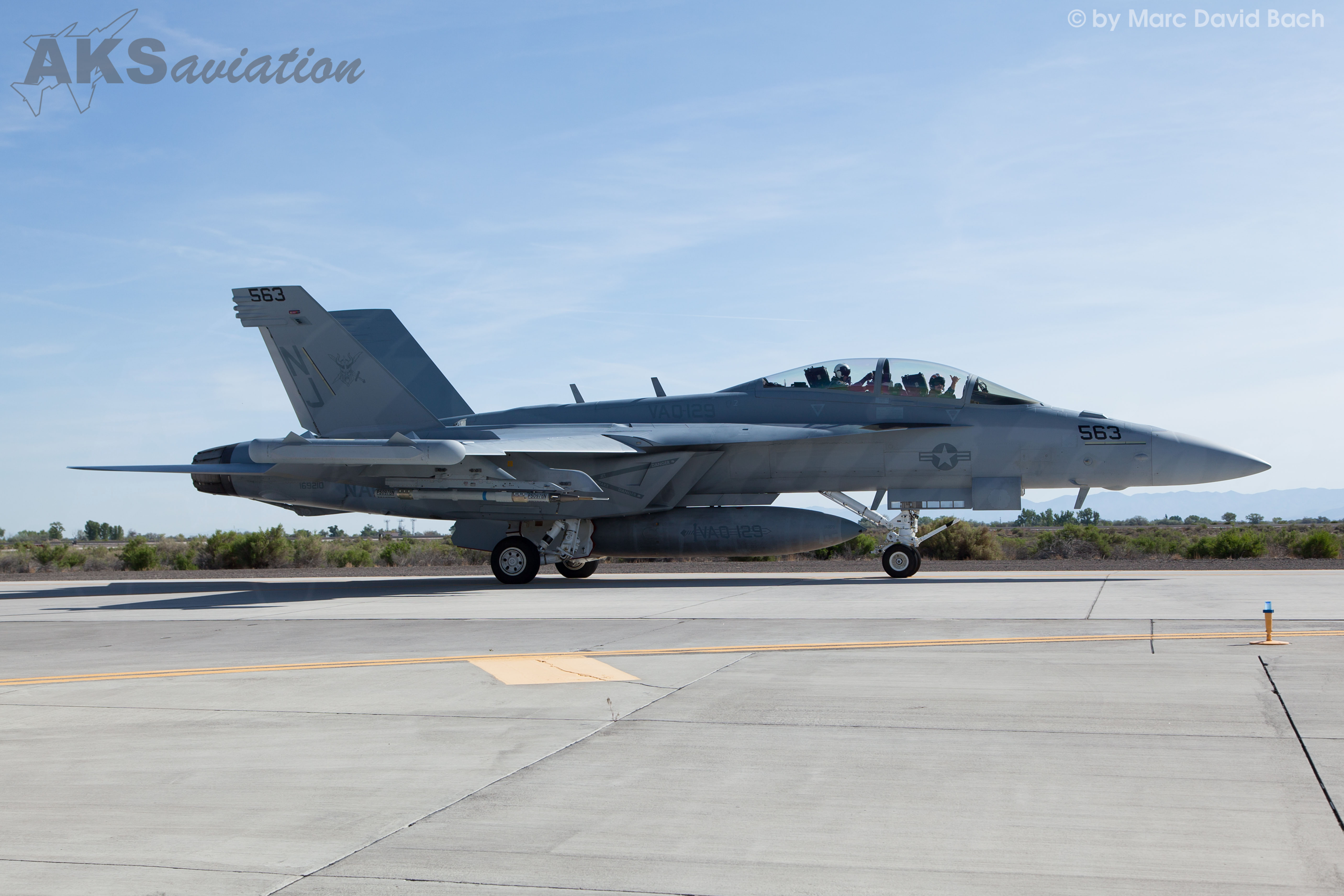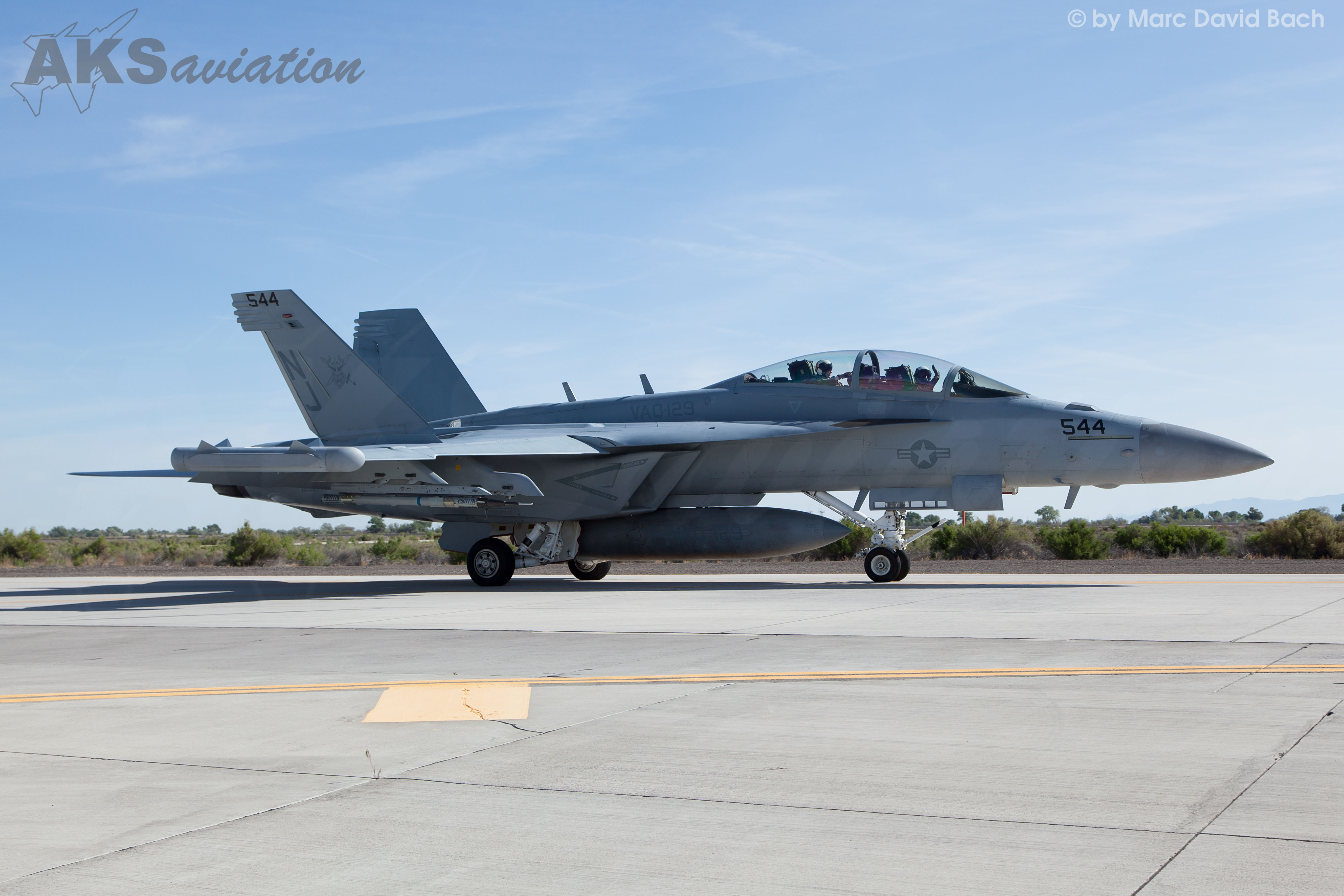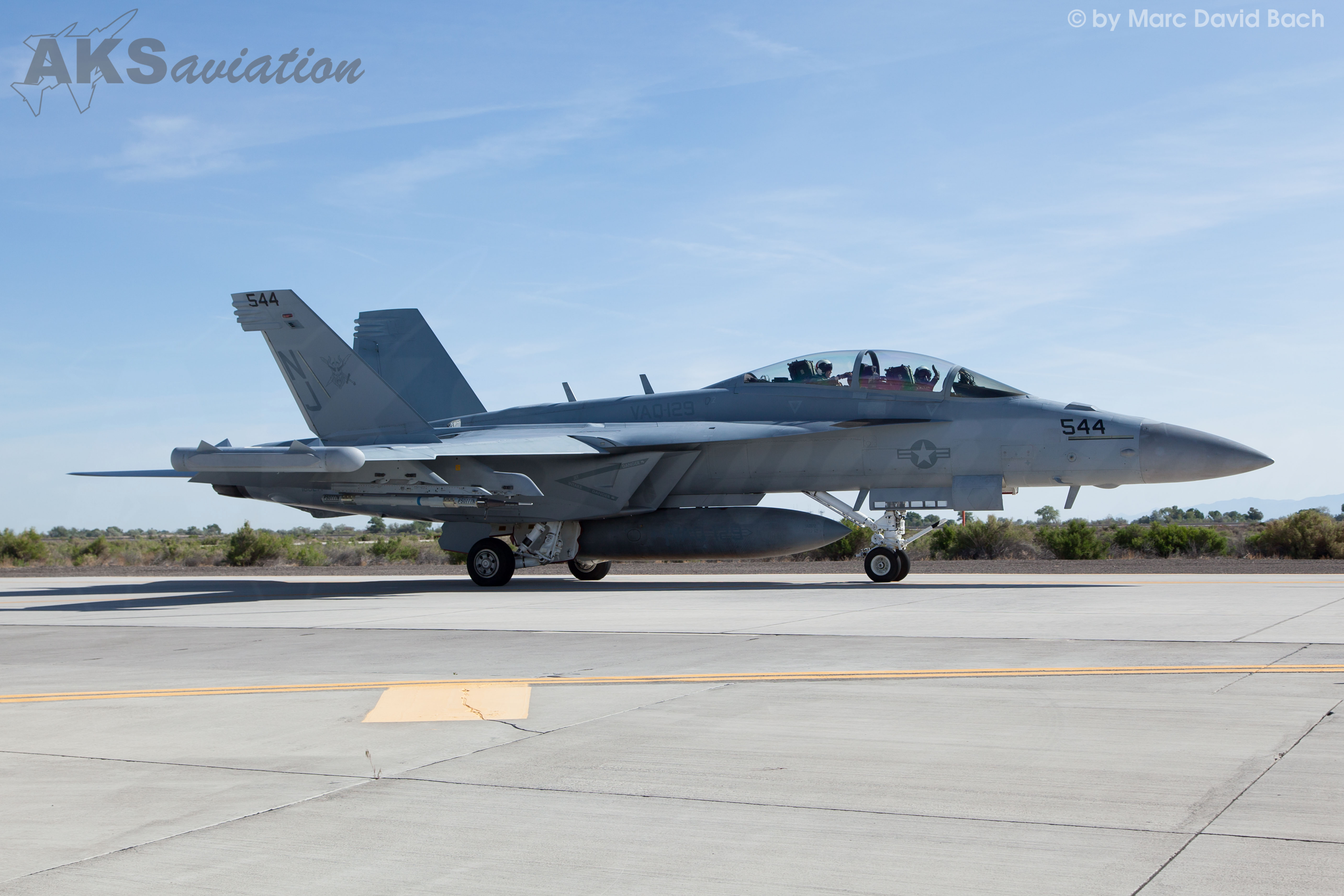 Meanwhile some jets were thundering into the partly blue, and partly cloudy sky overhead of Fallon. Through a maintenance hangar we entered the ramp and noticed: Full house! We saw a great variety of fighters in front of us. Some of them were parked with an open cockpit, others were closed, several were taxiing to the runway for departures, others were firing down the runway. We had the opportunity to position ourselves next to the taxiway, where the fighters had opposite light, to walk all over the ramp and through the lines of jets or taking photographs while the jets were taxiing out of there parking spots.
Die NAS Fallon beheimatet einige Einheiten der US Navy, die sich aus F18C/D/E/F, F16A/B und F5 zusammensetzen. Außerdem findet man vor Ort neben einigen Seahawk-Helicoptern auch manch E-2C/D. Leider war zuletzt genannte auf der Position nicht brauchbar zu fotografieren, da ein dicker Schlauch davorlag. Wir möchten euch die Fotos dieses Basisbesuchs, nach Einheiten sortiert, zeigen.
At NAS Fallon several units from the US Navy are based, flying F18C/D/E/F, some F16A/B and F5s. In addition there are some Seahawk helicopters and some E-2s. Unfortunately the E-2C on ramp 5 wasn't placed in a good position to take a photograph, because a hose was lying in front of it. We'd like to show you the photographs of this base visit sorted by their units.

We started our shooting at ramp 5 with the F18s from NAWDC.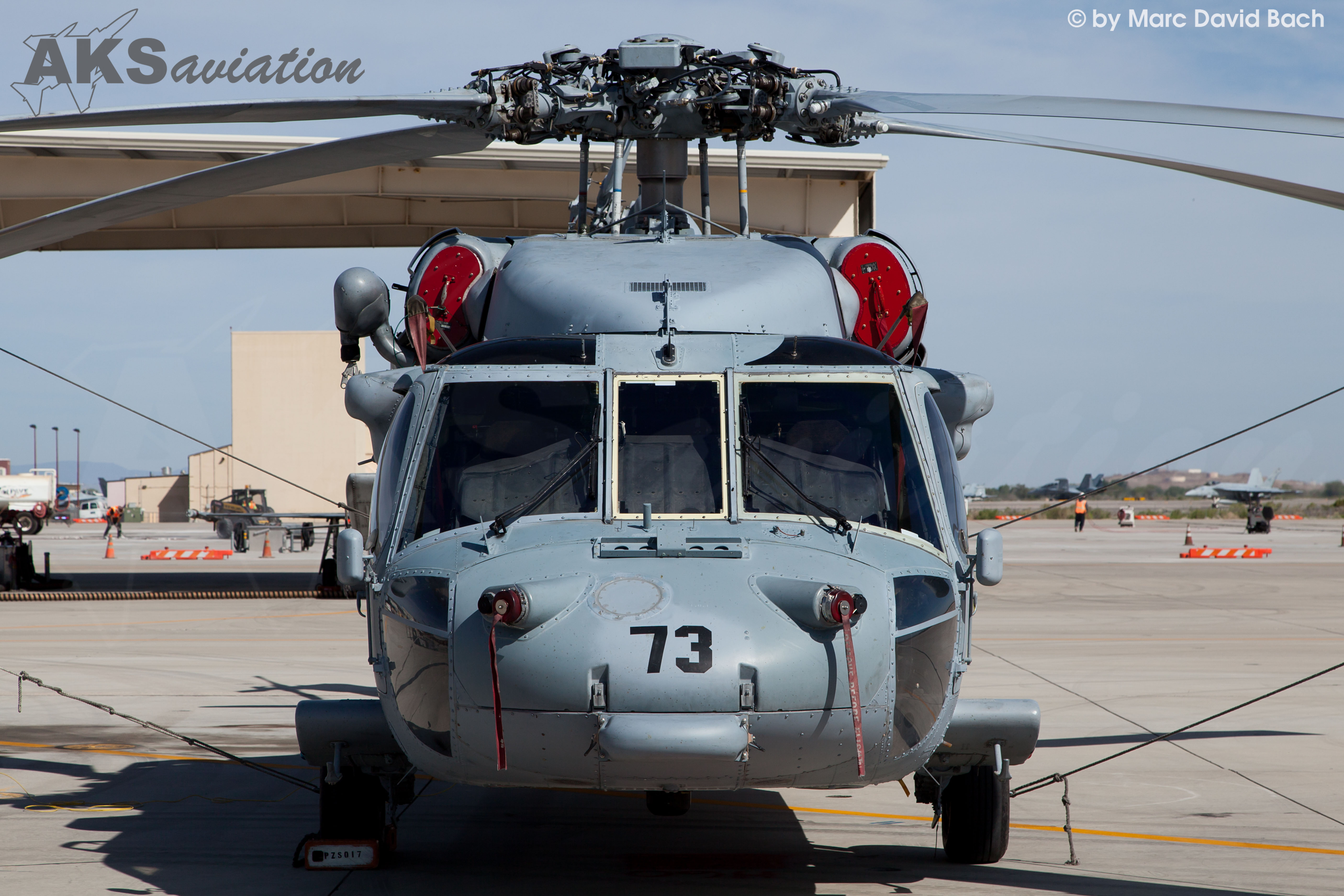 Ein MH60S Seahawk Helikopter vor einem Sonnendach auf der Rampe der NAS Fallon.
A MH-60S Seahawk in front of a sun shelter at the ramp of NAS Fallon.
While walking through the lines other Super Hornets and Growlers were taxiing for departure. In the sky others overflew the runway in 2-ship formations, before turning in for landing. On the ramp it was getting warmer. We had already seen more as we had expected. As we entered the next ramp our first look was on a group of Hornets from the U.S. Marine Corps. After this there was row after row full of fighters. In front of us a couple of Hornets started up their engines.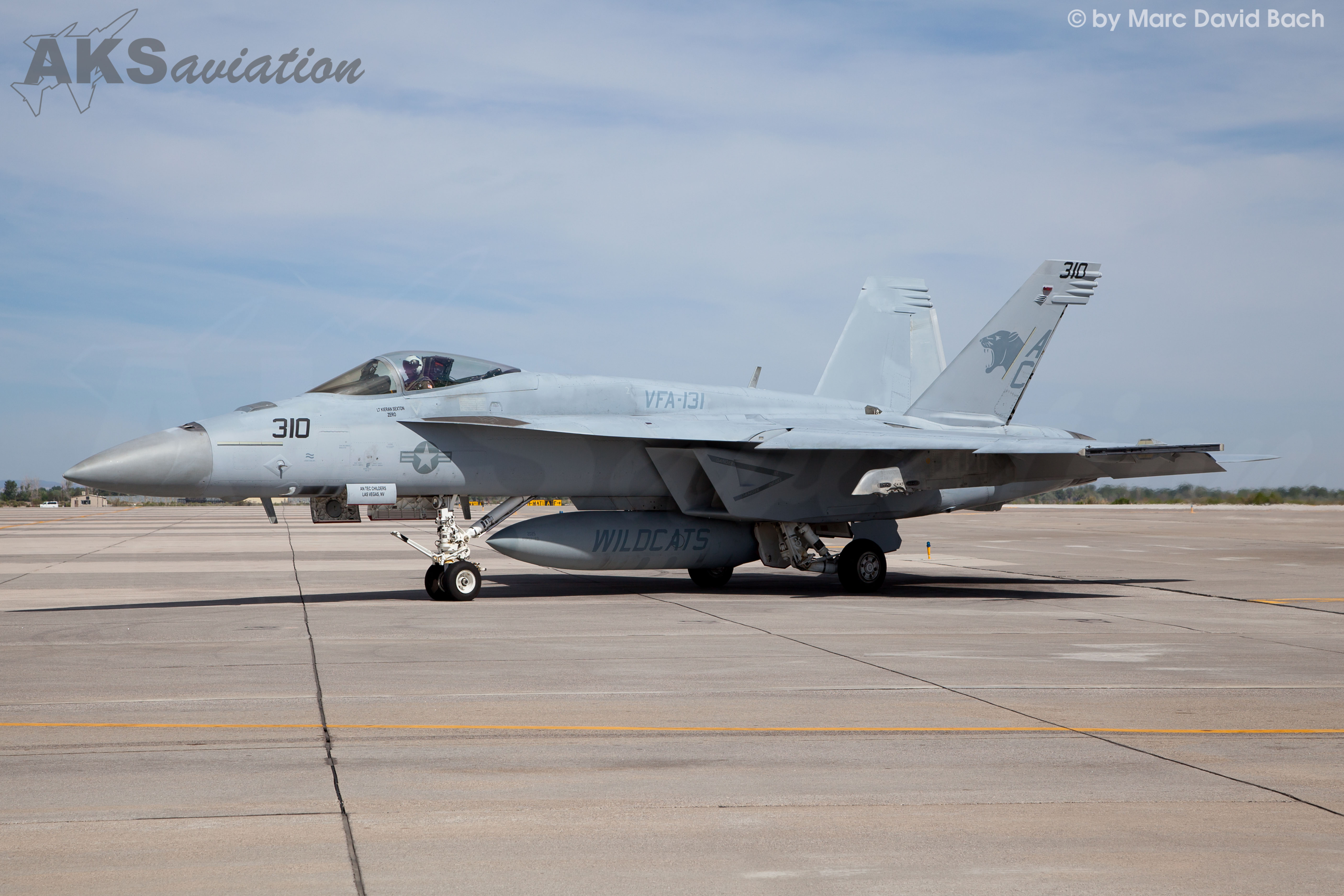 Als eine der beiden Hornets der VFA-131 'Wildcats' uns passiert hatte, während die Zweite ihre Triebwerke wieder ausschaltete, setzten wir unseren Weg fort und stellten kurze Zeit später fest, wie alle vier F-35C der VFA-101 'Grim Reapers', die ein Stück weiter hinten auf der Rampe standen, das Triebwerk anlaufen ließen. Wir positionierten uns, wo wir die beste Fotomöglichkeit vermuteten. Dies gelang uns.
As one of two Hornets from VFA-131 'Wildcats' has passed us, while the second set off their engines again, we walked on and a while later we noticed all four F-35Cs from VFA-101 'Grim Reapers', which were parked further on up the ramp, started up their engine. We positioned ourselves where we expected the best possibility for our photographs. This worked out.


Die F-35C der U.S. Navy ist, im Vergleich zur F-35A-Variante der U.S. Air Force, um 15 Zentimeter höher und hat eine Spannweite die, mit 13,11 Metern, um 2,44 Meter größer ist. In der Länge unterscheiden die beiden Versionen sich nicht. Die F-35C ist die Flugzeugträgerversion. Außerdem besitzt die C-Variante das robustere Fahrwerk, wie es auch beispielsweise bei der F-18, EA-18 oder auch T-45 verbaut wird.
The F-35C from U.S. Navy is in comparision to the F-35A from the Air Force 15 centimeters taller and its wingspan is at 13,11 meters. This is 2,44 meters larger as the wings of the A-model. Both versions are the same in length. Die F-35C is developed for carrier usage. Furthermore the C-model has the more robust gear, like it is installed par example on F-18, EA-18 or T-45.
Als die F-35 zu ihrem Flug aufgebrochen waren, widmeten wir uns wieder den Jets, die auf der Rampe verblieben waren. Dies waren noch mehr als genug. Da es eine große Anzahl an Fliegern war und wir zeitlich auch etwas begrenzt waren und es auch vorab thematisierte Einschränkungen gab, konnten wir uns nicht jedem Einzelnen dieser ausgiebig widmen. An der Stelle ging es mit den Hornissen und Growler der VX-9 'Vampires', welche auf der Naval Air Weapons Station China Lake stationiert sind, weiter, bevor wir uns den EA-18Gs der VAQ-129 zuwanden. Zu unserem Glück hatten die 'Vampires' ihre sonderlackierte CAG-Maschine dabei. Zwei Weitere trugen sonderlackierte Leitwerke in dezenter Farbe.
As all four F-35s left for their flight we gave our attention to the jets on the ramp again. Because it was a large amount of jets and our time was a little bit limited we weren't able to dedicate our time extensive to any aircraft. Furthermore there were the earlier communicated restictions for sure. We continued with the Hornets and Growlers from VX-9 'Vampires' based at Naval Air Weapons Station China Lake, before heading for the EA-18Gs from VAQ-129. We were lucky with the CAG bird from this unit. Two others had special tails in discreet colours.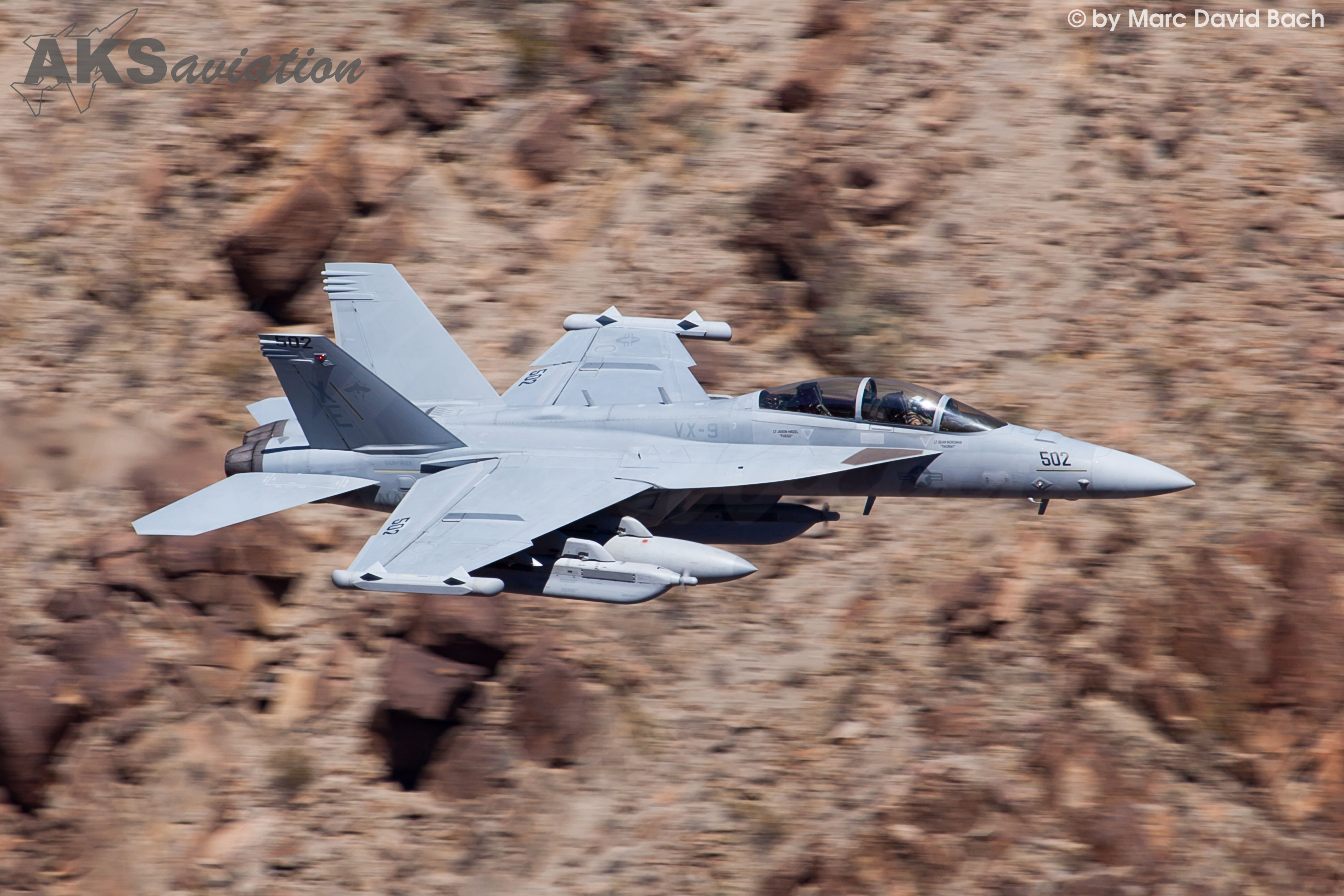 Zwei EA-18G Growler der VX-9 waren am Vortag im Rainbow Canyon zugegen. Der Bericht zu unserem Besuch im Canyon ist hier auf unserer Webseite zu sehen.
Two EA-18G Growlers from VX-9 were present in Rainbow Canyon the day before. The report about our day at the Canyon is available at our website here.
Die VAQ-129, stationiert auf der Naval Air Station Whidbey Island, war mit einem Großaufgebot an EA-18G vor Ort und hatte unter anderem auch die 100. Boeing EA-18G dabei. Leider waren einige der Growler etwas ungünstig positioniert, sodass wir leider nicht alle fotografieren konnten.
The VAQ-129, based of the Naval Air Station Whidbey Island, was there with a large amount of EA-18G, including the 100th Boeing EA-18G built. Unfortunately several Growlers were positioned disadvantageous and we weren't able to capture all of them.
Meanwhile we had walked across ramps 1 to 5. The next aircrafts we photographed were the Super Hornets from VFA-154 'Black Knights'. With four grey fighters we also found the CAG bird of this unit, which is based at Naval Air Sation Lemoore and assigned to CAW-11. They call the USS Nimitz their home, too.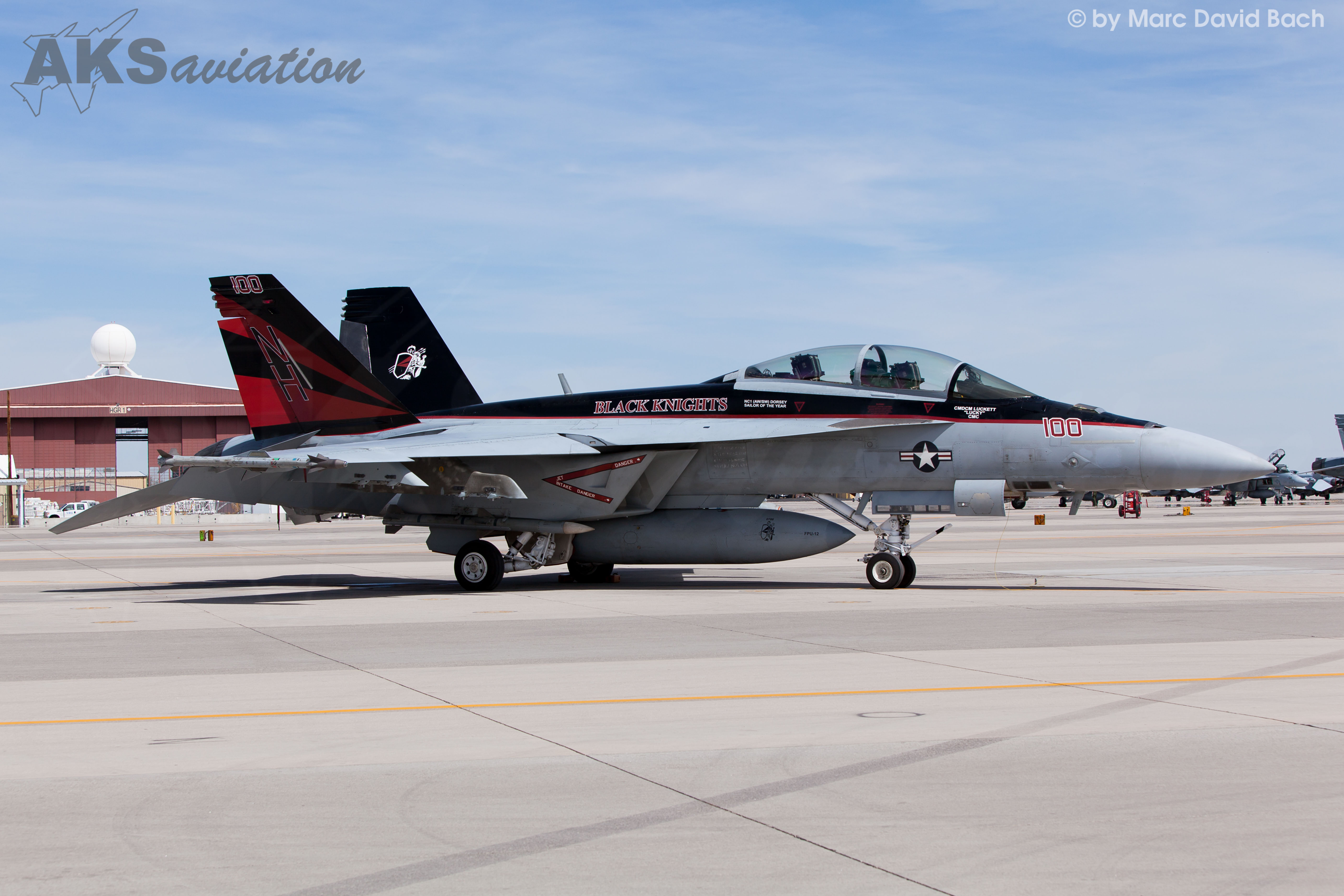 CAG bird – Diese Flieger sind meist bunt lackiert und kennzeichnen ein dem kommandierenden Offizier (Commander Air Group, CAG) formal zugeordnetes Flugzeug. Hier ist der CAG bird des VFA-154 'Black Knights' gezeigt. Neben der auffälligen Lackierung endet der Modex (eine fortlaufende Nummer innerhalb einer Einheit) auf "00" – in diesem Fall NH-100.
The CAG bird – These aircrafts are mostly colourful and shows a aircraft which is assigned to the commanding officer (Commander Air Group, CAG). The displayed CAG bird is part of the VFA-154 'Black Knights'. The Modex (a continuing number inside a squadron) of the CAG bird ends with a Double-0 – this one is NH-100.
Am Ende blieben uns noch vier Minuten für ein schnelles "shoot'n'run" durch die Reihe der F-16 der US Navy. Dabei konnten wir noch sechs F-16 in Camouflage-Lackierung erwischen. Dabei merkte man auch, wie schnell doch drei Stunden vergehen können. Anschließend wurden wir zum Haupteingang eskortiert und damit ging unser Basisbesuch zu Ende. An dieser Stelle wollen wir uns nochmal ganz herzlich bei der NAS Fallon und dem Leiter des Büros für Öffentlichkeitsarbeit bedanken.
On our way back we had four minutes left to take a quick shoot and run through the line with the Navy F-16s in camouflage colours. At this point we realized how fast three hours were gone. Afterwards we were escorted to the main gate und our base visit came to an end. At this point we would like to give another big "Thank you" to the NAS Fallon and the head of the public affairs office.