Rainbow Canyon, JEDI Transition, NV
Während unseres diesjährigen USA-Trips führte und bereits der vierte Tag an den weltweit berühmten Rainbow Canyon. Morgens um 6 kamen wir am Aussichtspunkt "Father Crowley" an, ohne zu ahnen, was uns an diesem Tag erwarten sollte.
The fourth day of our this years US-trip led us to the worldwide legendary Rainbow Canyon. As we arrived at 6am at Father Crowley Overlook we hadn't known what would happen there at this day.
Nach unserer sehr frühen Ankunft brachen wir um 7 Uhr auf und folgten dem Schotterweg zur Mitte der Schlucht. Dort mussten wir dann allerdings mehr als zwei Stunden warten, bis sich der erste Jet in den Canyon verirrte. Die ersten beiden Hornets fielen dann von einer ungewöhnlichen Seite in die Schlucht, dadurch waren sie an unserer Position schön von der Oberseite zu fotografieren.
At 7am we left the parking lot and walked the small path to the middle of the canyon. At our spot we need to wait more than two hours for the first jet passing. These two Hornets fell into the canyon from an unusual site, because of that they were topsite at our spot.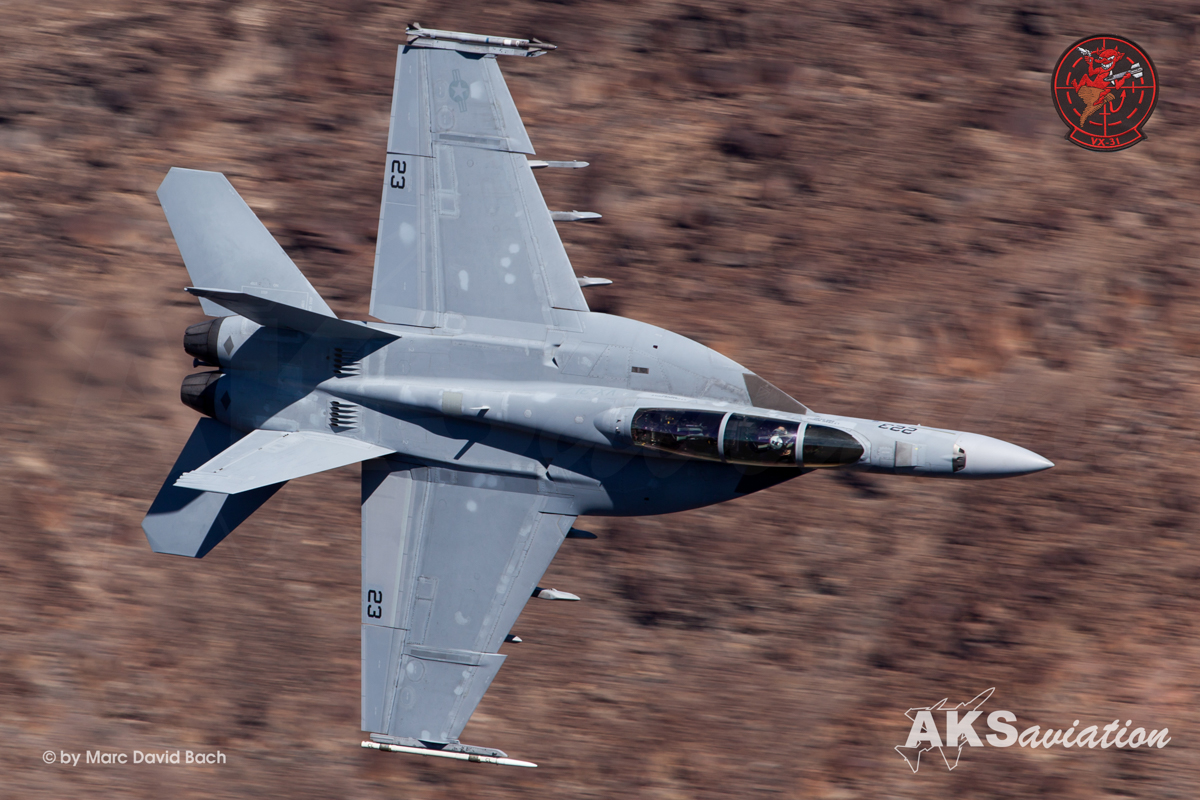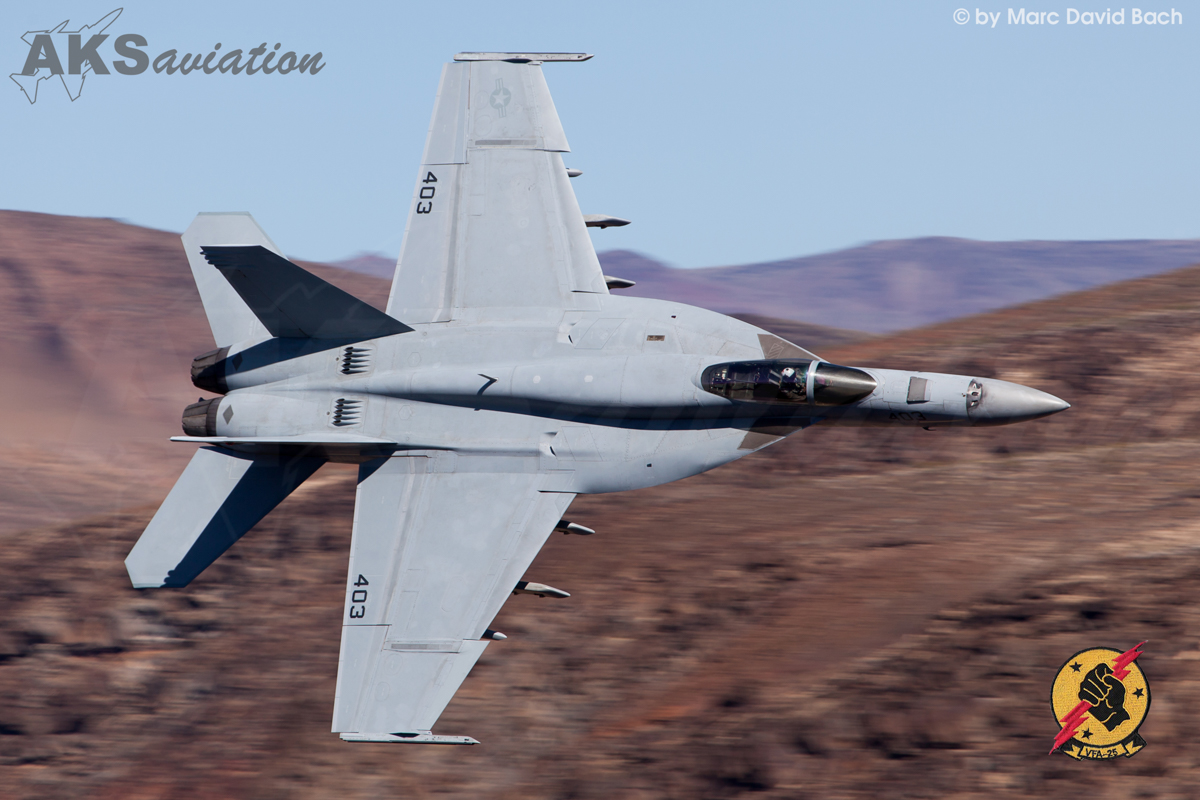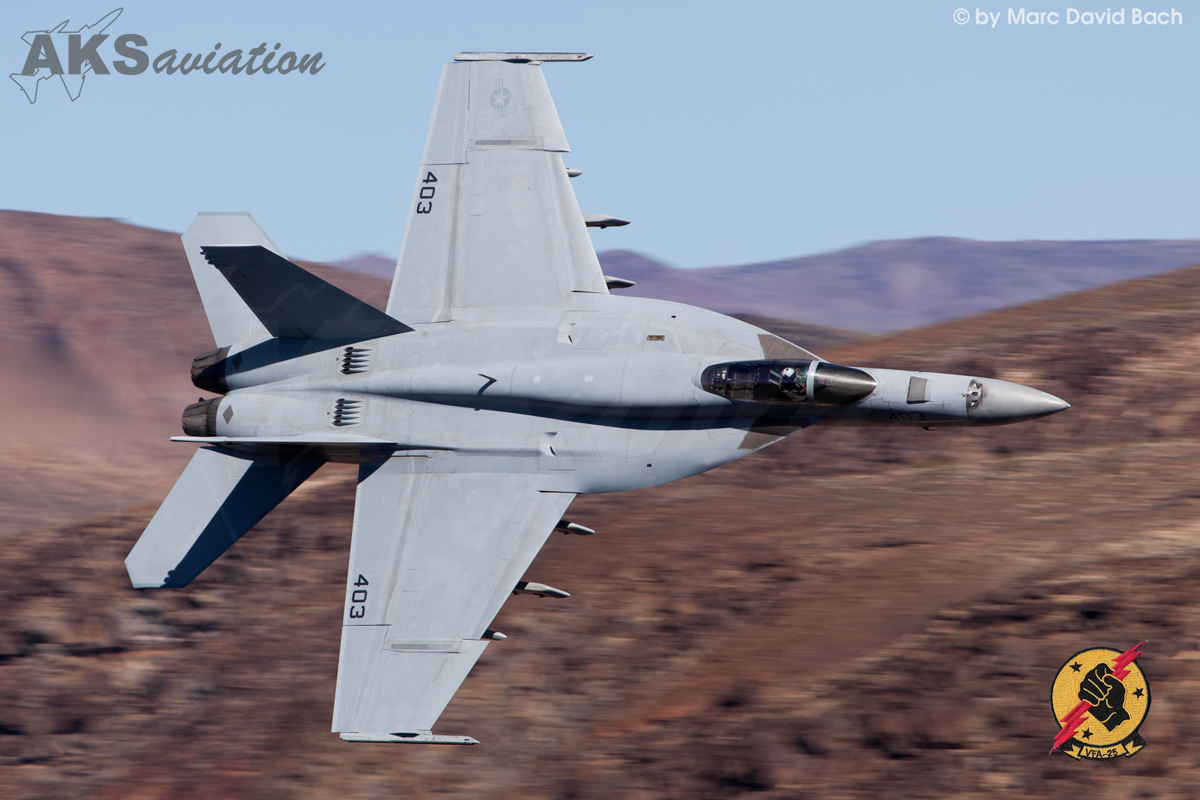 Nachdem eine weitere Hornet vorbeigschossen war, kamen dann zwei deutsche Eurofighter in die Transition. An dem Punkt müssen wir einfach mal erwähnen, dass wir tausende Kilometer/Meilen gereist sind und zwei deutsche EF-2000 vom Fliegerhorst Nörvenich zu sehen bekommen haben, welcher nur rund 50 Kilometer von zu Hause entfernt ist.
As another Hornet passed the Canyon two german Eurofighters came into the transition. At this point we need to say we travelled thousands of miles and saw two EF-2000 from Norvenich Air Base which is located just about 30 miles away from our home.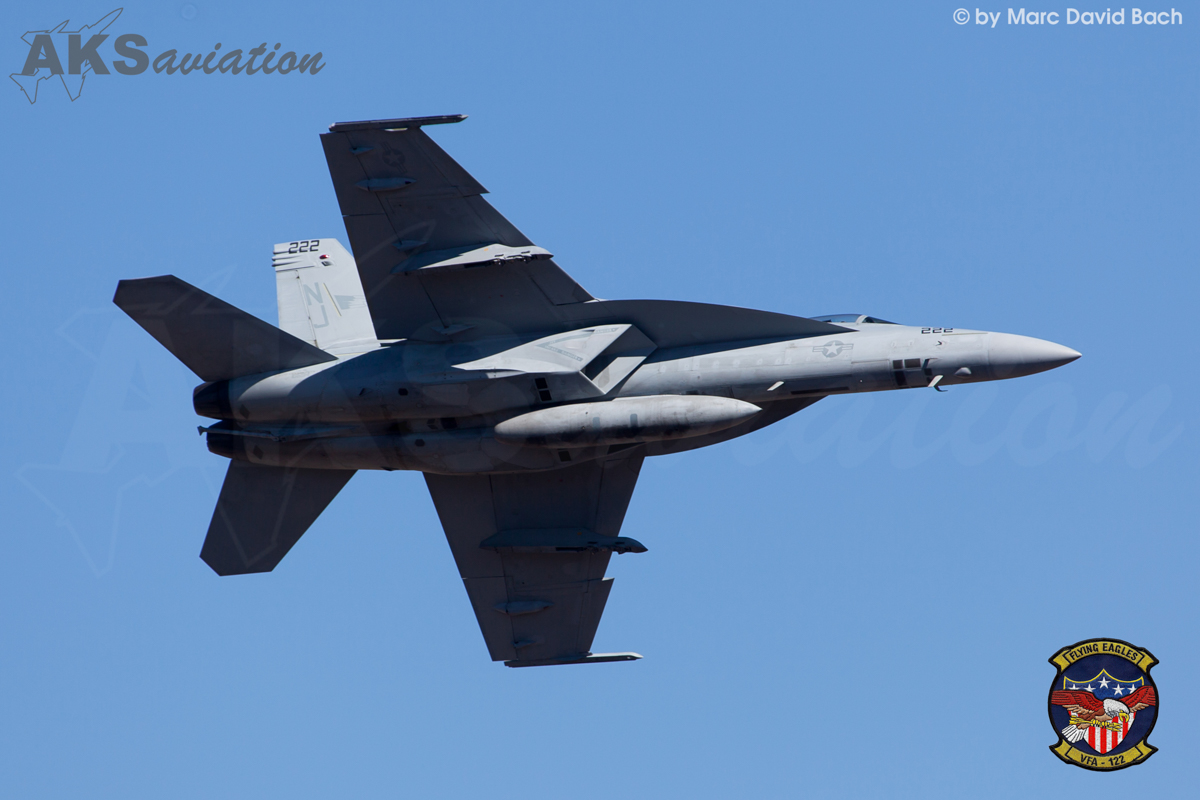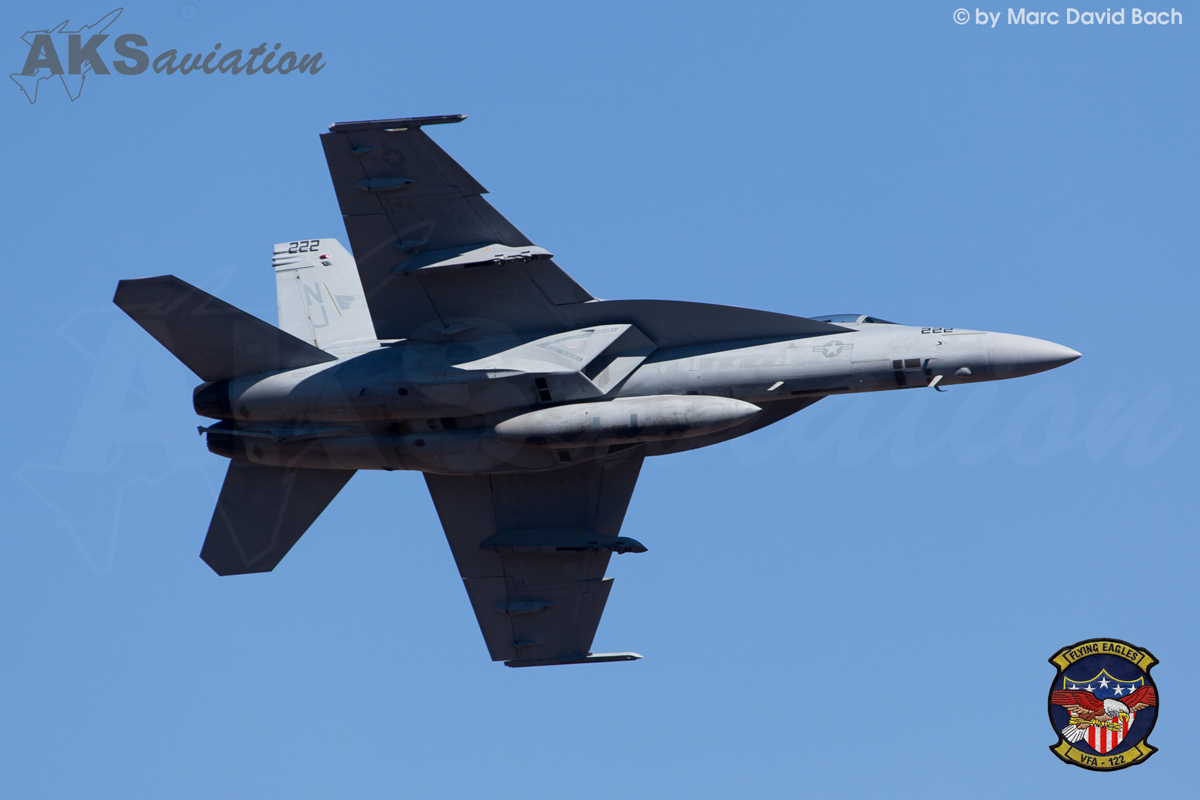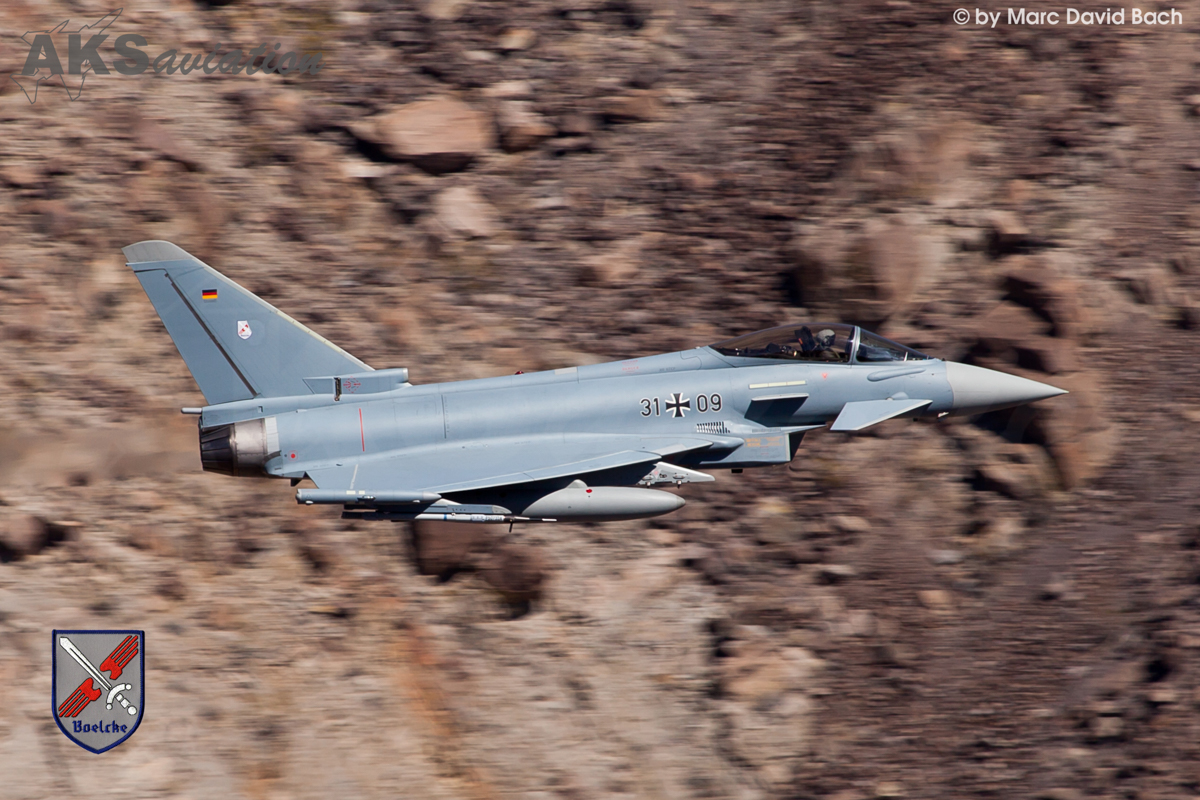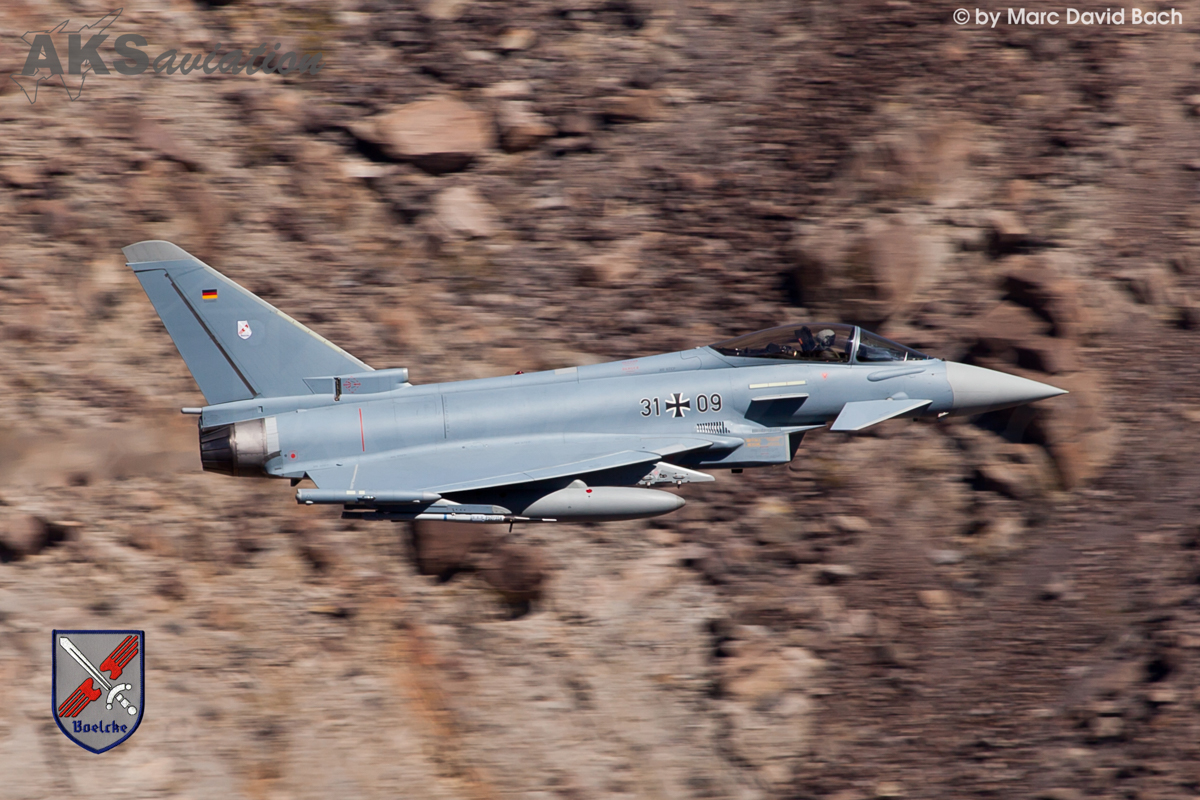 In unserem Beitrag zur Naval Air Station in Fallon hatten wir die beiden Growler, die dann folgten, bereits erwähnt.
In our article about Naval Air Station Fallon we announced these two following Growlers.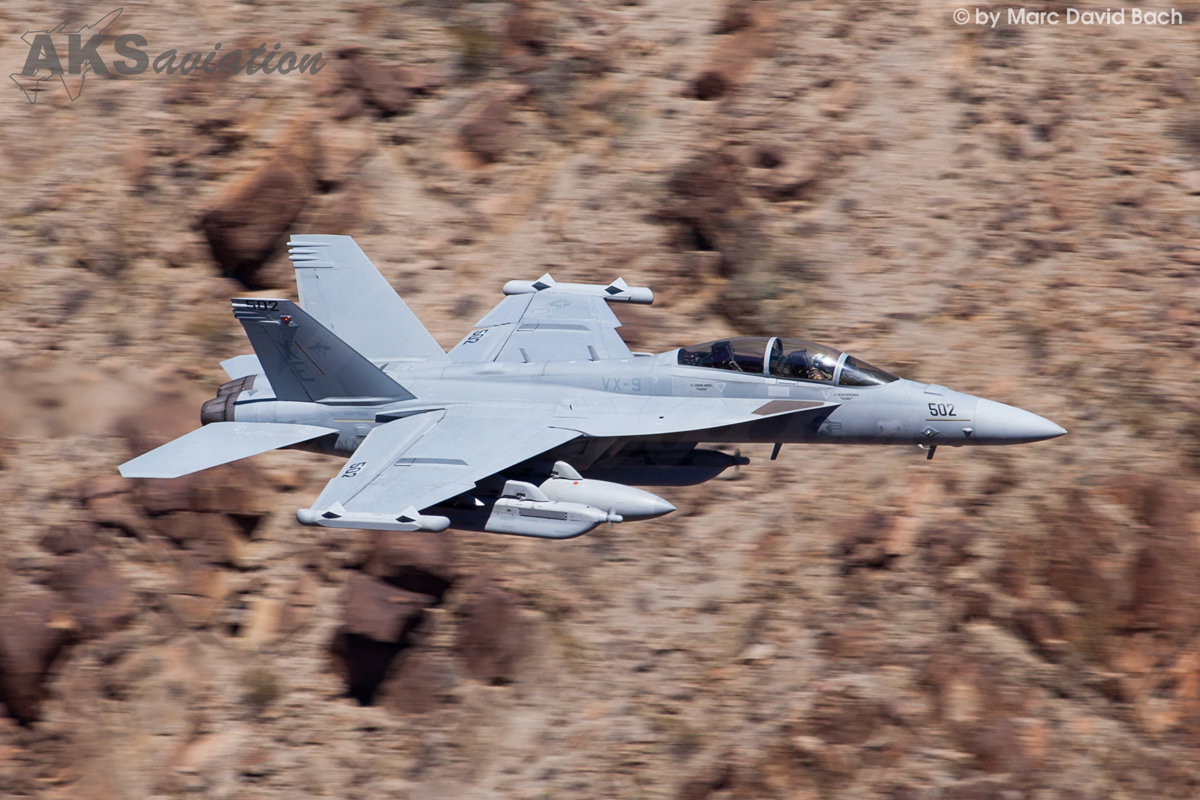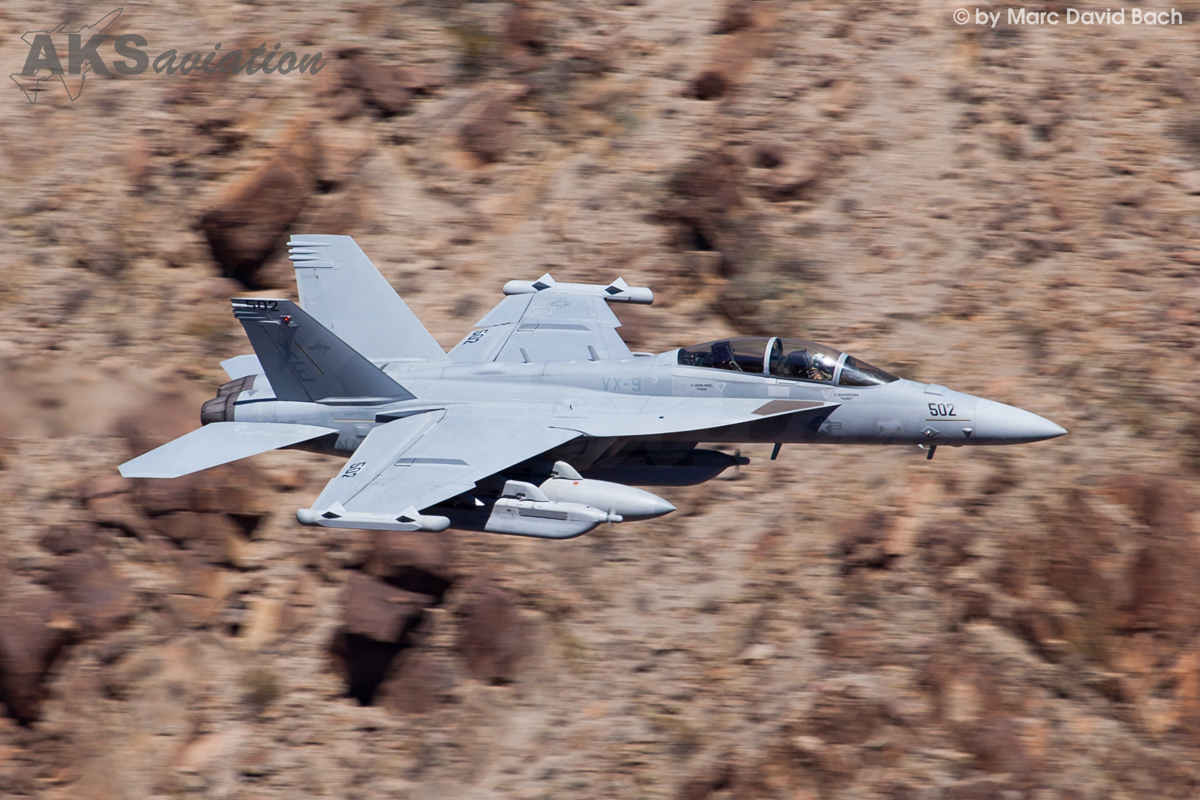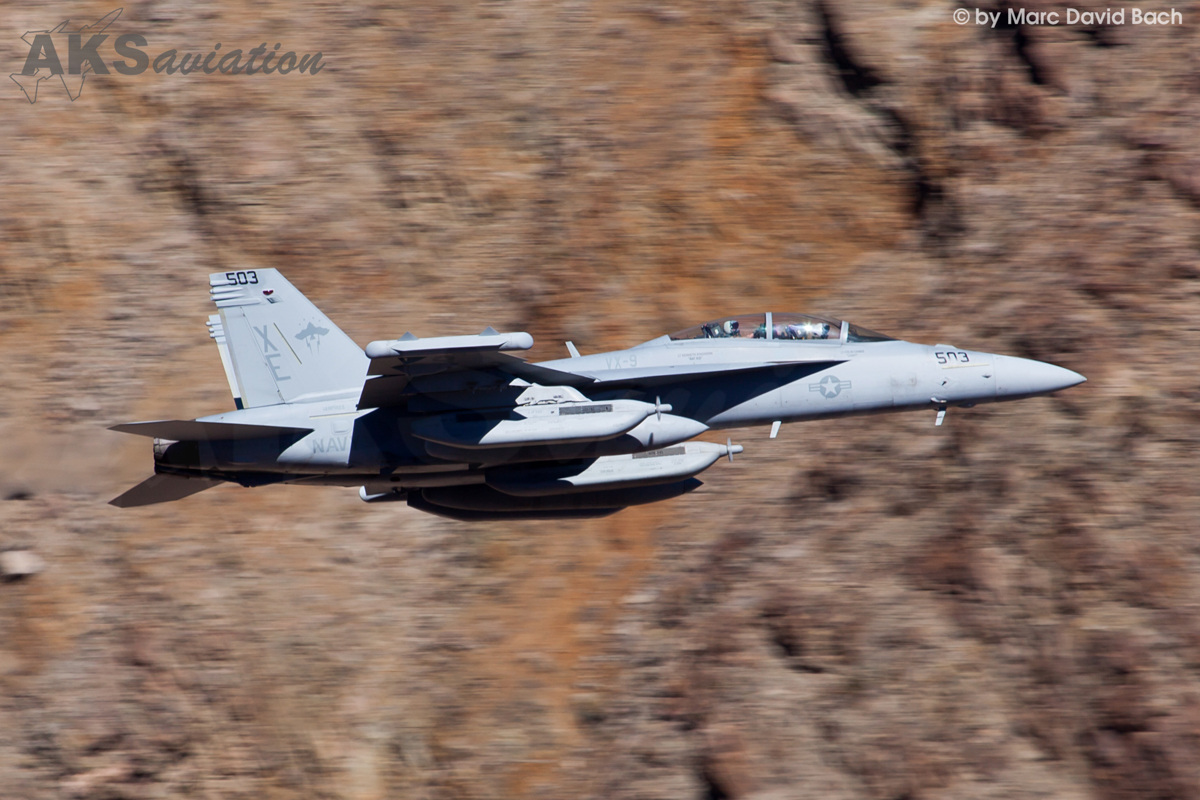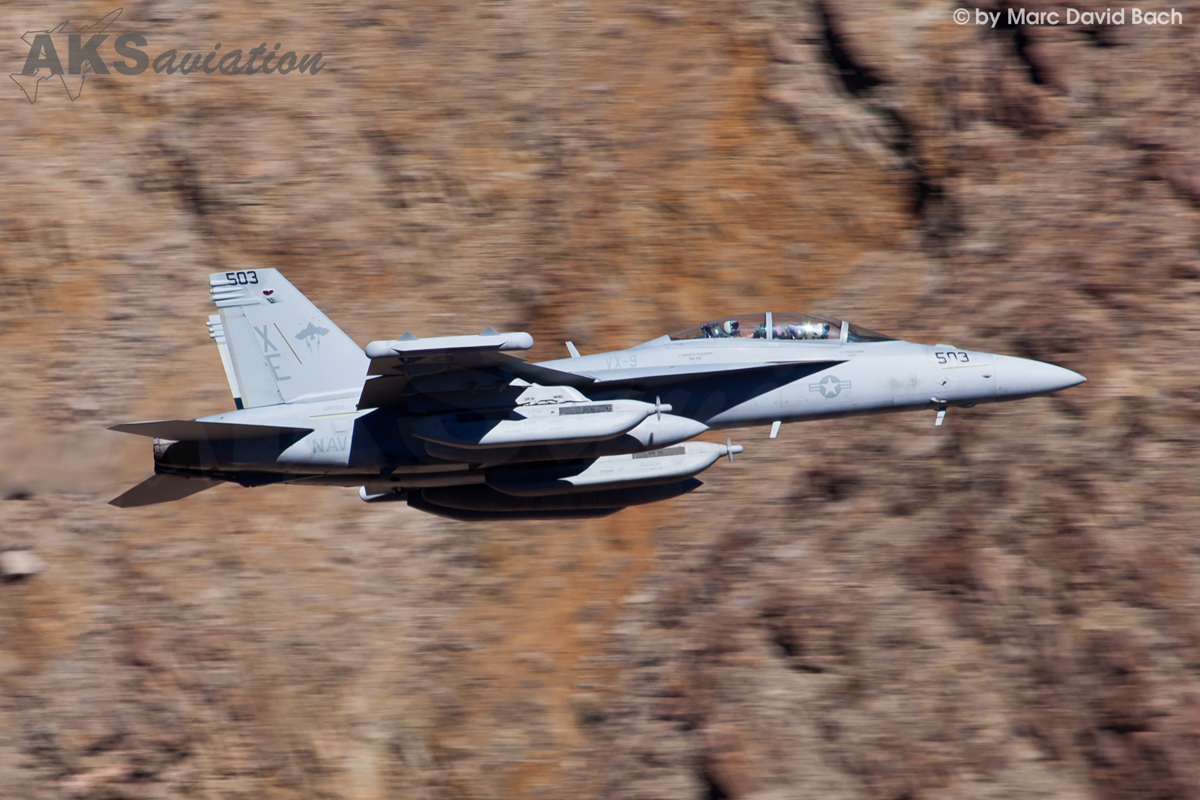 Anschließend verirrten sich zwei A-10 der Davis-Monthan Air Force Base für drei Durchflüge in die Schlucht. Wir hatten auch bei unserem Besuch vor knapp zwei Jahren einige Durchflüge, jedoch haben wir noch nie einen Jet gesehen, der so tief in die Schlucht eintauchte, wie es eine A-10 kann. Hat man die meisten Jets ungefähr am oberen Rand der Schlucht, so standen wir bei den Warthogs so, dass wir einen Schritt nach vorne machen mussten, um sie überhaupt sehen zu können. Beim fünften Bild sieht man ansatzweise, wie tief diese waren.
After that two A-10s from Davis-Monthan Air Force Base came for three approaches. We have already seen some jets passing the canyon at our visit two years ago, but we have never seen a jet going this deep into the canyon like the A-10. Most of the fighters are at the upper edge level while passing, for the A-10s we needed to step forward to see them. On picture number five you can even see how deep they were.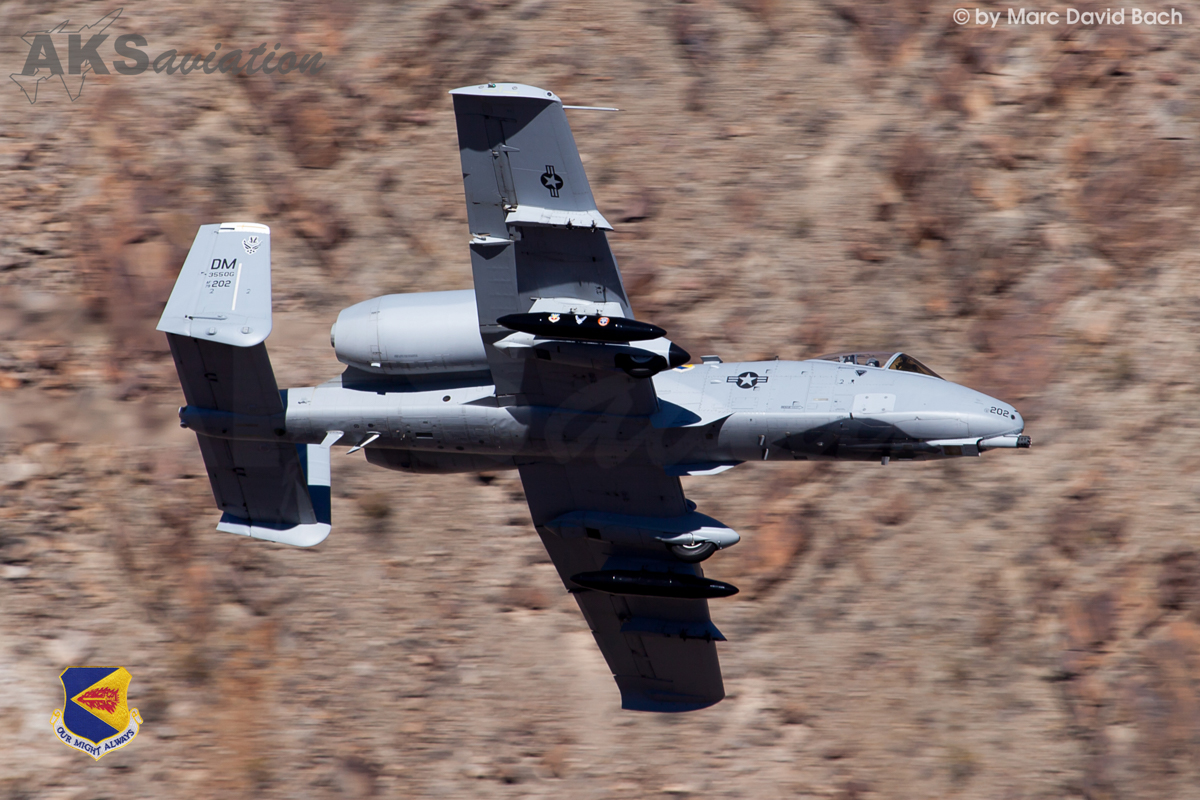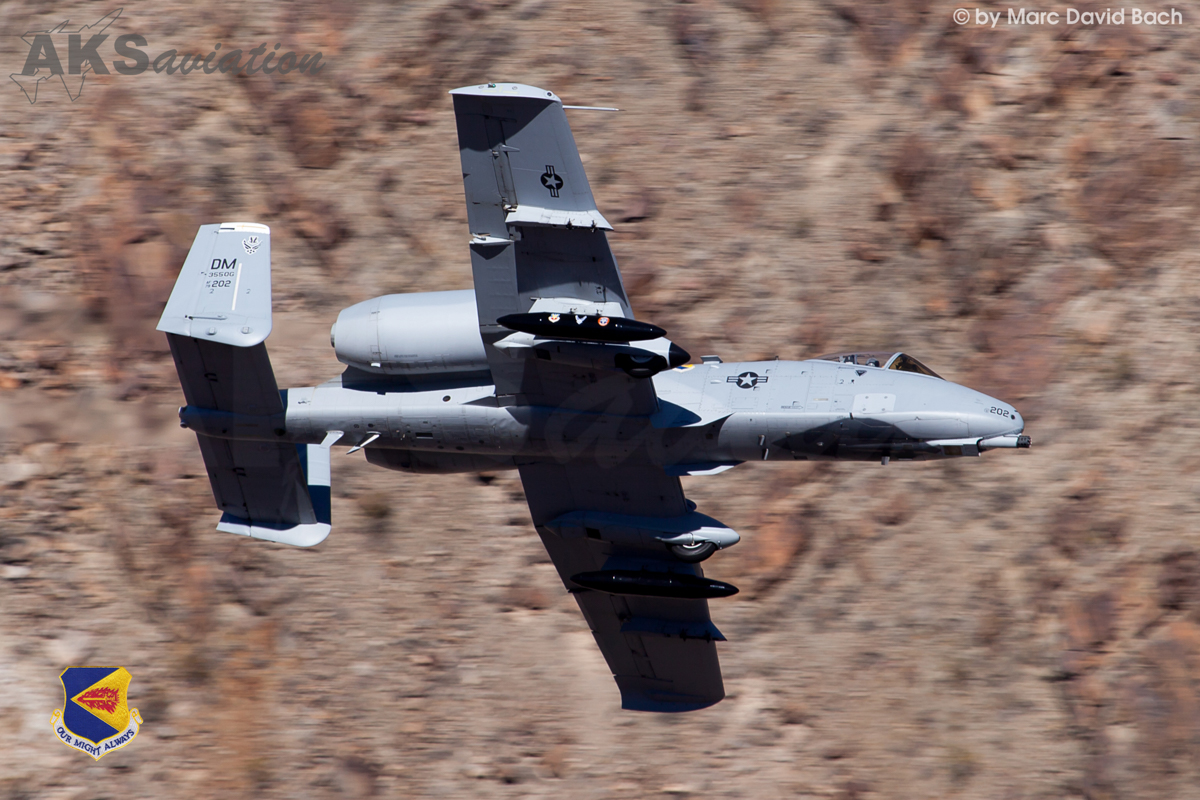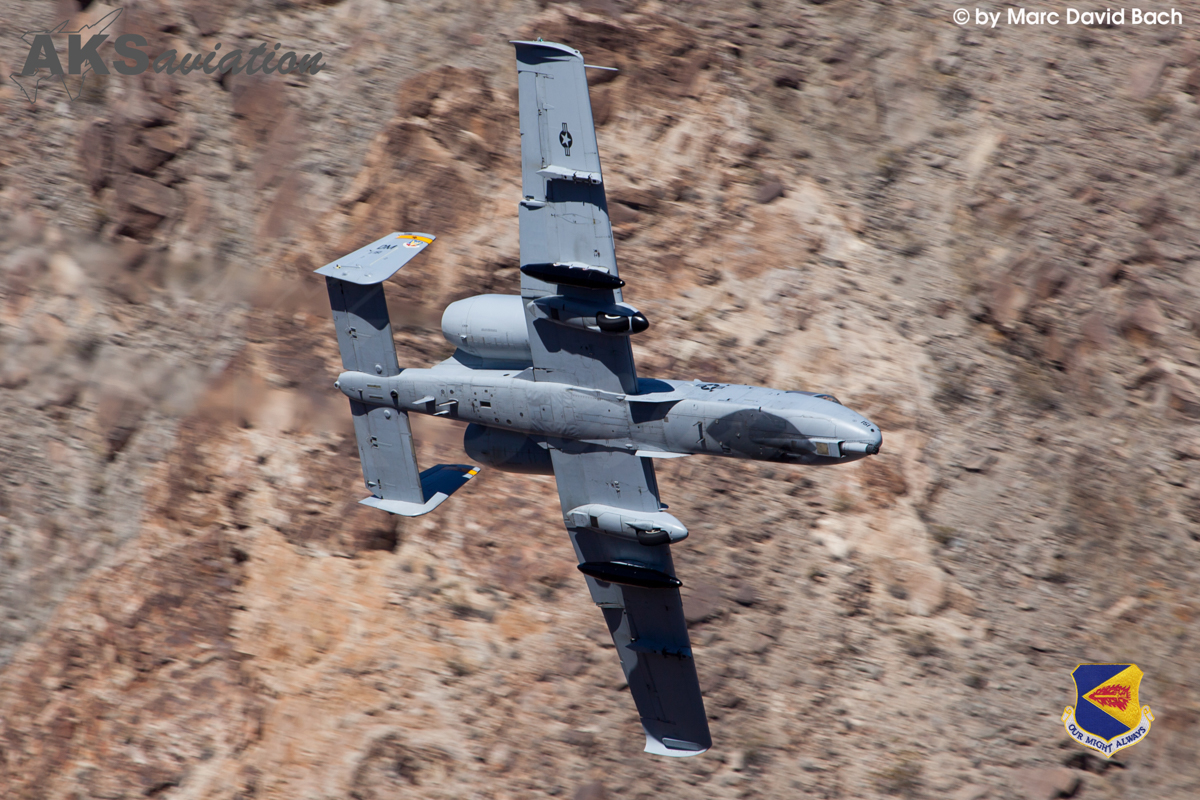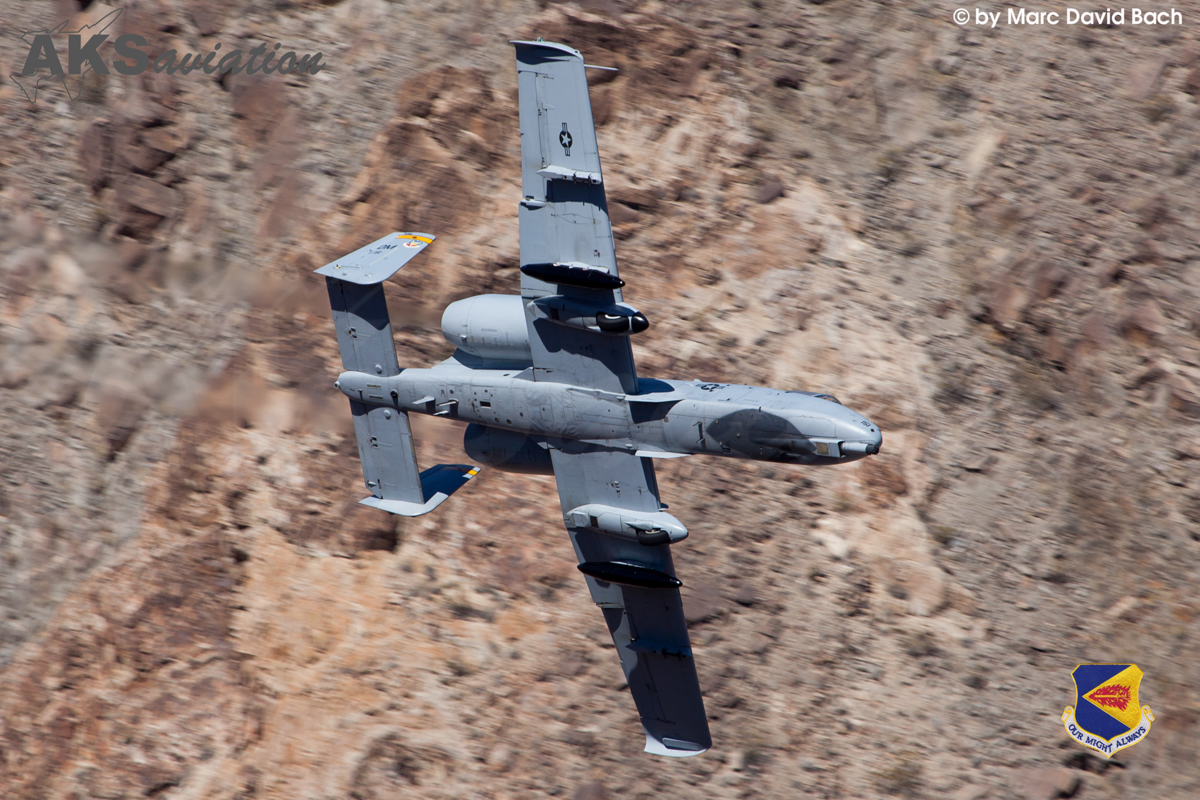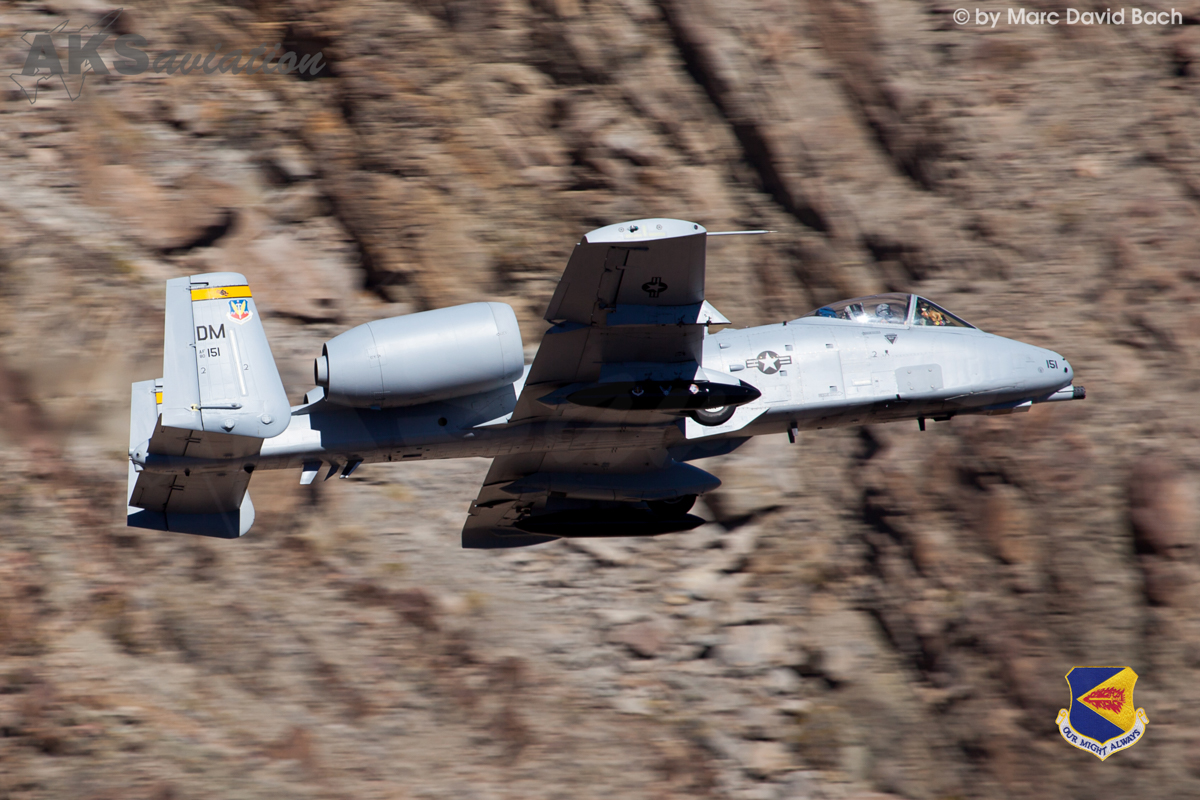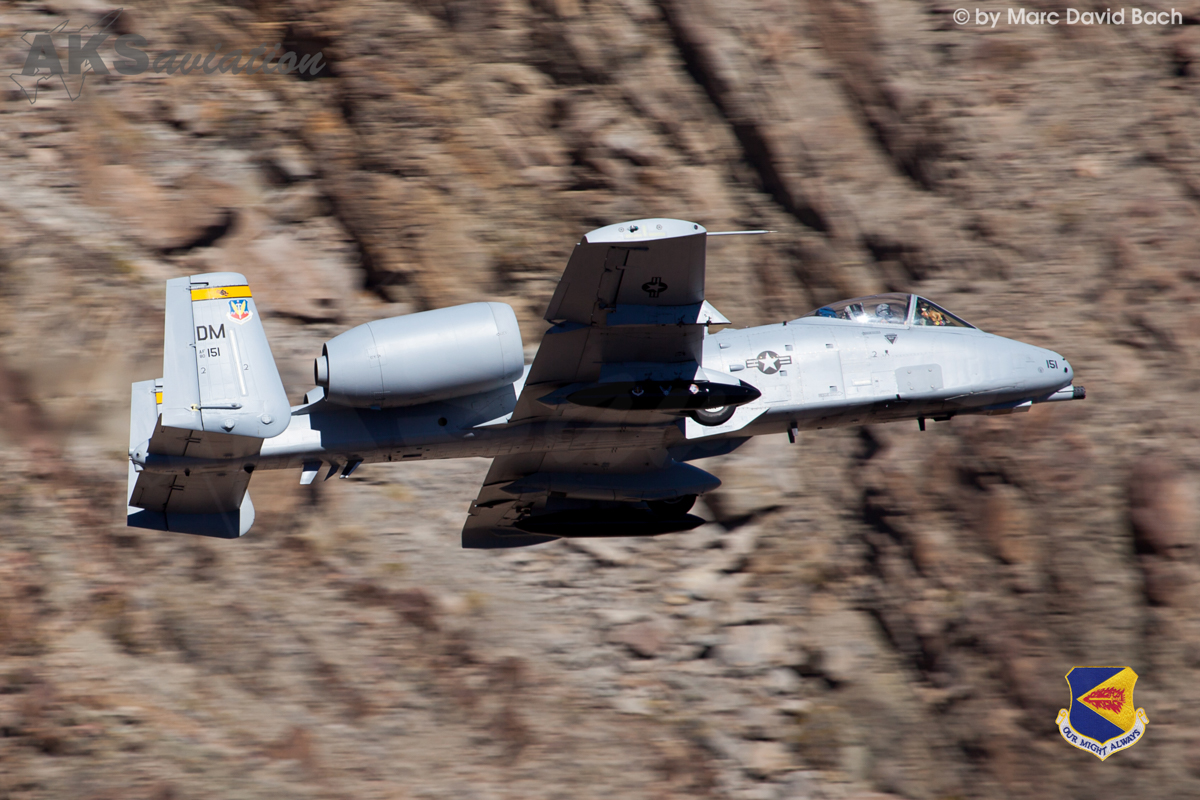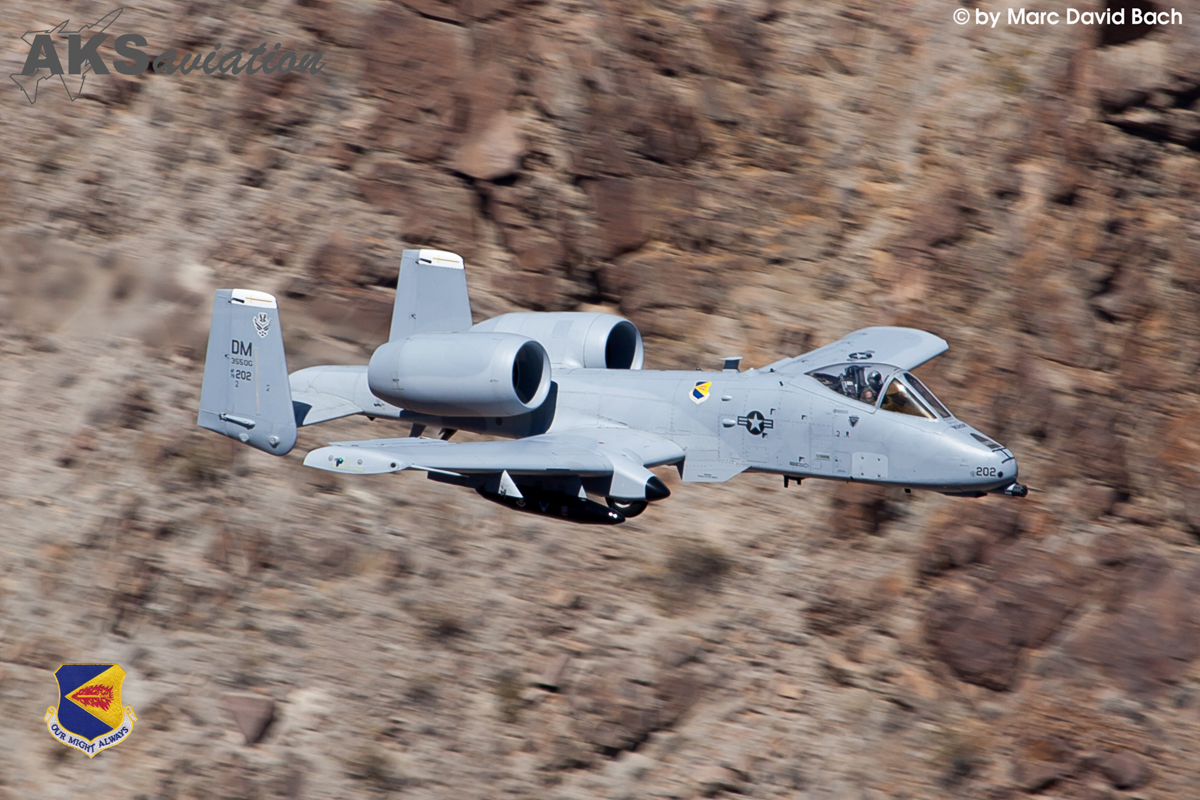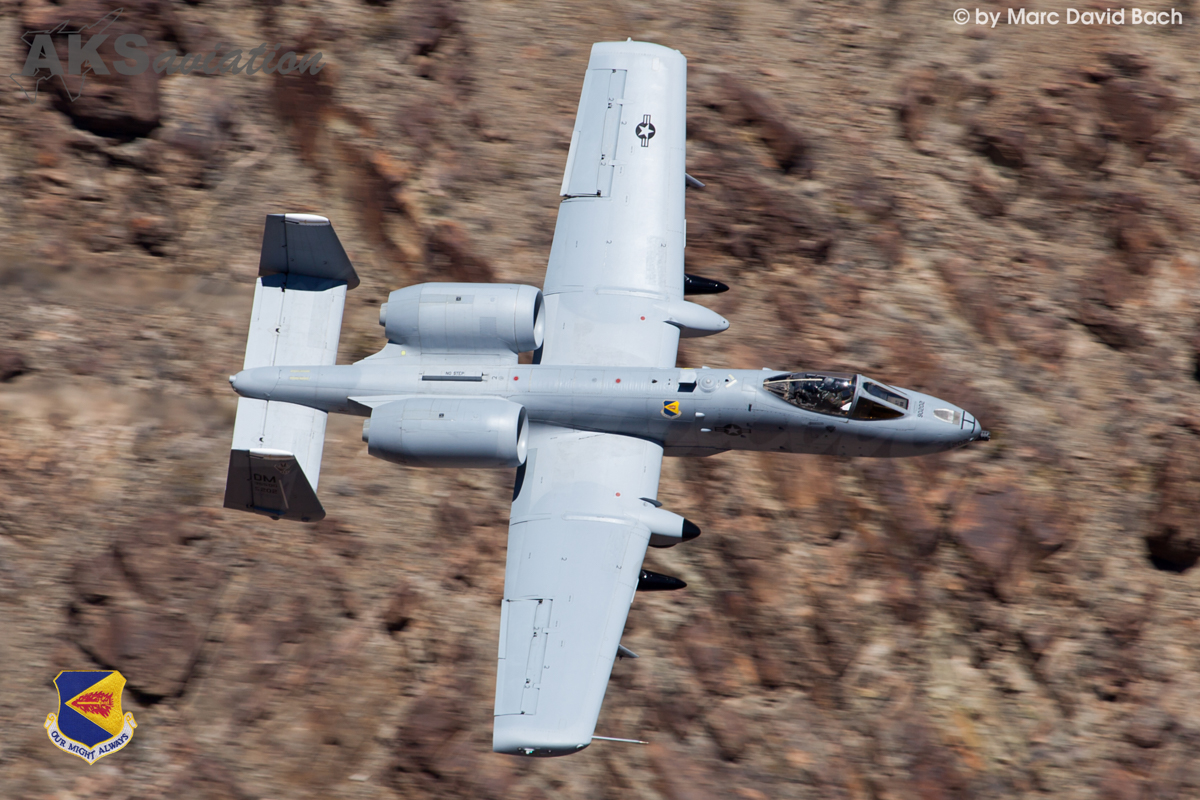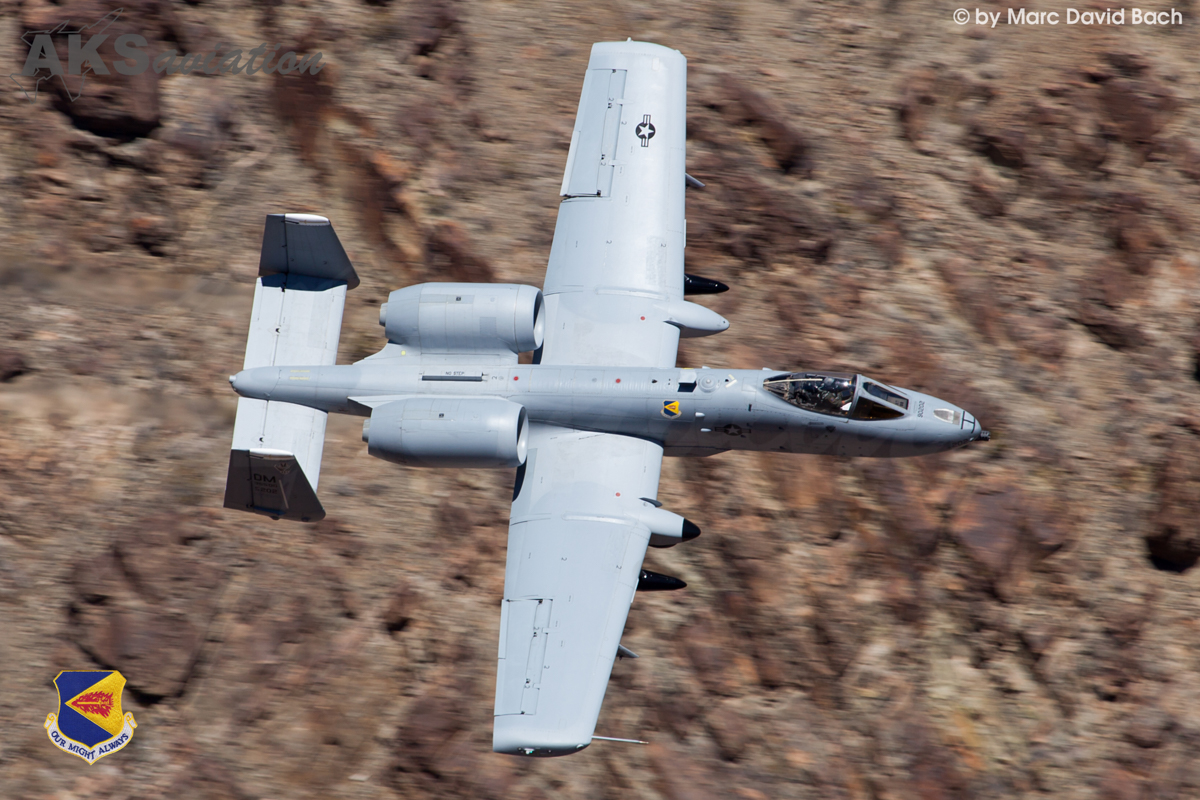 Die 'Kestrels' durchflogen die Schlucht mit ihrem CAG. Dieser machte gegen Mittag ein paar Durchflüge.
The 'Kestrels' brought their CAG bird through the canyon. It made a couple of passes around noon.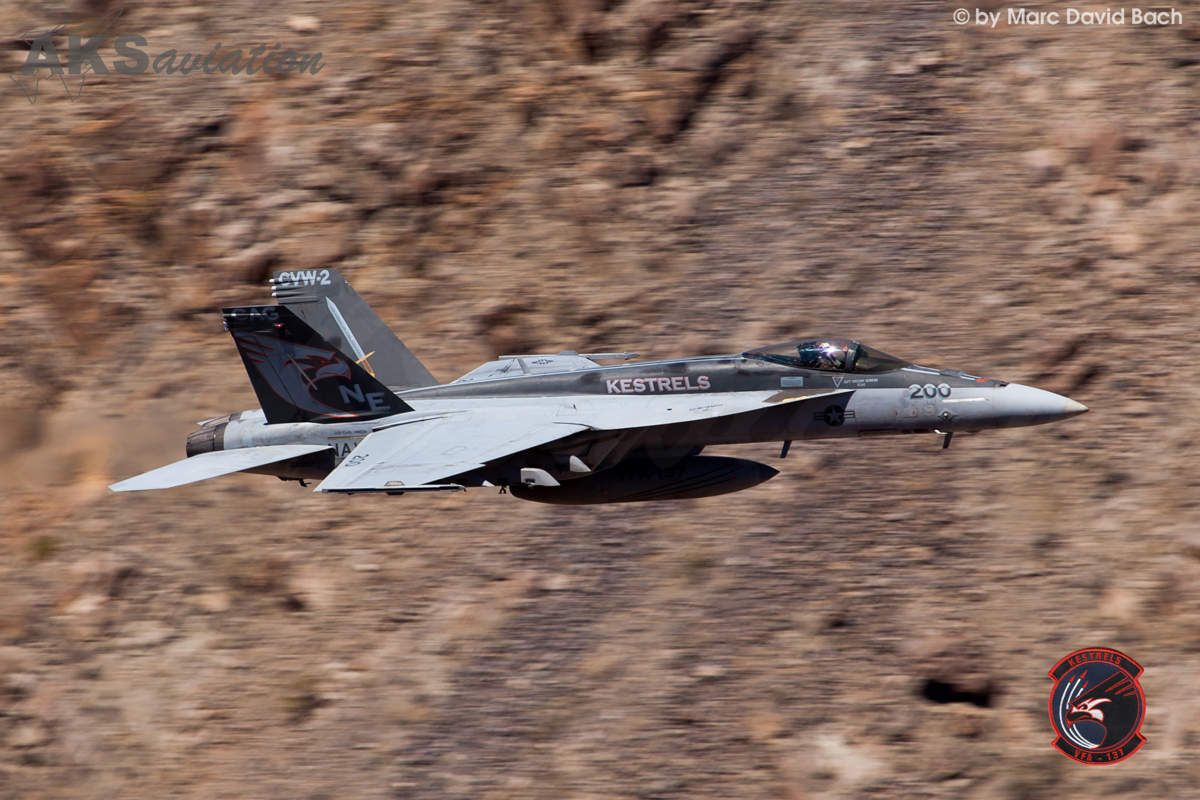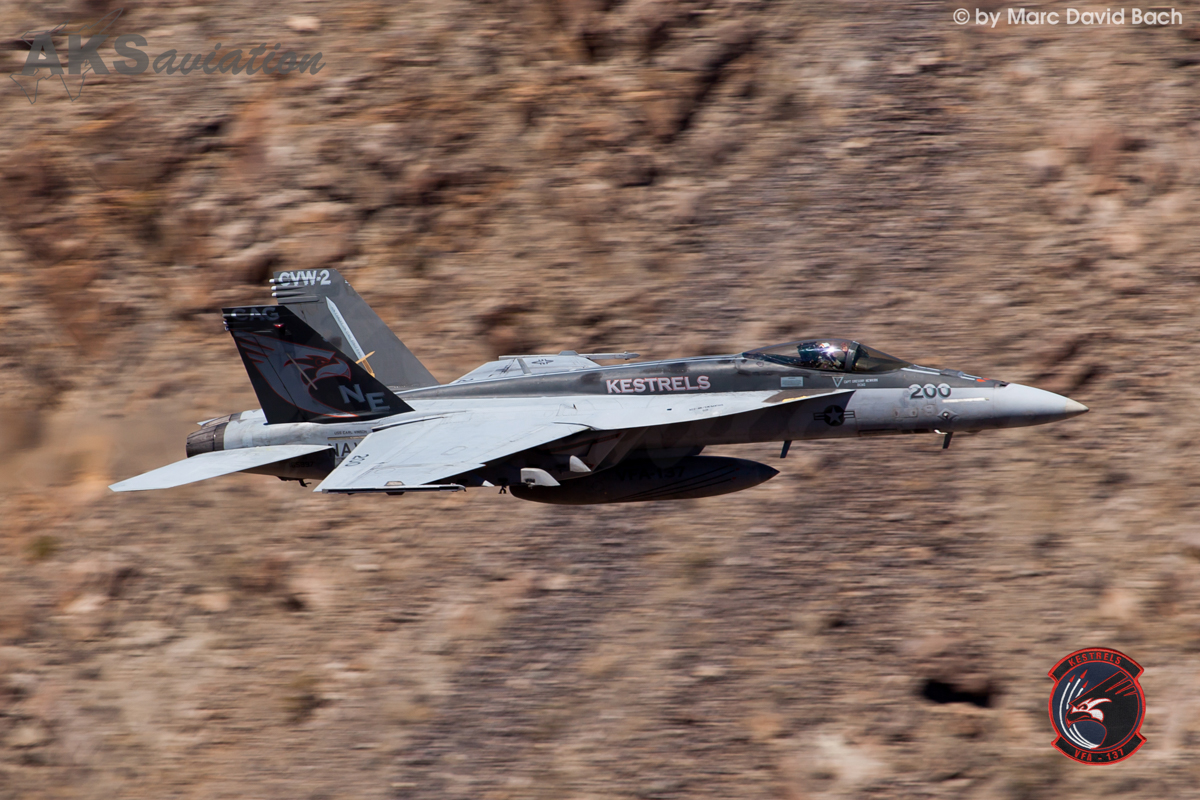 Am Nachmittag wechselten wir die Position, um die Sonne in Folge auch weiterhin im Rücken zu haben. Dabei entstanden dann noch diese Bilder, die sich ausschließlich aus Hornets zusammensetzen. Zwar war es, mit zwei weitern CAGs, durchaus farbenfroh, jedoch flog die CAG des VFMA-232 'Red Devils" nur sehr hoch über die Schlucht, dass diese nicht brauchbar zu fotografieren war. Dabei war das VFMA-232 der US Marines mit vier F-18 vertreten, die mehrere Durchflüge zeigten.
During the afternoon we changed our position, to keep the sun in our back. At this spot we saw some more Hornets during a busy afternoon. With two CAG birds it was colourful, but the CAG from VFMA-232 'Red Devils' was only high above the canyon and we weren't able to take a good photograph. The VFMA-232 from the US Marines approached with four F-18s which performed a couple of passes.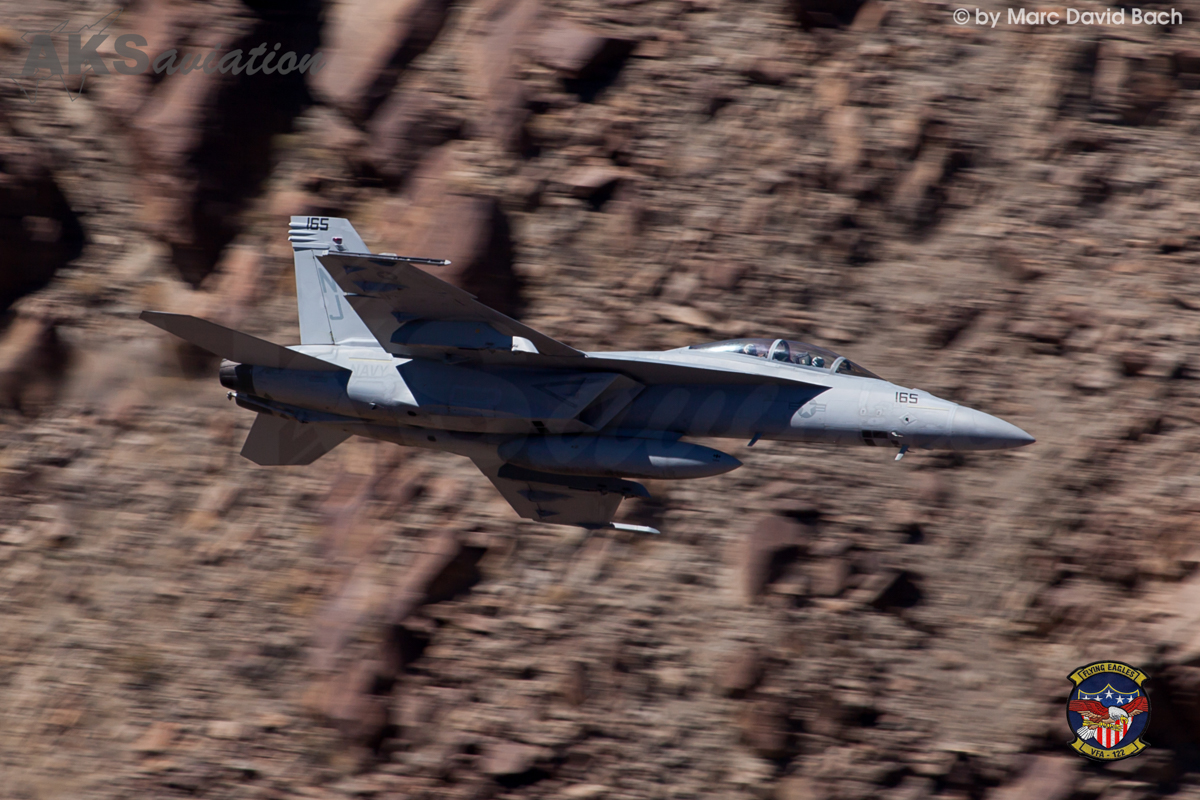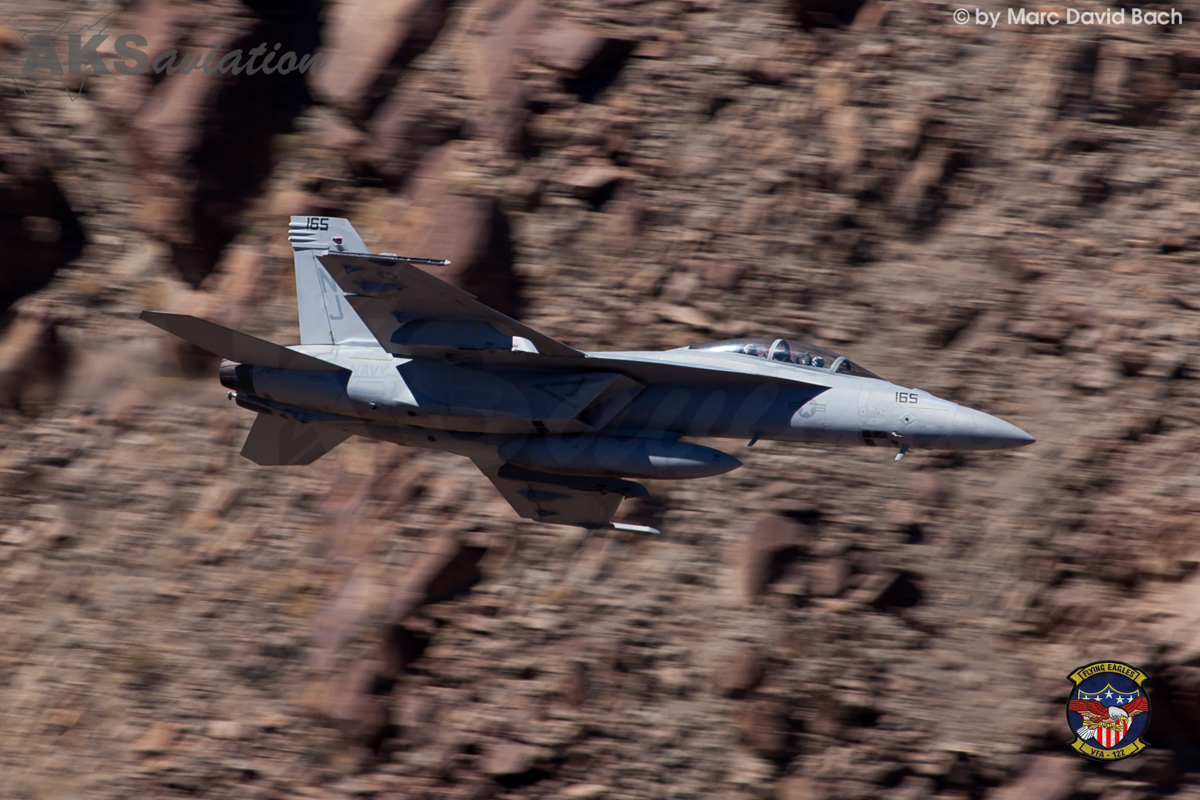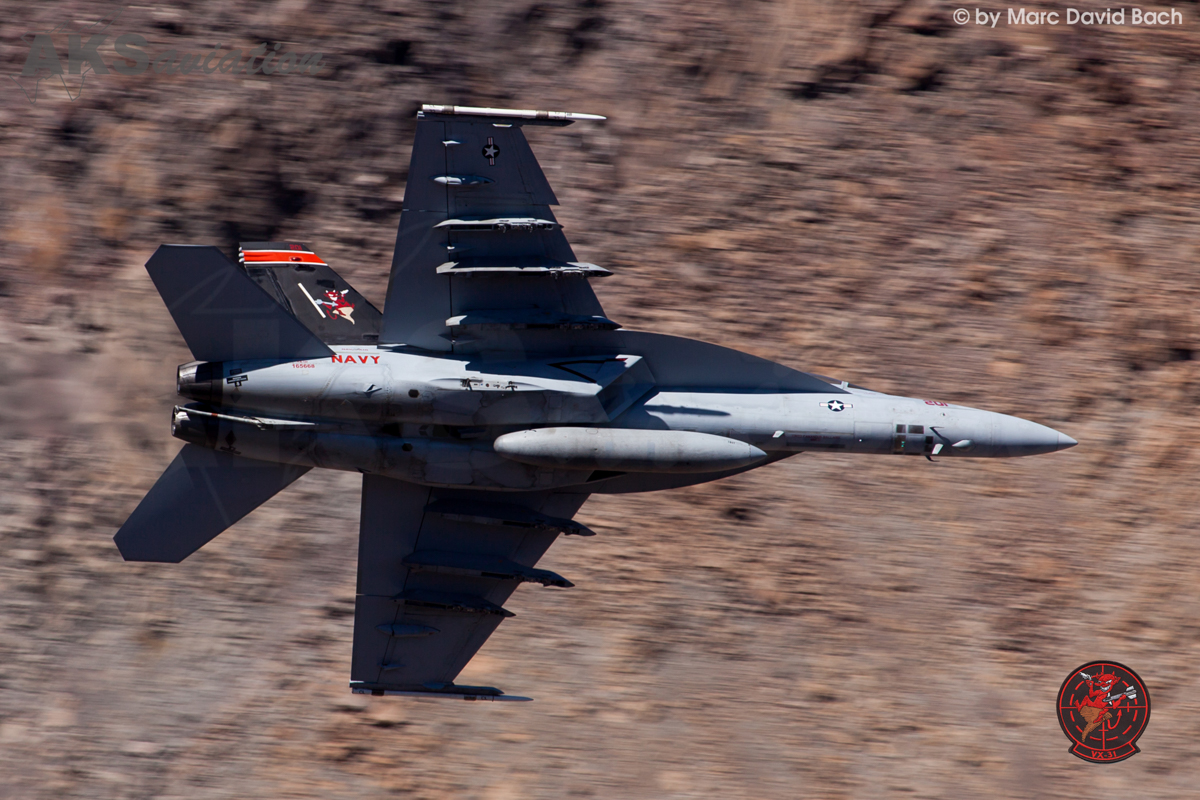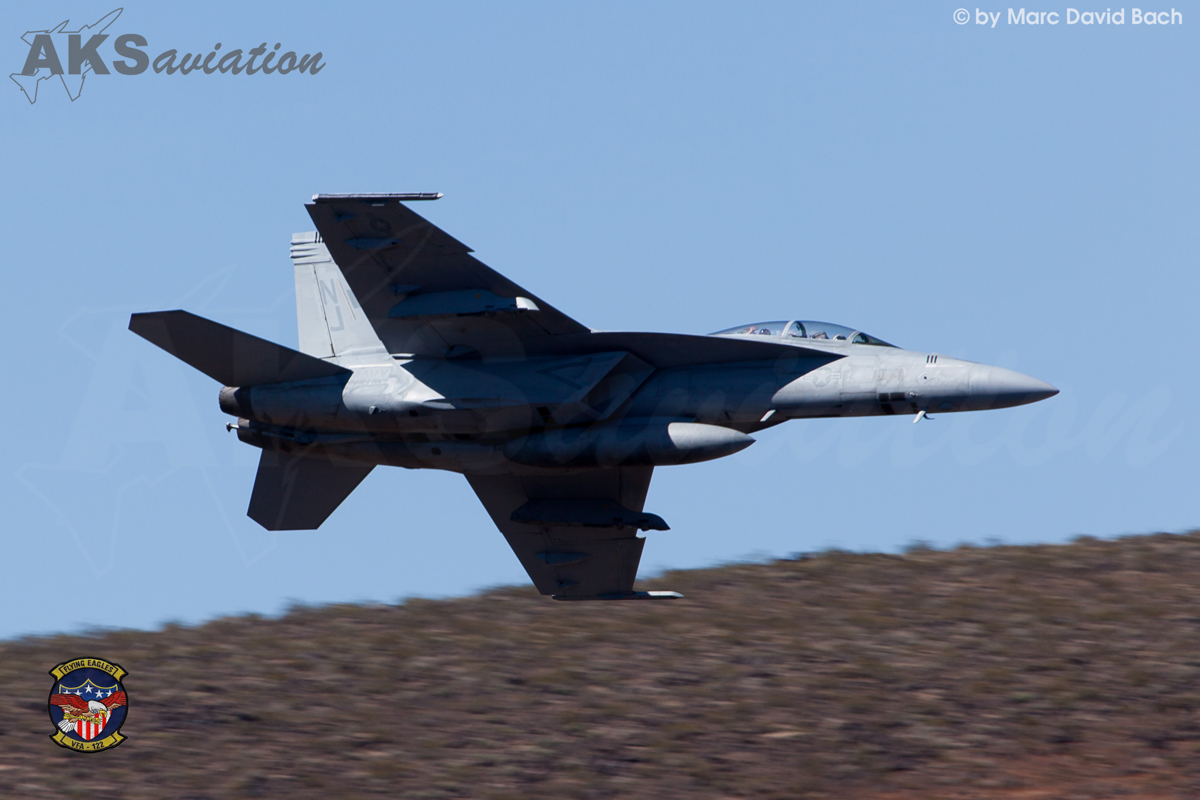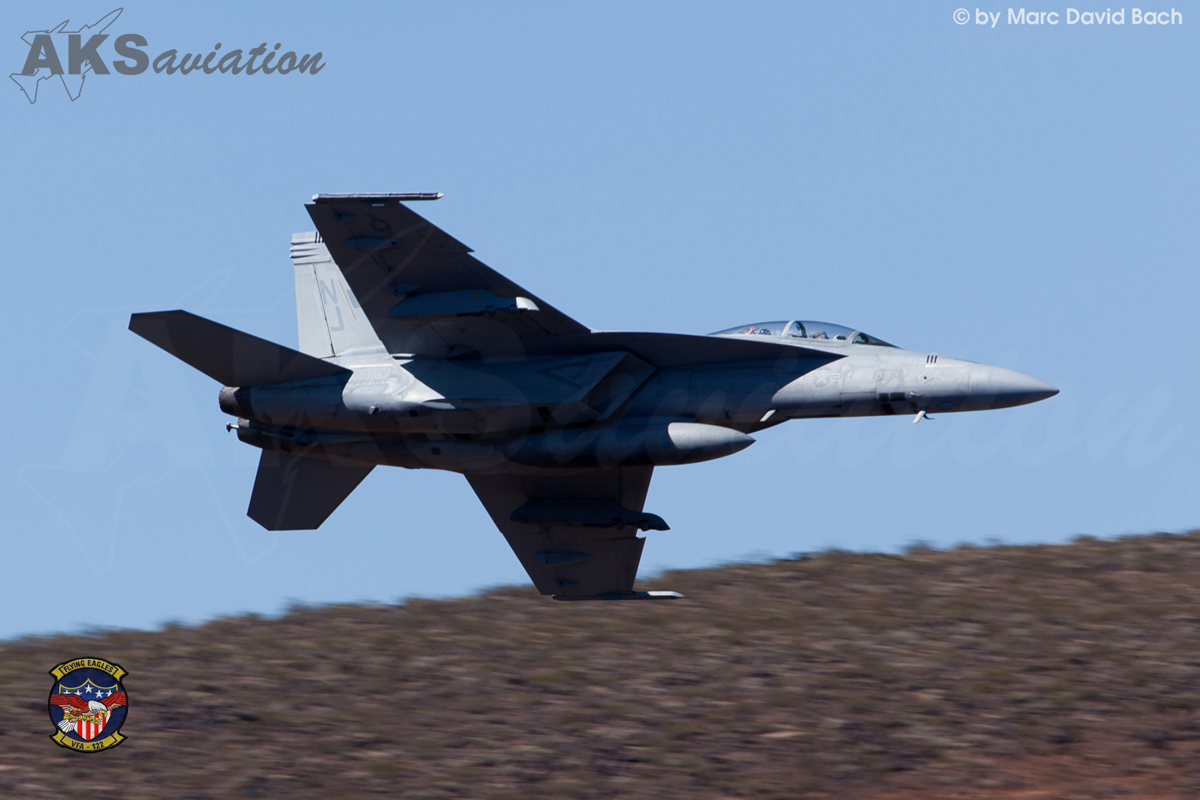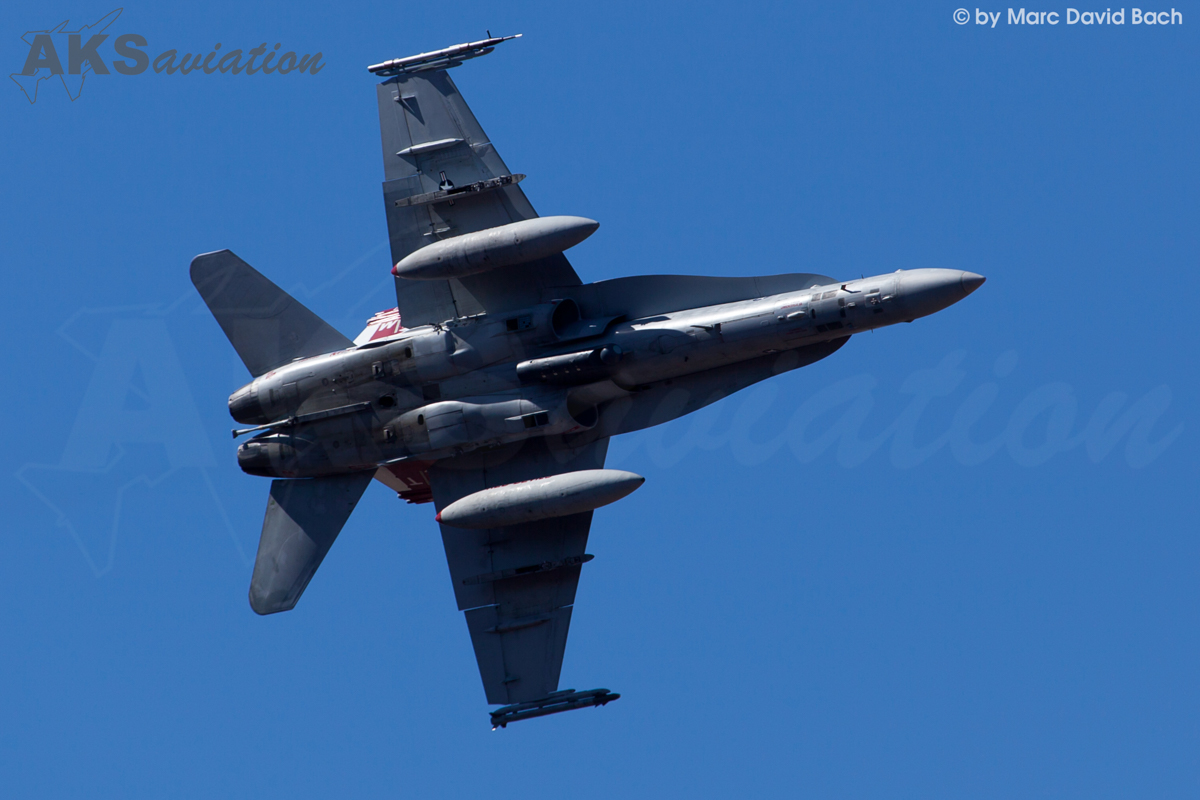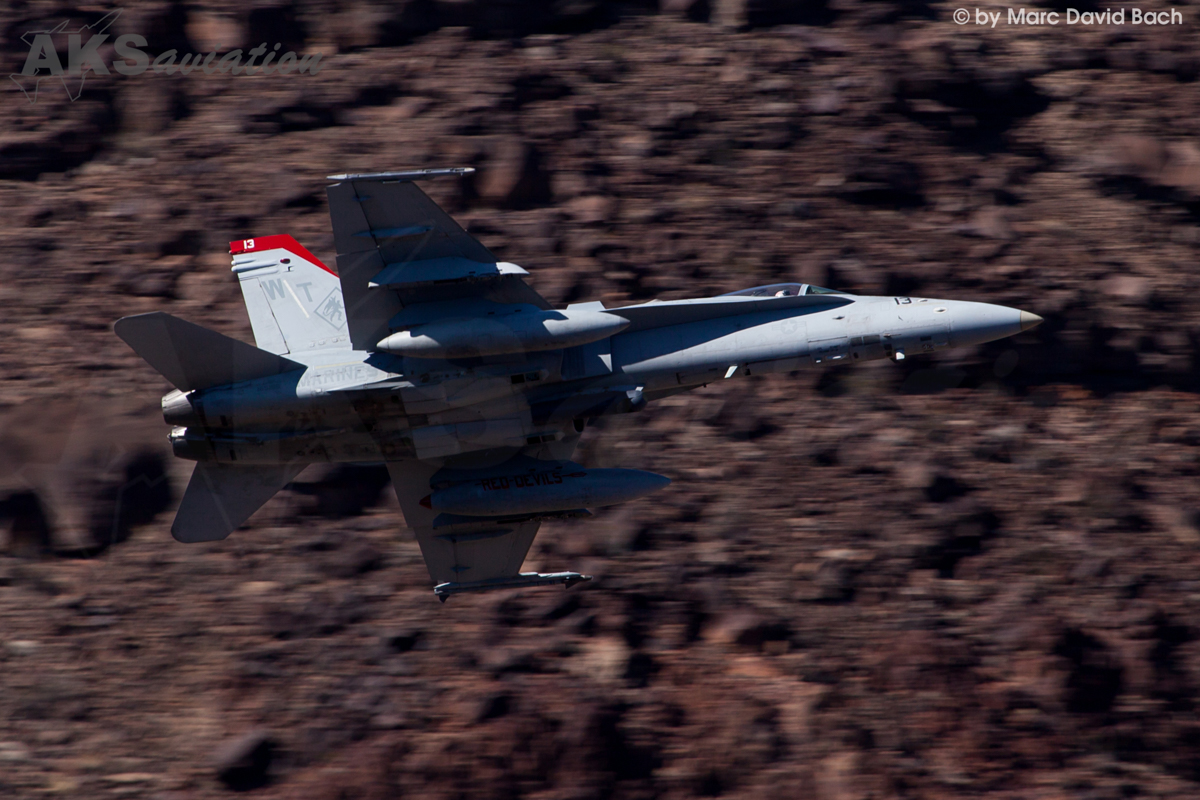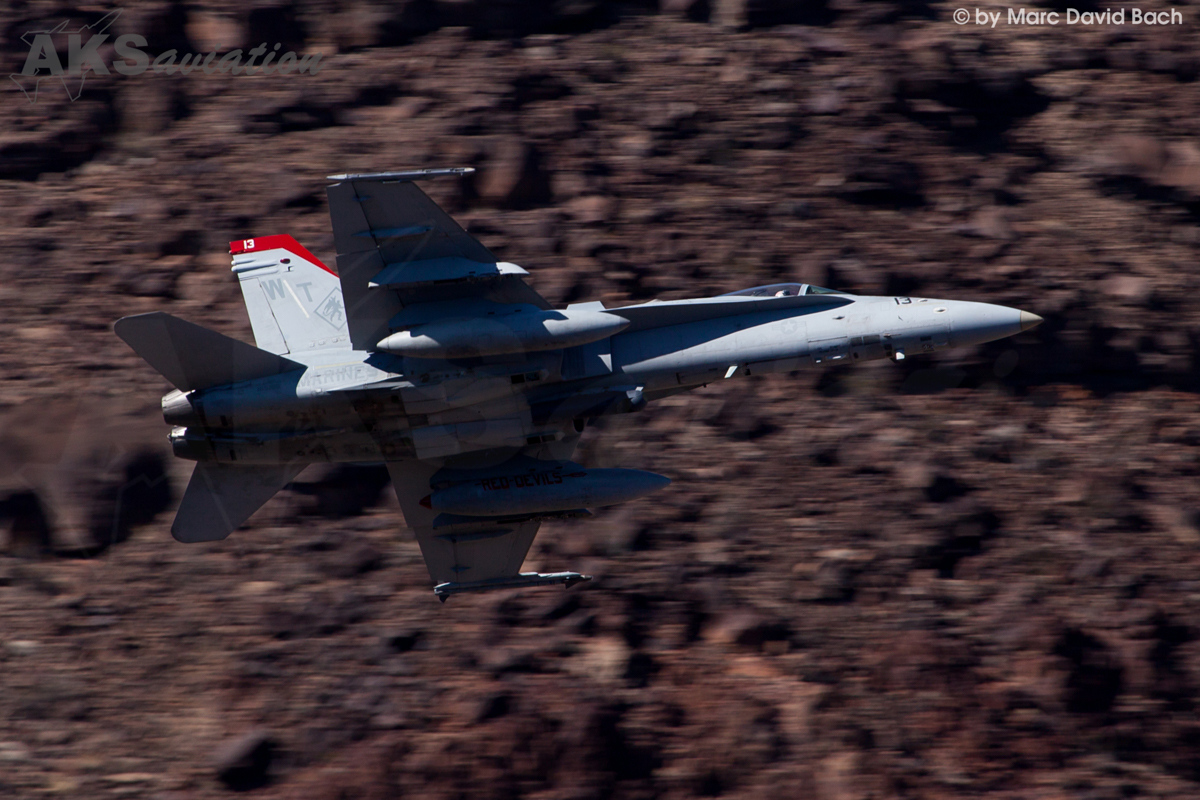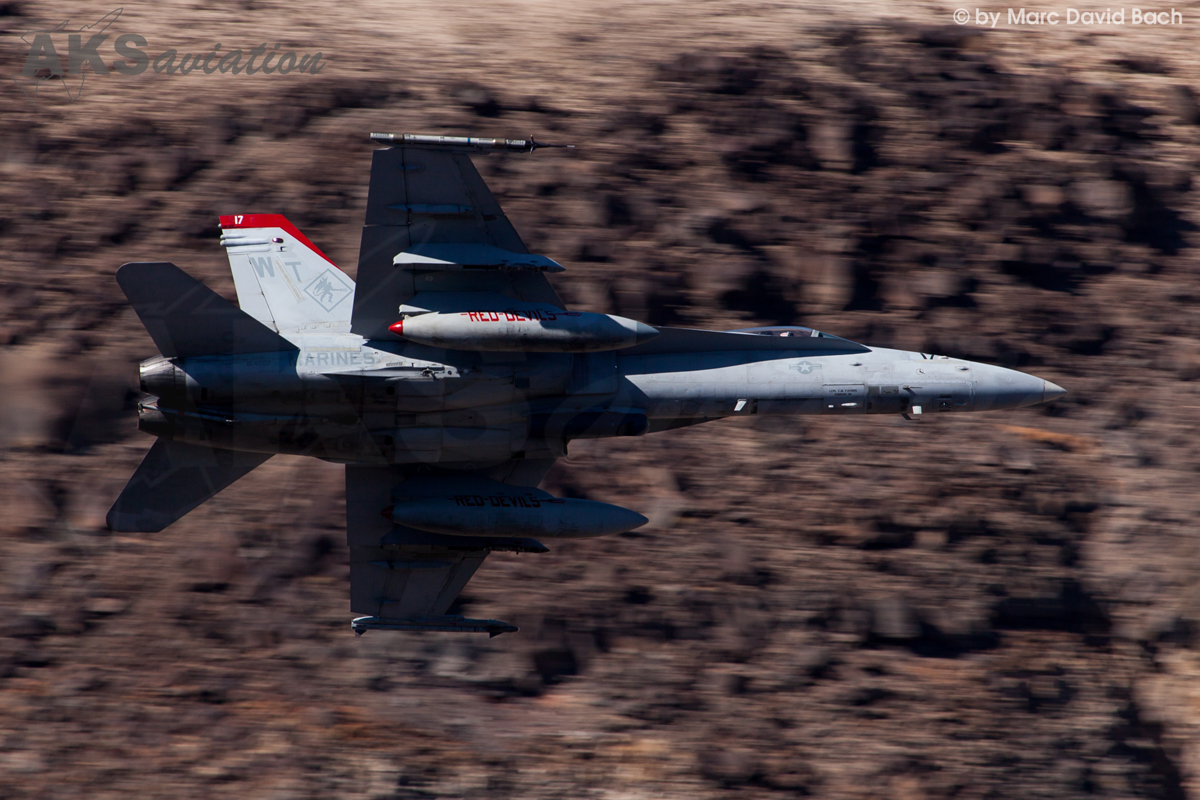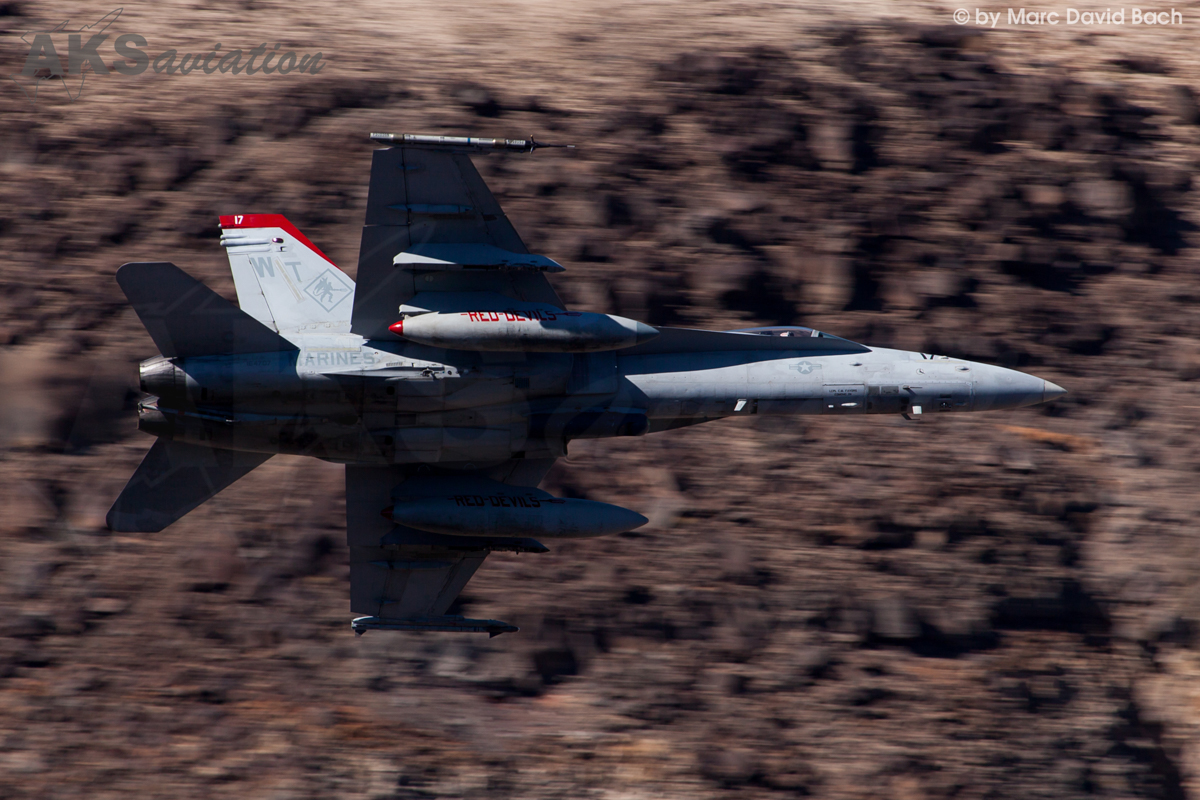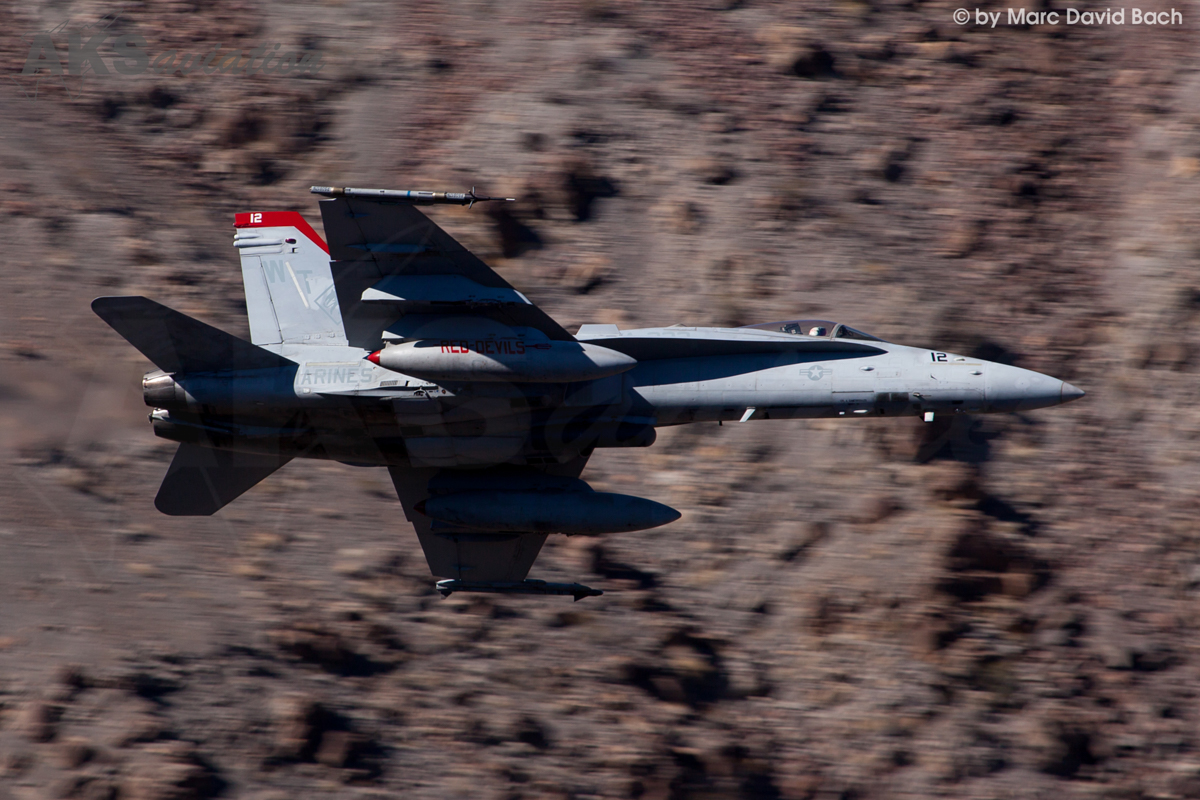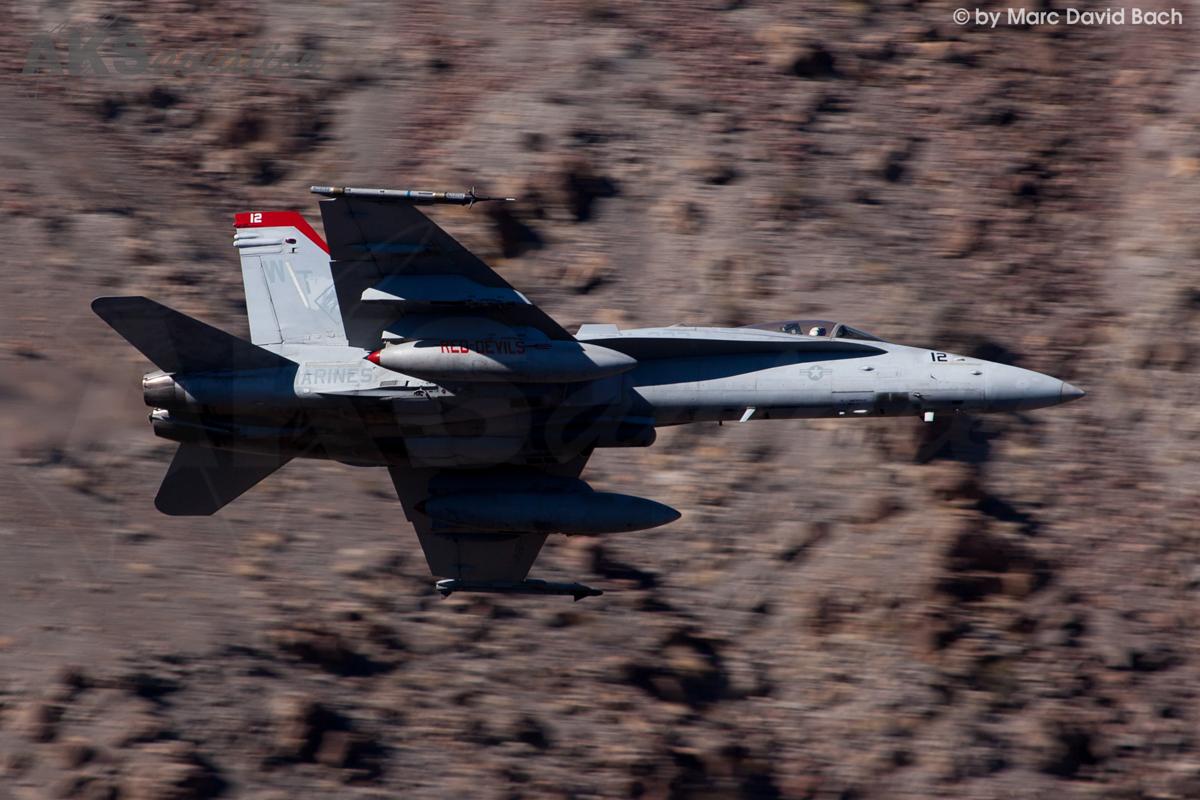 Hier haben wir euch nochmal alle Fotos in einer Galerie zusammengefasst.
We have summarized all pictures in a gallery for you.
Bereits gegen halb 5 machten wir uns dann auf den Weg nach Fallon, da noch gut fünf Stunden Fahrt vor uns lagen. Zu dem Zeitpunkt hatten wir 19 verschiedene Jets, mit insgesamt 38 Durchflügen notiert.
At half past 4 we continued our trip on the way up to Fallon, with more than five hours we had a big distance to cover. At this point we noted 19 different jets with a total of 38 passes.