Vom 02. bis 23. Mai 2017 führte uns der Aviation Zirkus in den Südwesten der Vereinigten Staaten. Mit kurzem Zwischenstopp in Amsterdam flog uns KLM von Düsseldorf nach Los Angeles.
From May, 2nd till May, 23rd 2017 the aviation circus led us to the southwestern part of the United States. With a short stopover at Amsterdam, we flew on KLM flights from Dusseldorf to Los Angeles.
Noch am 2. Mai fuhren wir, nachdem wir den Mietwagen abgeholt haben, von Los Angeles zum March Field Air Museum. Leider verzögerte sich unsere Ankunft dort, durch das hohe Verkehrsaufkommen rund um Los Angeles, deutlich, sodass mit unserer Ankunft das Museum bereits geschlossen war. So blieben uns nur ein paar Aufnahmen von außen. Auch die March Air Reserve Base zeigte noch ein wenig Aktivität am späten Nachmittag und so konnten wir u.a. noch eine KC-135 und eine AH-1Z Viper auf Bild festhalten.
After picking up the rental car at LA we drove to the March Field Air Museum. Because of heavy traffic on the highways around Los Angeles our arrival was delayed and the museum was already closed. So we just were able to take some shots from outside. The March Air Reserve Base also showed a little bit of activity at late afternoon and so we were able to collect a KC-135 and an AH-1Z Viper.
Nachdem die Sonne verschwunden war, führte uns ein etwa 3,5-stündiger Roadtrip, noch am selben Abend, nach Yuma, wo wir für die nächsten zwei Tage die Zelte aufschlagen sollten.
Bereits in diesen beiden Tagen zeigte sich die mögliche Vielfalt an der Marine Corps Air Station Yuma. Leider hatten wir mit den dort stationierten Harriern, bei diesem Stop, nicht ganz so viel Glück. Neben jeweils zwei Talons aus Holloman und Beale flogen auch die, in Yuma stationierten, F-5 Tiger fleißig. Am 04.05. besuchten uns in Yuma auch zwei F-35A Lightning II der norwegischen Luftwaffe, die an der "benachbarten" Luke AFB in Glendale stationiert sind, für zwei Anflüge. Bei den folgenden Fotos zeigen wir euch auch noch diverse andere Flugbewegungen dieser zwei Tage.
As the sun was gone we made an evening roadtrip of 3.5 hours to Yuma, where we spent the next two days.
In these two days we already saw the variety at Marine Corps Air Station Yuma. Unfortunately we weren't lucky with the Yuma based Harriers during these two days. Besides two Talons of Holloman and Beale we gathered the based F-5 Tigers, a couple of F-35A Lightning II of the Royal Norwegian Air Force, which are based at Luke AFB in Glendale, visited Yuma for two approaches on May, 4th. Here is a selection of pictures from this stop.
Nach einer früh endenden Nacht fuhren wir Freitagmorgen etwa 2,5 Stunden von Yuma nach Glendale, um den Freitag an der Luke AFB zu verbringen. Das Schul- und Ausbildungszentrum der Basis dient zur Ausbildung amerikanischer Piloten auf der F-16 und F-35. Neben diesen amerikanischen Einheiten sind auch einige Fremdnationen an der Basis beheimatet. So bilden Italien, Japan, Australien und Norwegen dort Piloten auf der F-35 und Singapur und Taiwan (Republic of China) auf der F-16 aus. Anders als an anderen Basen unterliegt der Flugbetrieb in Luke nicht den üblichen Wellen, sondern es findet ein stetiger Betrieb während des Tages statt. Hier war es uns möglich zwischen 8 Uhr morgens und 4 Uhr mittags in Summe 26 verschiedene F-16 und 16 verschiedene F-35 einzufangen.
As the night to friday ended very early we take an 2.5 hour ride from Yuma to Glendale, to spend the day at Luke AFB. The Air Education and Training Command (AETC) of Luke was built for education of american pilots on F-16s and F-35s. Also foreign countries like Italy, Japan, Australia and Norway are educating their pilots on the F-35 there, and Singapore and the Republic of China on the F-16. At Luke, compared with other bases, there are no waves and you can enjoy continual traffic all day long. We were able to collect 26 different F-16s and 16 different F-35s between 8am to 4pm.
Mit dem Wochenende rückte leider auch eine Wolkenfront näher. Wir entschieden uns daher auf die andere Seite der Stadt Phoenix zu fahren und uns in Mesa am Gateway Airport, der ehemaligen Williams Air Force Base, umzusehen und einen Überblick über die Rampe zu verschaffen. Hier sollten wir überrascht werden. Nachdem eine weitere Talon aus Beale (für uns bereits die Vierte während dieses Trips) den Gateway Airport verlassen hatte, war die Rampe wie leergefegt. Doch die Enttäuschung hielt sich in Grenzen als kurze Zeit später eine DC-10 von 10 Tanker Air Carrier auf einer anderen Ramp die Triebwerke anlies und eigenständig auf die vor uns befindliche Platte rollte. Genau im richtigen Moment tat sich dabei eine kleine Wolkenlücke auf.
Around afternoon a wall of clouds came in and we decided to drive to the other side of the City of Phoenix to take a look to the ramp of Mesa Gateway Airport, former Williams Air Force Base. We were surprised as a Talon of Beale (the 4th during this trip) left and the ramp was fully empty afterwards. But luckily only for a short time as the DC-10 of 10 Tanker Air Carrier started up the engines on another ramp and rolled to the ramp next to us. Exactly in this moment there was a small spell in the clouds.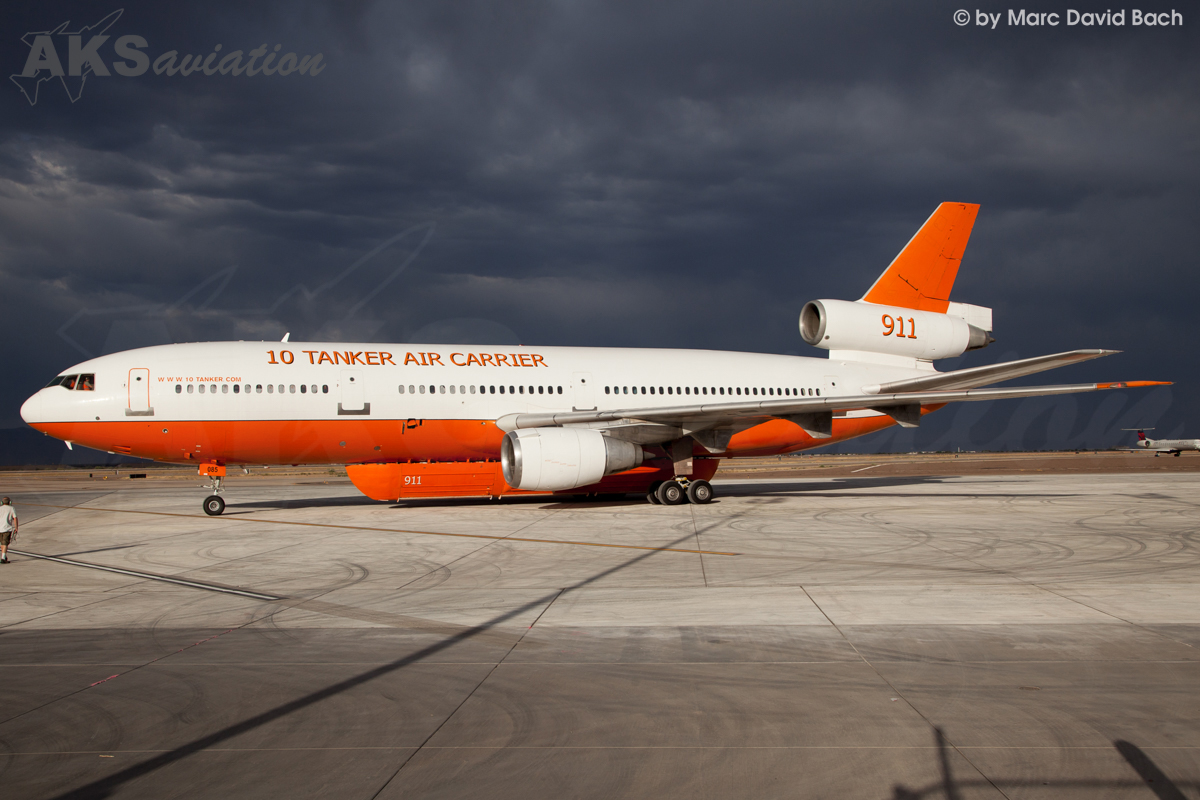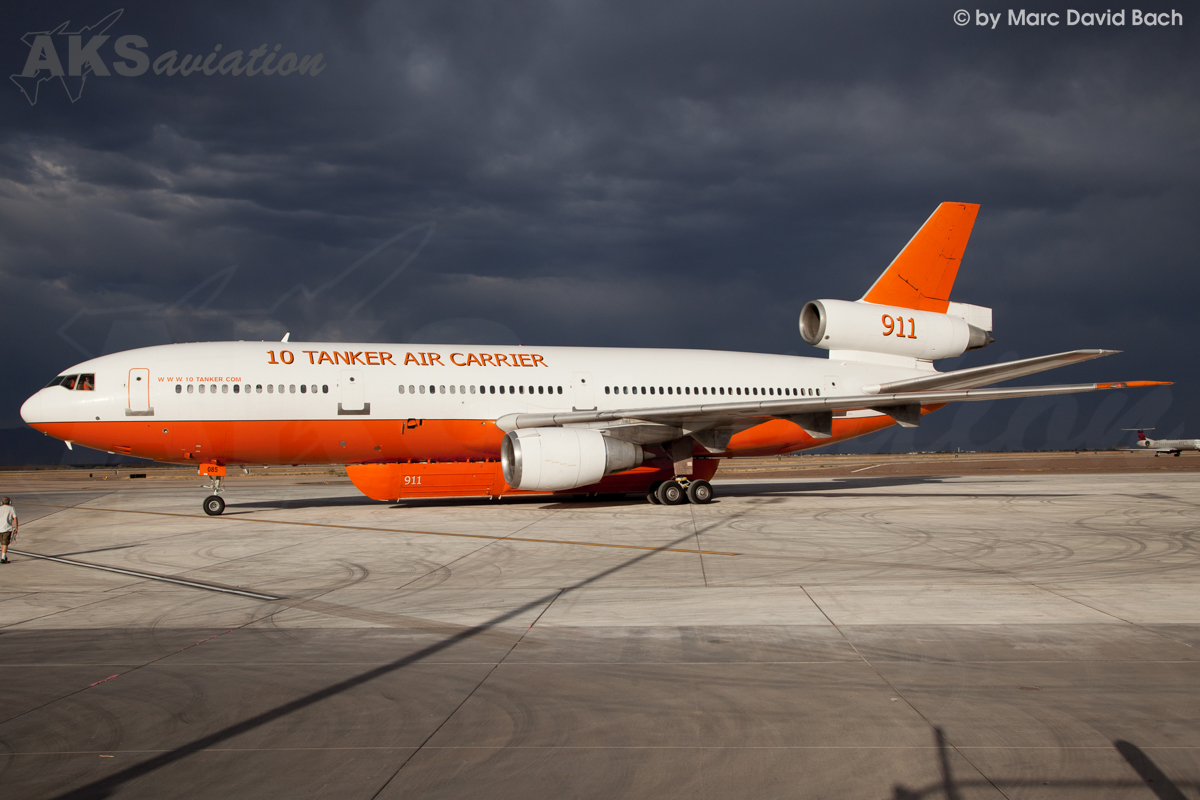 Da sich leider im Laufe des Wochenendes an der, von der DC-10 und einem Kurzbesuch einer T-34 abgesehen, leeren Rampe nichts mehr änderte, entschieden wir uns dafür, den kleineren Airports Scottsdale (KSDL) und Falcon Field (KFFZ) einen Besuch abzustatten. Dies stellte sich letztendlich als gute Entscheidung heraus und wir konnten am Falcon Field einen CH-54B und eine B-17 einfangen. Auch in Scottsdale waren wir erfolgreich. Acht T-6B Texan II der US Navy, stationiert auf der NAS Corpus Christi, legten in KSDL einen Zwischenstopp ein und verließen Scottsdale im Tagesverlauf in Richtung Heimatbasis.
As there was no change of the empty ramp during this weekend we made short trips to Scottsdale (KSDL) and Falcon Field (KFFZ) and spent a visit there. This was a good decision as we take shots of a CH-54B and a B-17 at Falcon Field. In Scottsdale we were successful as we collected eight T-6B Texan II of the US Navy, based at NAS Corpus Christi, on a stopover on their way back home.
Da wir nachmittags trotzdem immer mal wieder in Mesa vorbeischauten, um zu sehen, ob sich nicht doch noch der eine oder andere militärische Flieger eingefunden hat, gelangen zumindest noch ein paar Beifänge. Zwei davon waren uralte C-130A die für International Air Response im Einsatz waren.
Nevertheless we visited Mesa always again in the afternoon to have a quick look if there are some military aircrafts on the ramp. Because of this, we had some additional shots. Two of them were very old C-130A in service with International Air Response.
Am Montag sollte unsere Reise in Richtung Tucson und Davis-Monthan fortgesetzt werden. Auf der Fahrt Richtung Süden führte uns die Interstate 10 an Marana vorbei, wobei wir uns spontan entschieden dem Pinal Airpark einen kurzen Besuch abzustatten. Neben dem dortigen Boneyard ist dort auch die US Army zu Hause und führt mit einigen Aviocars Fallschirmsprünge durch. Auch eine C-130H der Air National Guard Kentucky flog uns, während unseres kurzen Aufenthalts, vor die Linse. Bereits morgens um 6 Uhr ließen sich so sehr ansehnliche Fotos machen.
On monday we continued our trip to Tucson and Davis-Monthan. On the way southbound on Interstate 10 we passed Marana, where we payed a short visit at Pinal Airpark spontaneously. Pinal owns a boneyard and the US Army operates Aviocars for parajumping. We also captured a C-130H of the Kentucky Air National Guard during our short stay. Already at 6am there is the possibility to take great photographs.

Der Morgen blieb sonnig, gegen Mittag zog es dann leider zu. Wir konnten noch ein paar Fotos der in Tucson stationierten F-16s der Arizona ANG machen, leider flogen die Iraqi und niederländischen F-16, die ebenfalls in Tucson stationiert sind, erst am Mittag, als die Sonne auf der Runway-line stand. Nachmittags fuhren wir dann etwa 20 Minuten nach Davis-Monthan, direkt um die Ecke. Als wir dort im Anflug ankamen, konnten wir zwölf F-16 aus San Antonio erlegen. Leider spielte zum Zeitpunkt derer Rückkehr das Wetter nicht mit.
The morning stayed sunny before it got cloudy around noon. We were able to take some shots of the Arizona ANG F-16s at Tucson. Unfortunately the Iraqi and Dutch F-16s, based at Tucson, just fly in the noon as the sun was at the runway line. In the afternoon we take the 20 minutes to Davis-Monthan just around the corner. As we arrived at the approach, we collected 12 F-16s from San Antonio. Unfortunately the weather played ball as this approached at KDMA.
Unser nächster Halt sollte dann, auf dem Weg zur Westküste, für mehrere Tage die MCAS Yuma sein. Auf dem Weg von Tucson nach Yuma passierten wir das kleine Örtchen Gila Bend, an dessen Flugplatz zwei F-101 Voodoos ausgestellt sind. Auch hier tat sich im richtigen Moment eine Wolkenlücke, am vollständig bedeckten Himmel, auf.
Our next stop on our way to the west coast was MCAS Yuma again. On the way from Tucson to Yuma we passed the small town Gila Bend, where two F-101 Voodoos are preserved at the local airfield. And again we were lucky with a small sunny spell in the fully covered sky.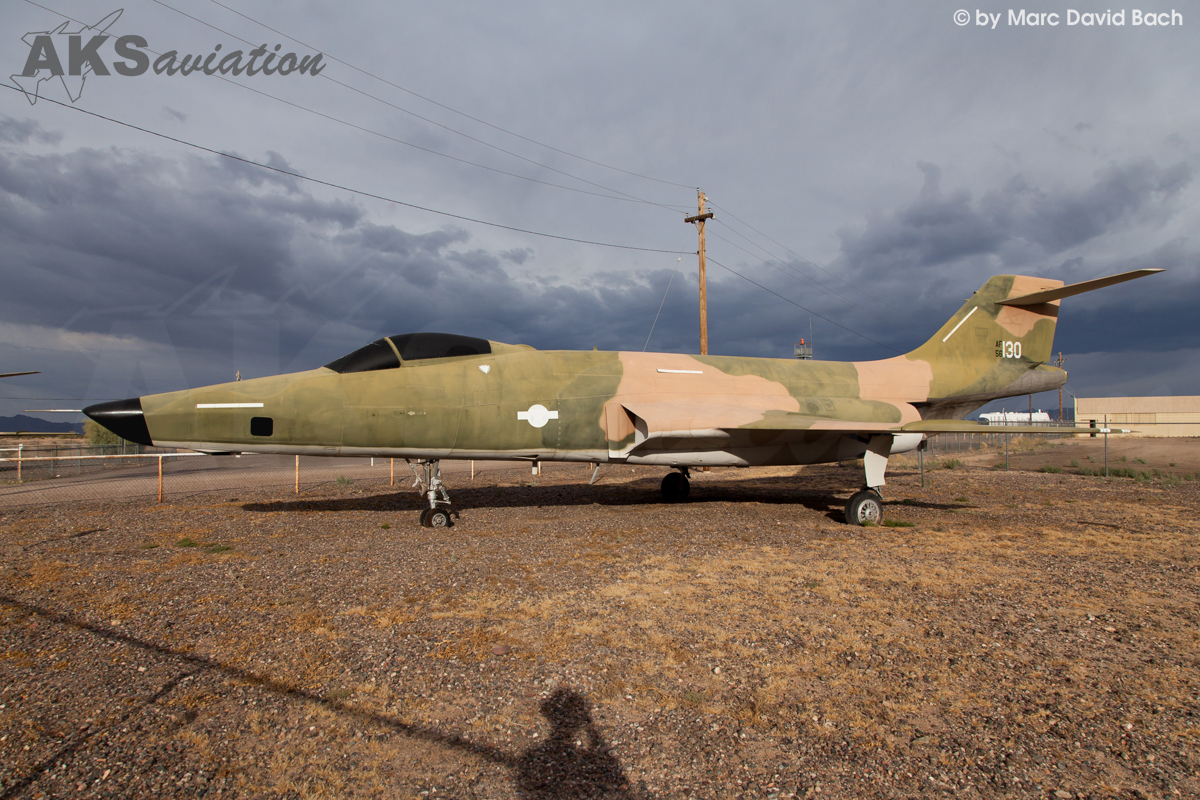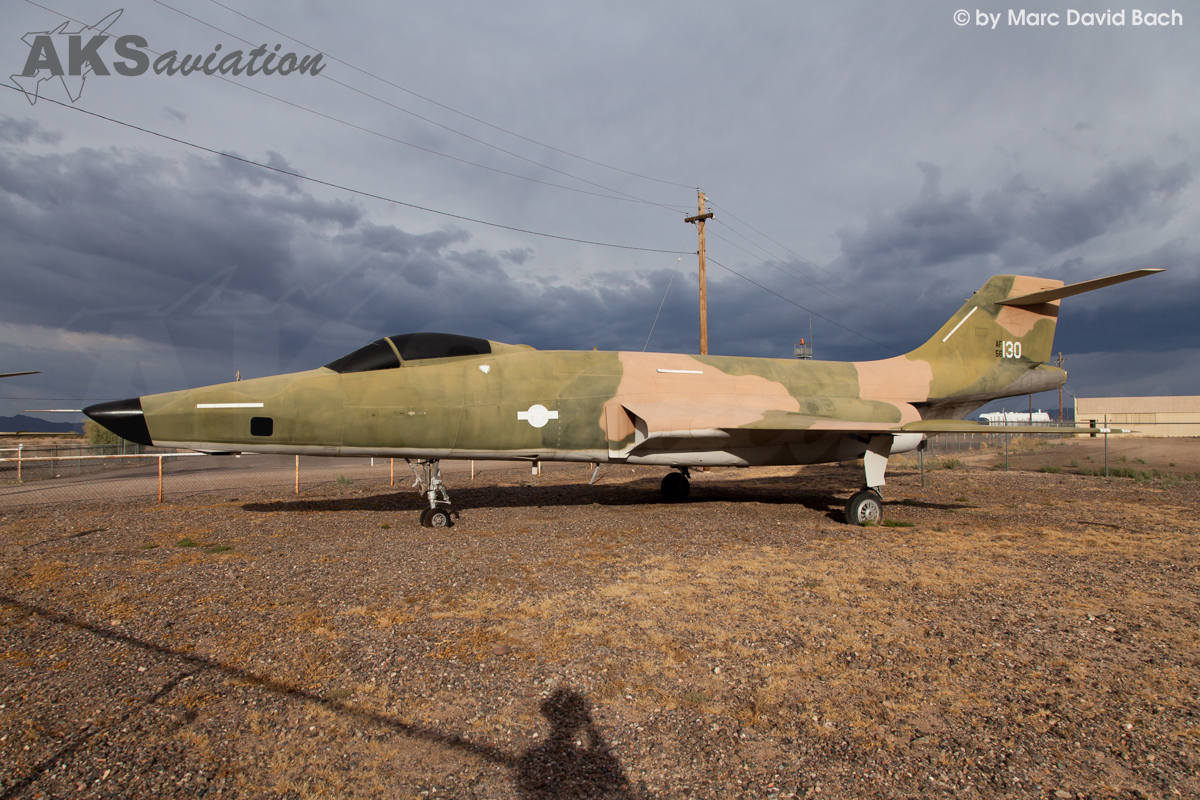 Vom 9. bis 12. verbrachten wir dann einige sehr erfolgreiche Tage in Yuma. Neben den lokalen AV-8B und F-35B war auch eine große Zahl an Harriern der MCAS in Cherry Point vor Ort. Dazu kamen einige Ospreys und Helikopter, die uns in diesen Tagen vor die Linse flogen. Wir haben euch an dieser Stelle eine kleine Auswahl an Highlights zusammengestellt.
From May, 9th to May, 12th we spent several successful days at Yuma. Besides the local AV-8Bs and F-35Bs a nice amount of Harrier from MCAS Cherry Point were there. In addition there were several Ospreys and helicopters we collected during the days. We set up a small selection of highlights for you.
Während unseres Aufenthalts in Yuma fuhren wir Donnerstagmorgen zum rund 30 minuten nördlich gelegenen Laguna AAF, wo wir Fotos von einer seltenen C-27 und einer Aviocar der US Army machen konnten.
While spending the days at Yuma we headed for Laguna AAF at thursday morning were we took shots of the rare C-27 and an Aviocar in service with the US Army.
Anstatt dann jedoch weiter zur Küste zu fahren, führte uns das Wochenende erneut nach Phoenix, da wir immernoch die Hoffnung auf einen Volltreffer in Mesa hatten. Die Enttäuschung war umso größer, als wir abermals auf eine leere Rampe stießen. Jedoch verflog diese Enttäuschung zeitig, als zwei Talons der Sheppard AFB zur Landung ansetzen.
Da sich jedoch neben den zwei Talons nichts weiter einfand, entschieden wir uns am Samstag für einen weiteren Ausflug nach Scottsdale. Dort fielen uns direkt zwei Harrier ins Auge, die auf der Rampe abgestellt waren. Diese gingen dann im Tagesverlauf zu zwei Übungseinheiten in die Luft. Als wir dann nachmittags zurück nach Mesa kamen, hielt es uns kaum noch im Auto, als wir auf einmal vier Harrier der MCAS Cherry Point auf der Rampe stehen sahen. Nach einem vergeblichen Versuch im nahgelegenden Gebäude Ramp-Zugang zu erbitten, sahen wir von außen zu, wie zwei weitere Harrier zur Landung ansetzen. Da war der Volltreffer, den wir uns erhofft hatten.
Instead of heading to the coast the weekend led us back to Phoenix again, because we still had hope to hit bullseye at Mesa. The disappointment was large as we had a look to an empty ramp again. But as two Talons from Sheppard AFB were gone on approach, the disappointment was gone quickly.
On saturday morning we decided to drive to Scottsdale again, because at Mesa there were still just these two Talons. As we arrived at Scottsdale we noticed two Harriers parked on the ramp. These flew two missions during the day. On afternoon we headed back to Mesa and we were close to jump out of our car, as we saw four Harrier of MCAS Cherry Point standing on the ramp. Our attempt to ask for access to the ramp failed and so we saw two more Harriers landing as we stood outside the fence. We hit bullseye!
Da der Sonntag bewölkt startete, folgten wir dem Ruf der Küste und nutzen die Zeit, um, mit einer sehr interessanten Navi-Anzeige (folgen Sie 454 km dem Straßenverlauf), mit Ziel March Air Field Museum in Richtung Westen zu fahren. Auf dem Weg machten wir einen kurzen Stopp in Quartzsite, um die beiden dort abgestellten NRF-4C festzuhalten.
Because the sunday started cloudy, we followed our way to the coast (454km straight) and headed to the March Air Field Museum again. We made a short stop at Quartzsite, to take shots of the two NRF-4C which are preserved there.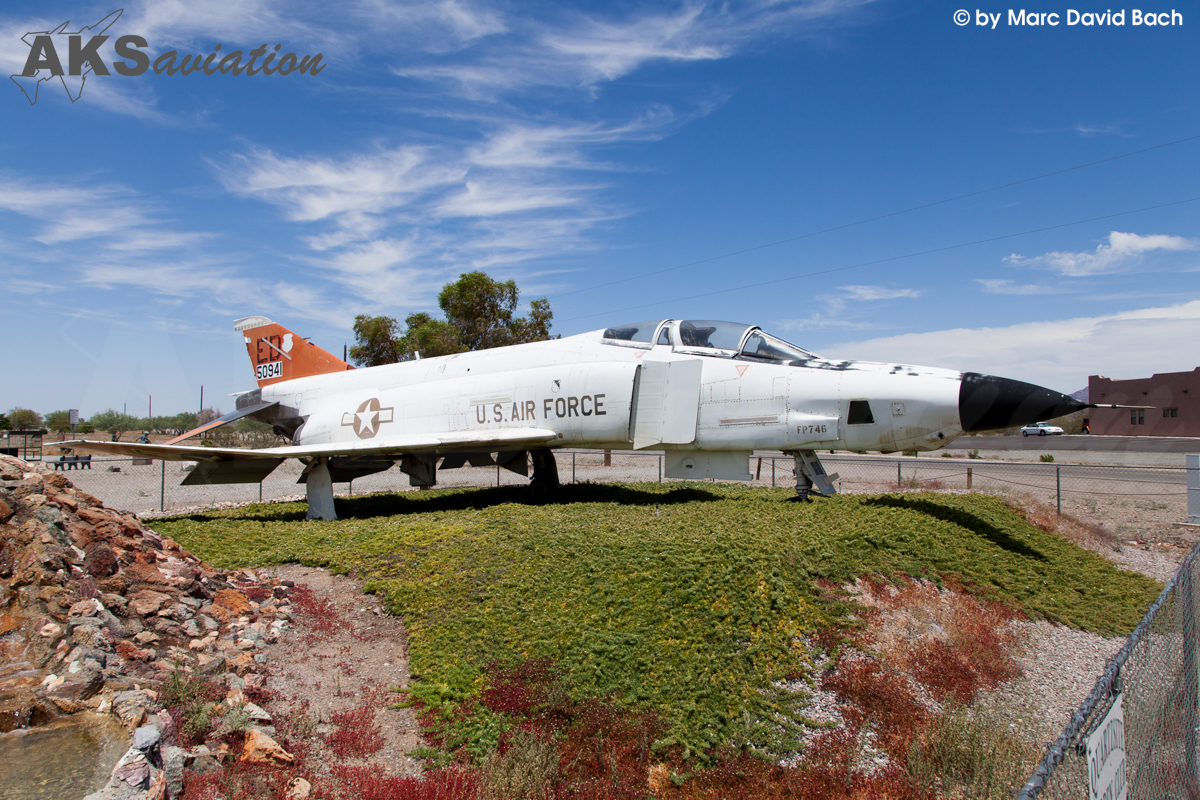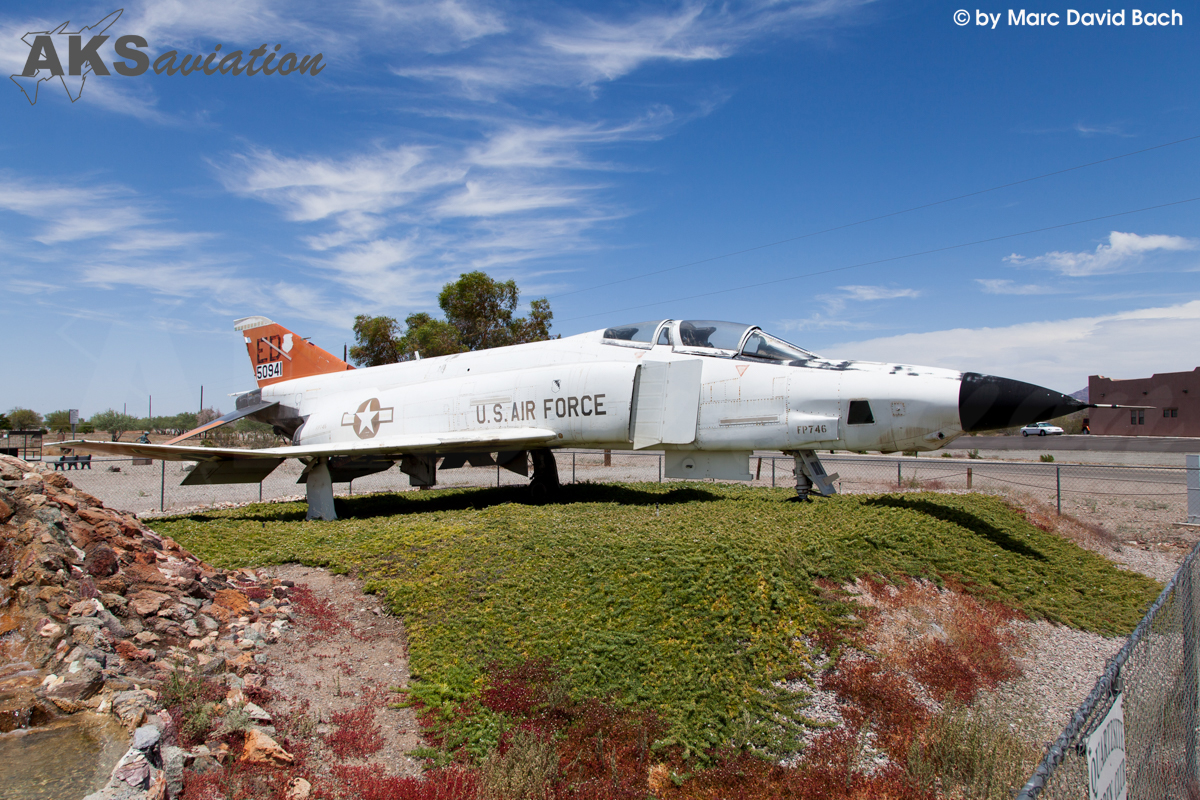 Leider verzögerte sich unsere Ankunft anschließend, durch das hohe Verkehrsaufkommen, erneut so, dass wir kurz vor Toresschluss an der March ARB ankamen. So blieb uns etwas mehr als eine Stunde, um die komplette Flightline des Museums zu bearbeiten.
As we arrived at March ARB we were late again because of heavy traffic and so there was just about one hour left for us to complete photographing the whole flight line.
Die folgende Woche führte uns dann endlich zur Küste, wo wir an der NAS Point-Mugu auf die Jagd nach E-2 gingen. Dies gestaltete sich in der Tat schwieriger als ursprünglich gedacht und so verbrachten wir drei Tage in Ventura County und konnten gerade einmal zwei Hawkeyes einfangen. Auch abgesehen von den E-2s läuft der Betrieb an der NAS Point-Mugu eher schleppend, neben den C-130J der California ANG konnten wir noch ein paar P-3 fotografieren. Die Kfir und Hawker Hunter des Flugzieldarstellers ATAC flogen nur an einem vormittag mit je einem Flieger beider Typen.
The upcoming week led us to the coast finally. We tried to catch some E-2 at NAS Point-Mugu, which was more difficult as expected. Within three days in Ventura County we were just able to collect two Hawkeyes. Besides the E-2s the traffic is also rather lethargically. We were able to gather a couple of C-130J of the CA ANG and some P-3s. The Kfir and Hawker Hunter of the aerial target company ATAC just flew at one day in the morning with one aircraft of each type.
Als wir uns währenddessen am Mittwoch einen Tag Auszeit gönnen wollten, erblickten wir auf FR24 die DC-8 der NASA, die nach Start in Palmdale vor der Westküste über dem Nordpazifik ihre Runden drehte. In Hoffnung diese, bei der Rückkehr in Palmdale, ablichten zu können, setzen wir uns ins Auto und nahmen die kurze Strecke gen Norden auf uns. Leider entschied sich die DC-8, als sie dann tatsächlich nach KPMD zurückkehrte, für die, aus unserer Sicht, falsche Landebahn. So blieb uns nur ein Schuss gegen die Sonne, der zudem verflimmert und unscharf sein sollte. Gerade auf dem Weg zurück auf den Highway, sahen wir im Rückspiegel die B727 der Raytheon Company bei einem touch and go durchstarten, drehten um, und hofften, dass diese für ein paar weitere Anflüge zurückkam.
As we made a day off on wednesday we saw the DC-8 of NASA on Flightradar24, which was circling around next to the coast overhead the pacific ocean. Hoping for a good shot we made the short trip up to Palmdale awaiting its return later the day. Unfortunately the DC-8 returned on the other runway and we were just able to make a shot against the light and with heat hazing. In the rearview mirror we saw the B727 of Raytheon Company performing a touch and go at Palmdale as we entered the highway. We made a turn and we had hope for a couple more approaches.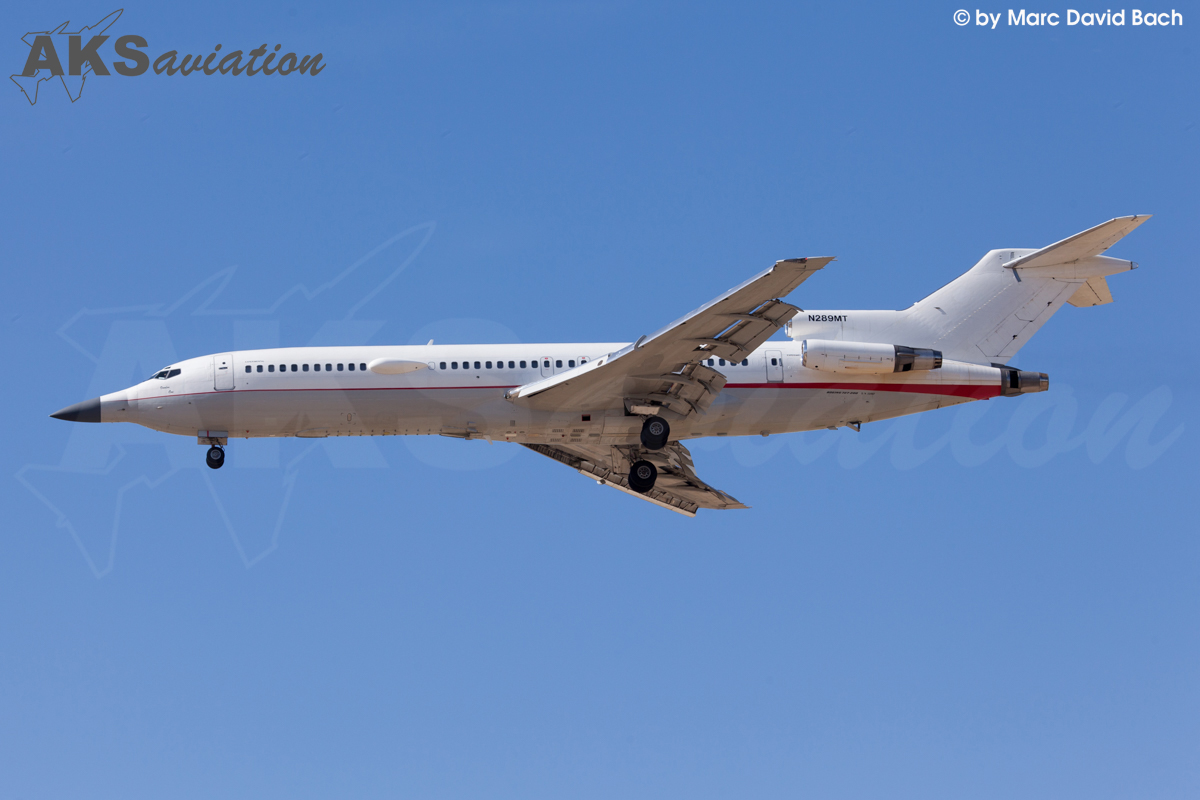 Am Donnerstagnachmittag statteten wir March noch einen kurzen Besuch ab. In der Zeit vor Ort konnten wir diese beiden Flugbewegungen festhalten.
On thursday afternoon we spent another short visit at March. We were able to capture this two movements.
Als wir vorab unserer Tour den letzten Feinschliff verpassten, stießen wir auf die Information, dass am Wochenende vom 19-21. Mai am Flabob Airport, ein kleiner Flughafen in Riverside, Kalifornien, ein Fly-In von DC-3/C-47 stattfinden sollte. Um die angekündigten Oldtimer möglichst effektiv und vielzählig einzufangen, hatten wir uns vorgenommen uns am Freitag in den Anflug zu stellen. Als wir dann jedoch feststellten, dass bereits vier DC-3 auf der Rampe standen, entschieden wir uns erstmal für eine kleine Runde um den Airport. Wir kamen am Flughafengebäude vorbei und sahen einen Eingang, über dem ein großes Schild "Press" angebracht war. Auf höfliches Nachfragen erhielten wir uneingeschränkten Zugang zur Rampe. Dort konnten wir uns das komplette Wochenende über frei bewegen und wurden mit kalten Getränken und kleinen Snacks, wie z.B. Cookies, versorgt. Ebenso durften wir Sonntag an einem von zwei stattfindenden Presseflügen in einer DC-3 teilnehmen. Ein unvergessliches Erlebnis.
As we put the final touches on our tour, we noticed an information of a DC-3/C-47 fly-in at Flabob Airport in Riverside, California from May,19 to May,21. To gather the oldtimers we decided to place ourselves in the final approach area on friday. As we noticed already four DC-3s on the ramp, we drove around the airport until we saw an entrance with a sign "Press". We ask kindly and got full access to the ramp for the whole weekend. We were able to move completely free and received cold drinks and small snacks like cookies for free. As highlight we were allowed to fly on the press flight on a DC-3 on sunday. An unforgettable experience.
Die letzten Tage unseres Trips brachten uns nach Las Vegas, um am Montag an der Nellis Air Force Base zu fotografieren. Wir hatten die Information erhalten, das sowohl B-52, als auch B-1 Bomber vor Ort seien. Im Verlauf des Montags flogen die Teilnehmer der, zu der Zeit stattfindenden WeaponSchool Übung, zwei Übungseinheiten. Wir konnten dabei neben zwei B-52 und zwei B-1 aber auch noch weitere Jets fotografieren.
The final days of our trip we drove up to Las Vegas for photographing at Nellis Air Force Base on monday. We got the information the day before that B-52 as well as B-1 bombers were present at Nellis. The participants from WeaponSchool exercise flew twice this day. We were able to take pictures of several jets besides two B-52 and two B-1 as well.
Am Dienstag endete unser 3-wöchiger Trip in Los Angeles, wo wir wegen Nebel nicht mehr groß zum Fotografieren kamen. Insgesamt war es eine sehr erfolgreiche Tour, die einige Highlights hervorbrachte. Insbesondere der mehr als halbstündige Flug mit der DC-3 über Riverside sollte unvergessen bleiben. Schließlich ging es mit Air France dann, über Paris, zurück ins Rheinland.
On tuesday our trip of three weeks ended at Los Angeles, but because of a foggy day we weren't able to take photographs at the end. Overall it was a very successful tour, with many highlights. Especially the flight on a DC-3 overhead of Riverside will stay in our mind. Finally we flew back homewards on an Air France flight, via Paris Charles-de-Gaulle.