Agrarflug Bell 212 & ADAC EC135
Ein Ausflug an einem sonnigen Samstag im April sollte uns ursprünglich zur Firma Agrarflug Helilift nach Ahlen führen. Eine zunächst beiläufig beachtete Info, dass der Rettungshubschrauber "Christoph Europa 2" an diesem Tag den Hubschrauber tauschen sollte, bot uns innerhalb weniger Minuten die Möglichkeit endlich einen ADAC Hubschrauber in der Luft zu fotografieren. Nach einem Briefing flogen wir dann über die Stadt Rheine, wo wir auf dem Dachlandeplatz vom "Christoph Europa 2" zwei Eurocopter EC135 sahen. Einer der Beiden machte sich kurz darauf fertig und hob wenige Augenblicke später ab. Der Flug führte den Rettungshubschrauber nach Nord-Osten Richtung Perleberg. Die Sonne stand perfekt und die D-HPMM kam immer näher an uns heran. Nach einigen Minuten waren wir fertig und meldeten uns beim Tower des Flughafens Münster/Osnabrück, um die Kontrollzone Richtung Ahlen zu durchqueren.
On a sunny Saturday in late April we previously planned a visit to company Agrarflug Helilift in Ahlen. On a short notice we got an information about a change of helicopters of "Christoph Europa 2" and we finally managed to take photos of an ADAC helicopter air to air. After a short briefing we flew overhead of the City of Rheine and we noticed two EC135 on the heliport of "Christoph Europa 2". A few minutes later one of them took off with direction north-east to Perleberg. The sun was in a perfect position as D-HPMM came closer to our Cessna and we could take our photos of this ADAC helicopter. Afterwards the Tower of Münster/Osnabrück Airport allowed us to pass the control zone with direction Ahlen.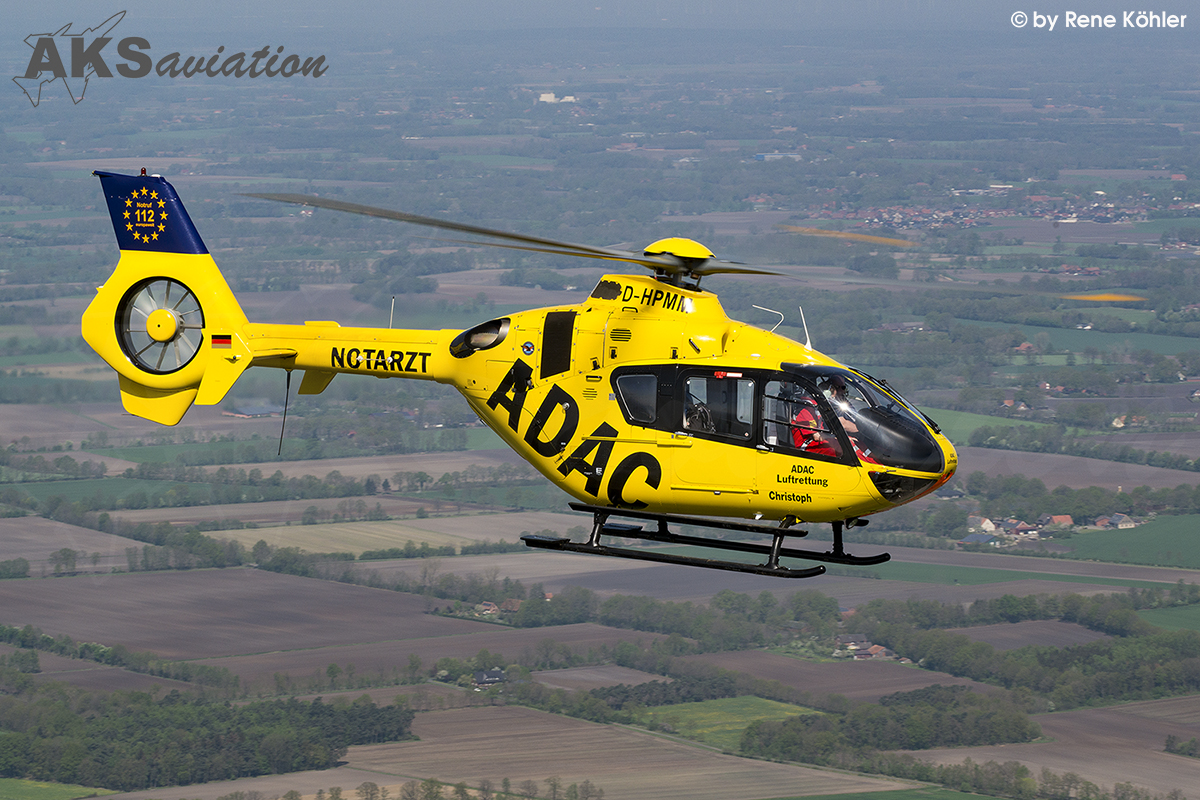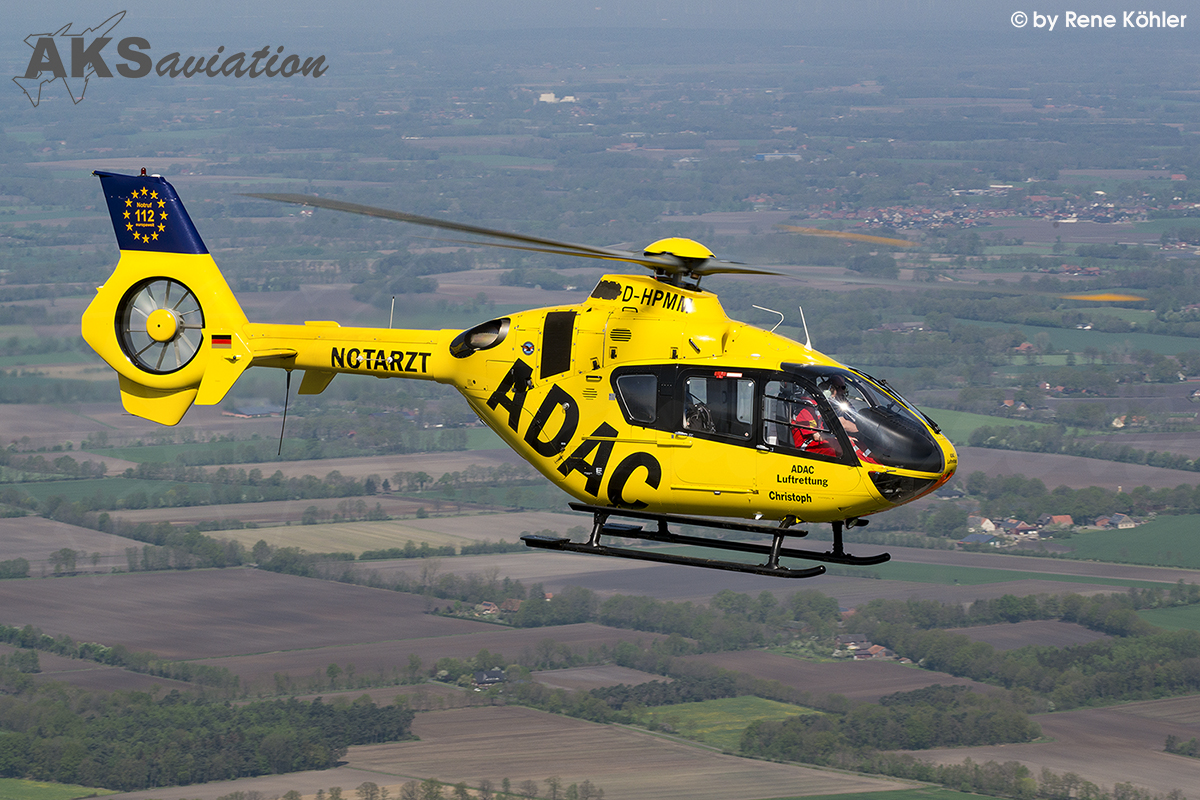 Die firmeneigene Landebahn von Agrarflug Helilift ist 700 Meter lang und nach einem Überflug konnten wir landen. Die gelbe Bell 212 stand bereits vor der Halle. Ein weiterer Bell Jet Ranger stand für Rundflüge über Ahlen zur Verfügung. Nachdem wir die Cessna abgestellt hatten, trafen wir uns mit dem Piloten der Huey und besprachen unser Vorhaben. Nach wenigen Miunten konnten wir wieder starten und drehten eine Runde über Ahlen. Kurz daraufhin meldete sich die D-HGPP. Wir folgten ihr nach Nord-Westen und machten das, was wir vor hatten.
The company-owned runway of Agrarflug Helilift counts 700 meters and after an overshoot we landed finally. In front of the hangar the yellow Bell 212 was already ready for the next mission. Another Bell Jet Ranger was available for sightseeing flights over Ahlen. After we parked our Cessna we met the pilot of the Huey and finalized last details about our shooting. Back in the air we flew a quick circle over Ahlen and D-HGPP was already with us. We followed its north-western direction, took our photos and are satisfied with the results.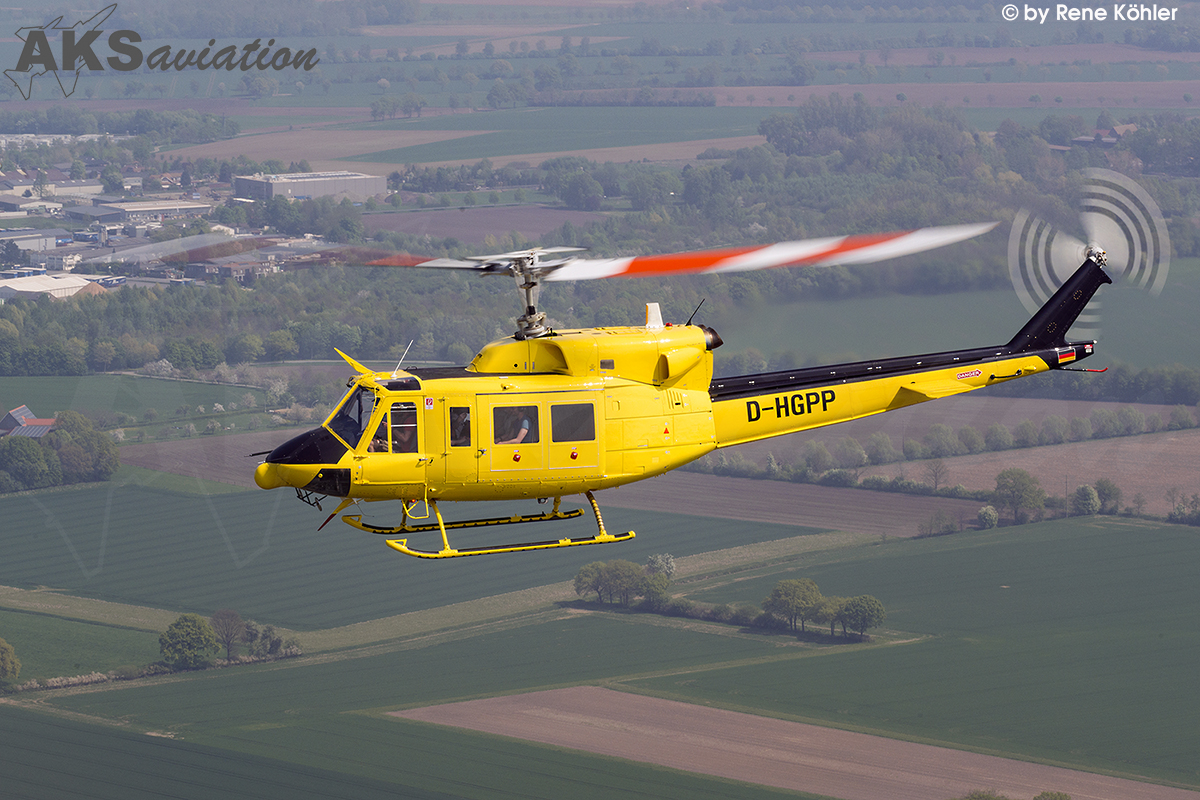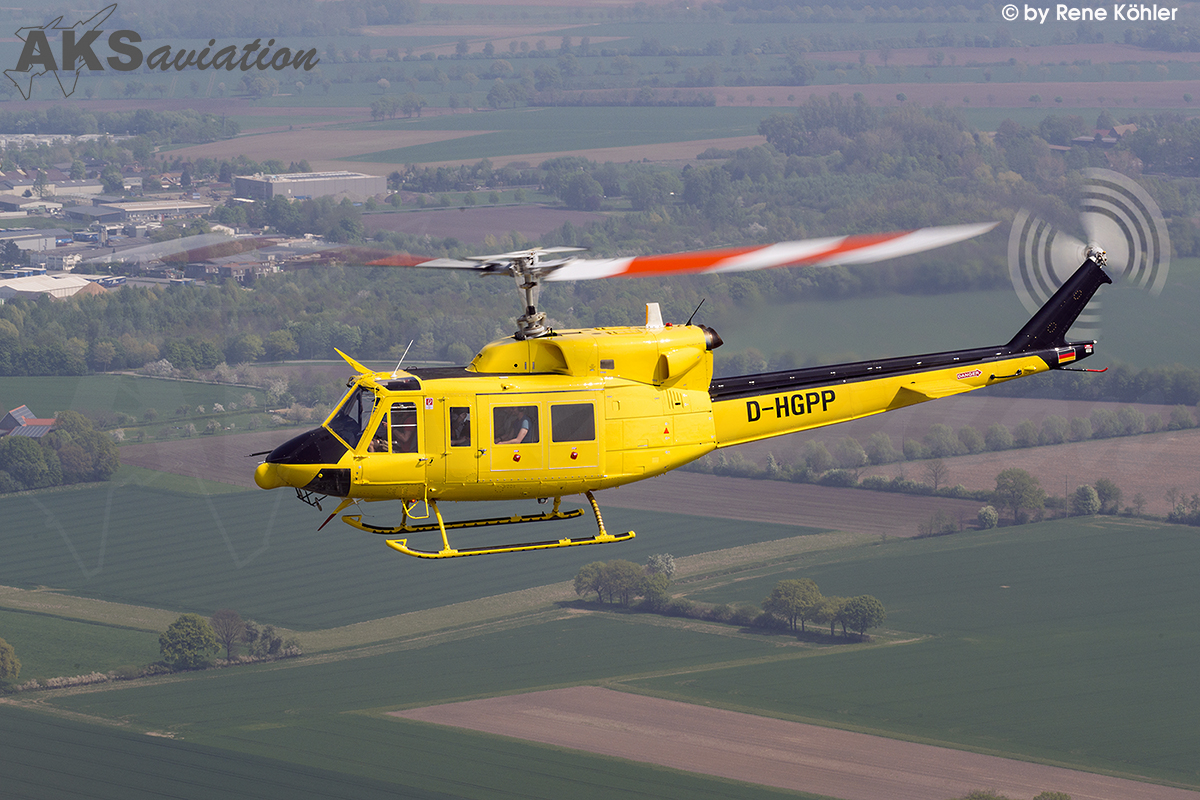 Kurz hinter Münster trennten sich dann unsere Wege wieder und wir flogen zunächst nach Rheine-Eschendorf, von wo wir nach einem kurzen Aufenthalt wieder nach Rheine-Bentlage zurückflogen.
Short behind Münster the Huey left our way and we paid a short visit to Rheine-Eschendorf. After a quick stay our trip ended at Rheine-Bentlage.