[DUS | EDDL] Düsseldorf Airport
Auf dieser Seite wollen wir euch fortlaufend mit interessanten Bildern und besonderen Flugzeugen aus Düsseldorf versorgen.
Dazu zählen Sonderlackierungen, Sticker, neue Flugzeugtypen, neue Airlines aber eben auch einfach gelungene Aufnahmen rund um den größten Flughafen in Nordrhein-Westfalen.
On this page you will find interesting pictures as well as special movements from Düsseldorf, updated from time to time.
Special schemes, stickers, new aircraft types, new airlines but as well good shots from different perspectives will give you a good overview of the biggest Airport in North Rhine-Westphalia.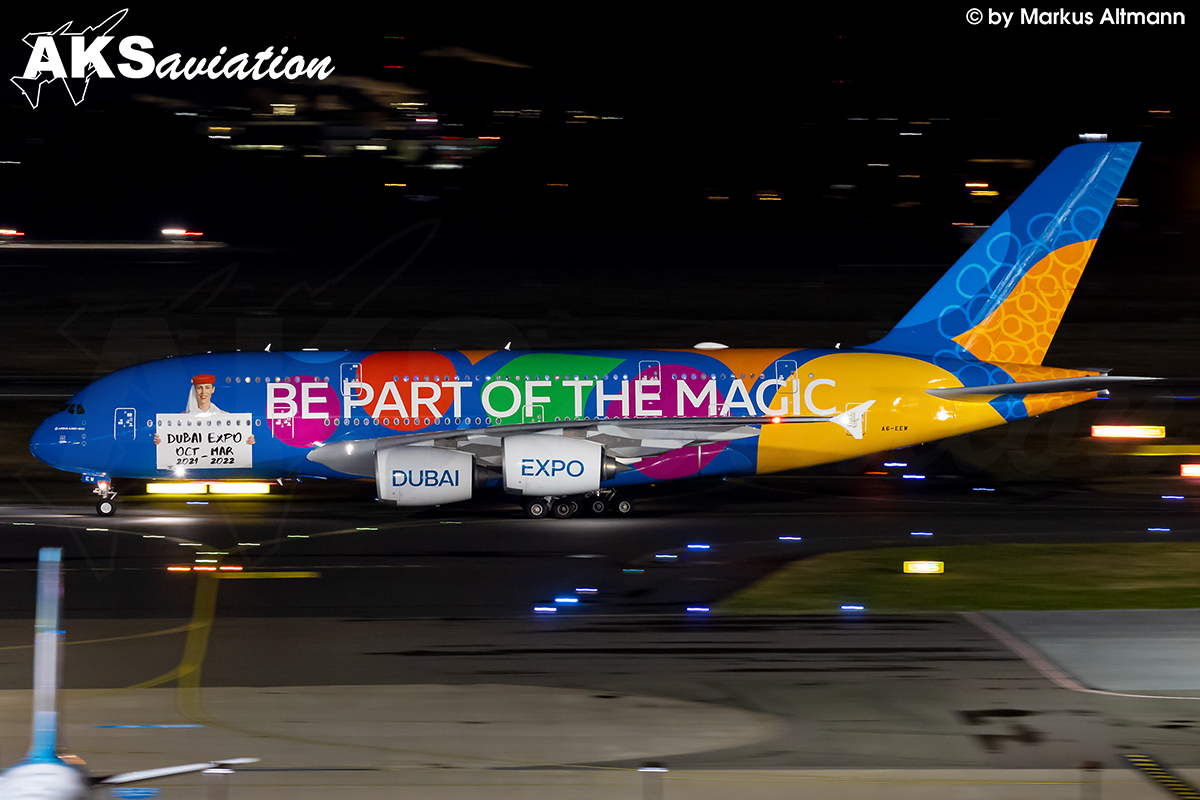 Airbus A380-861 Emirates Airlines A6-EEW "DUBAI EXPO – BE PART OF THE MAGIC" special colors after arrival RWY 05R taxiing to the Terminal.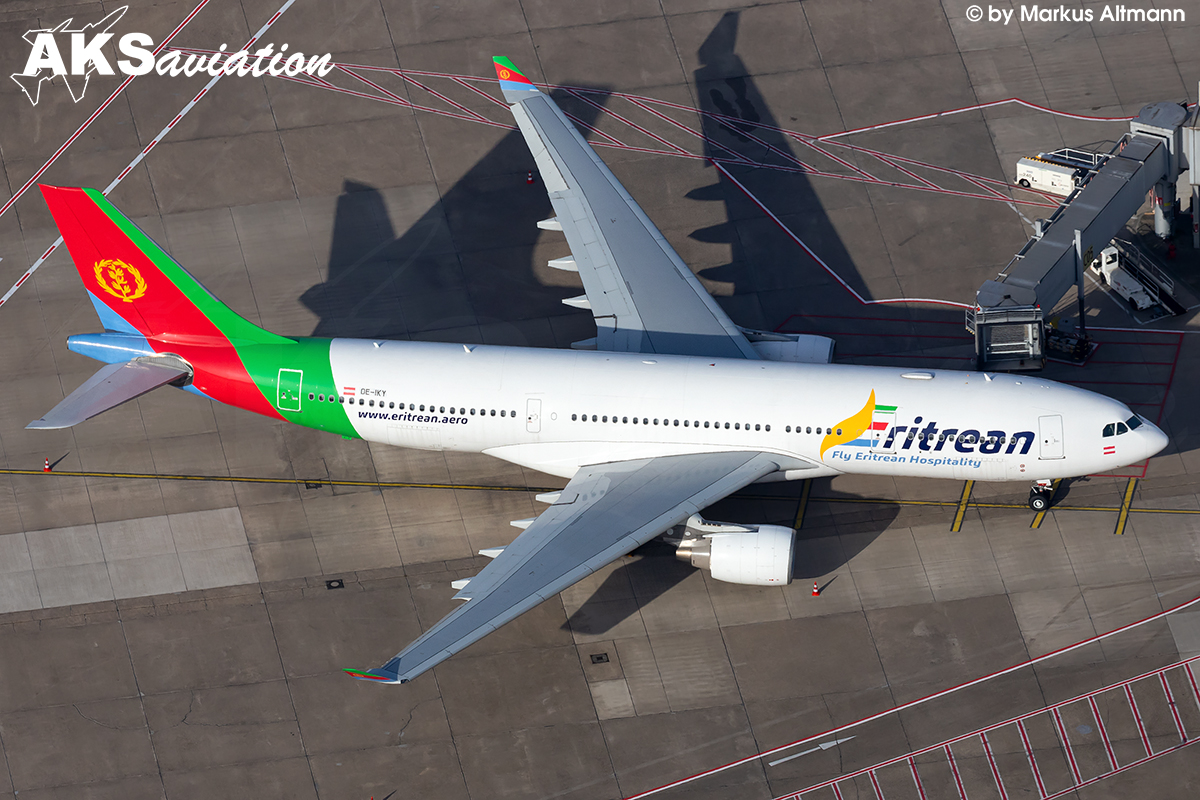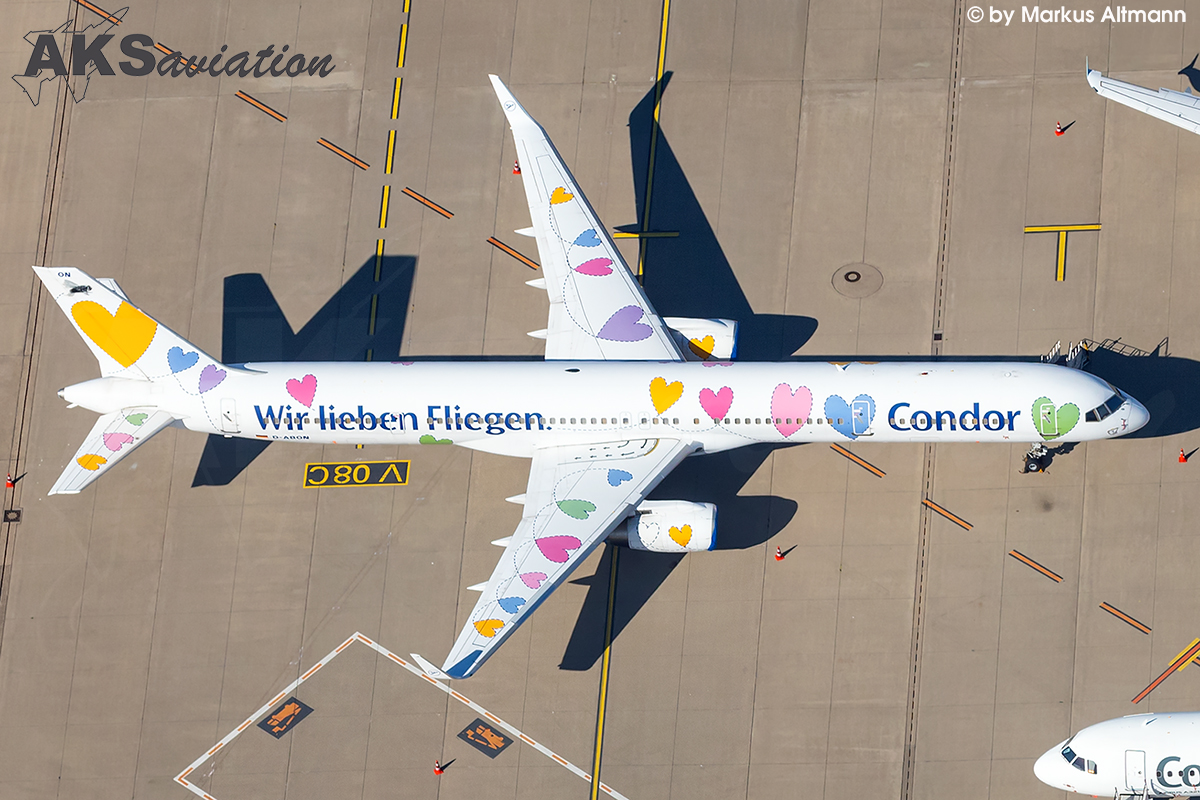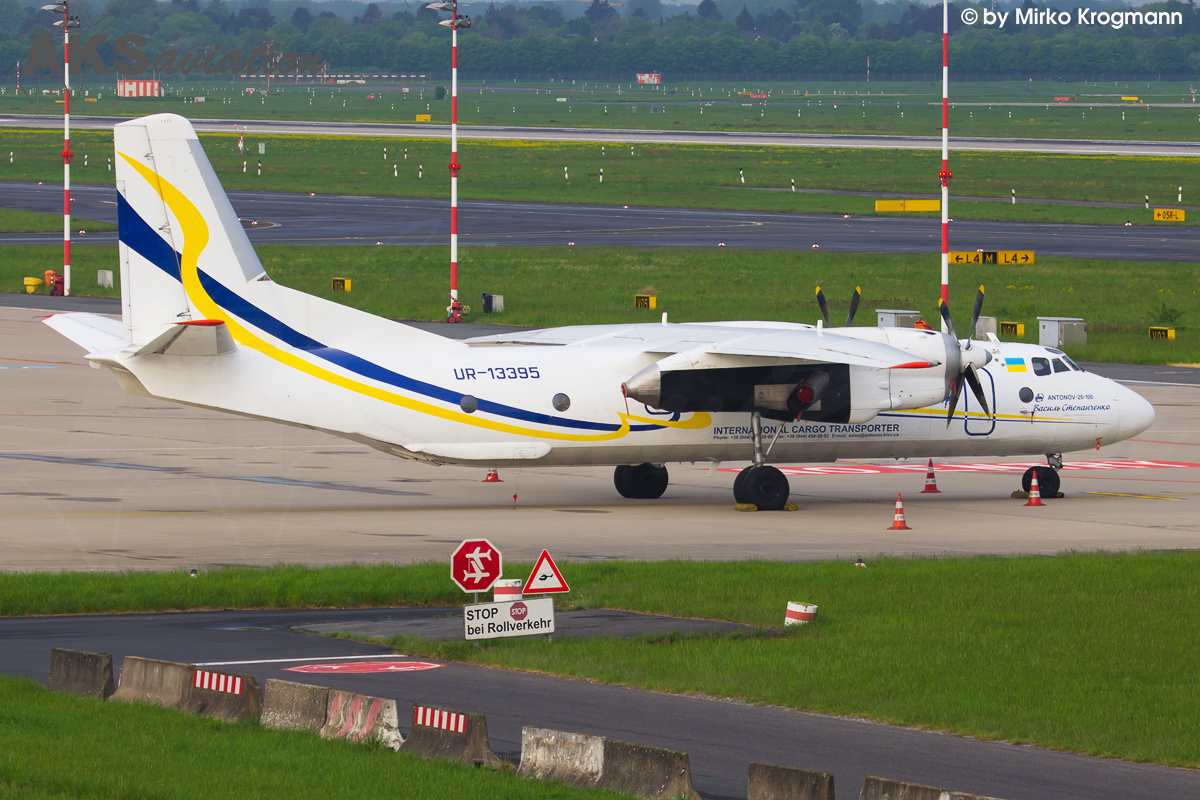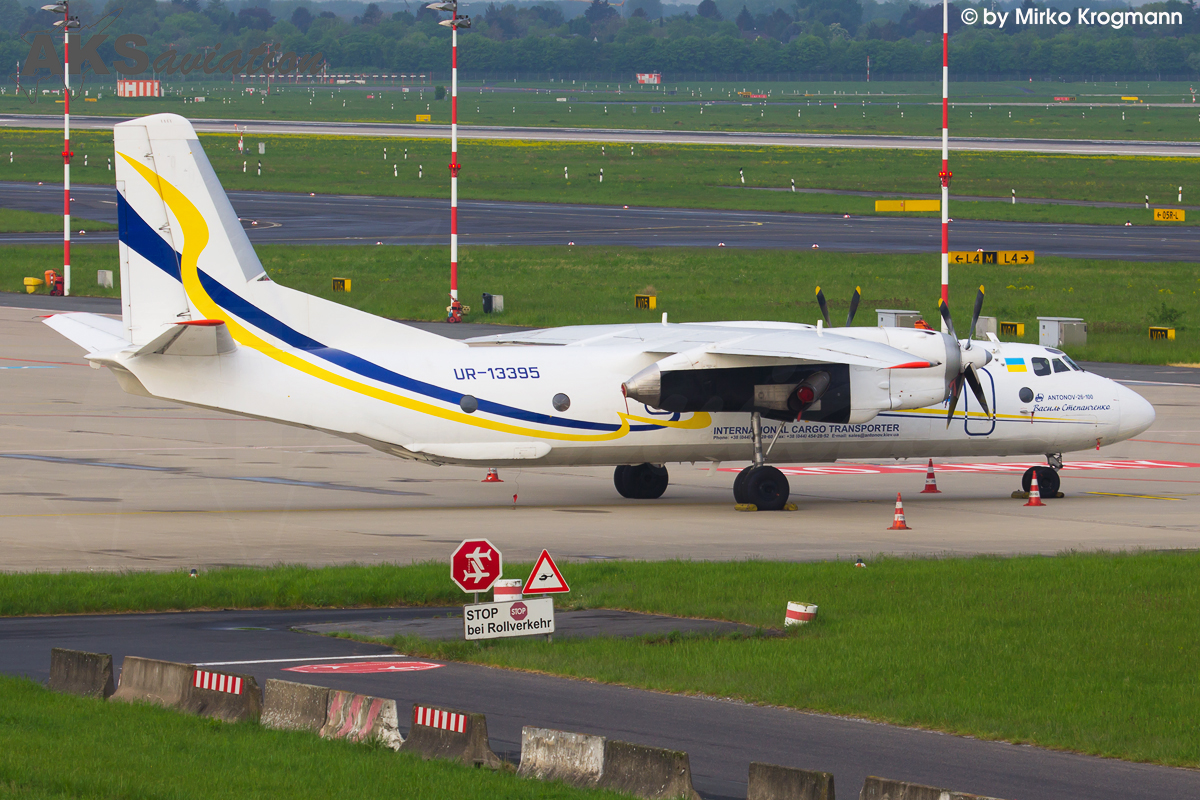 Diese Antonov An-26 von ADB war als Frachtcharter zu Besuch in Düsseldorf. Sie landete den Tag zuvor aus Leipzig und flog erst am Nachmittag weiter nach Bratislava.
This Antonov An-26 of ADB visited Düsseldorf for a freight charter. It landed the day before from Leipzig and took off to Bratislava later during this day.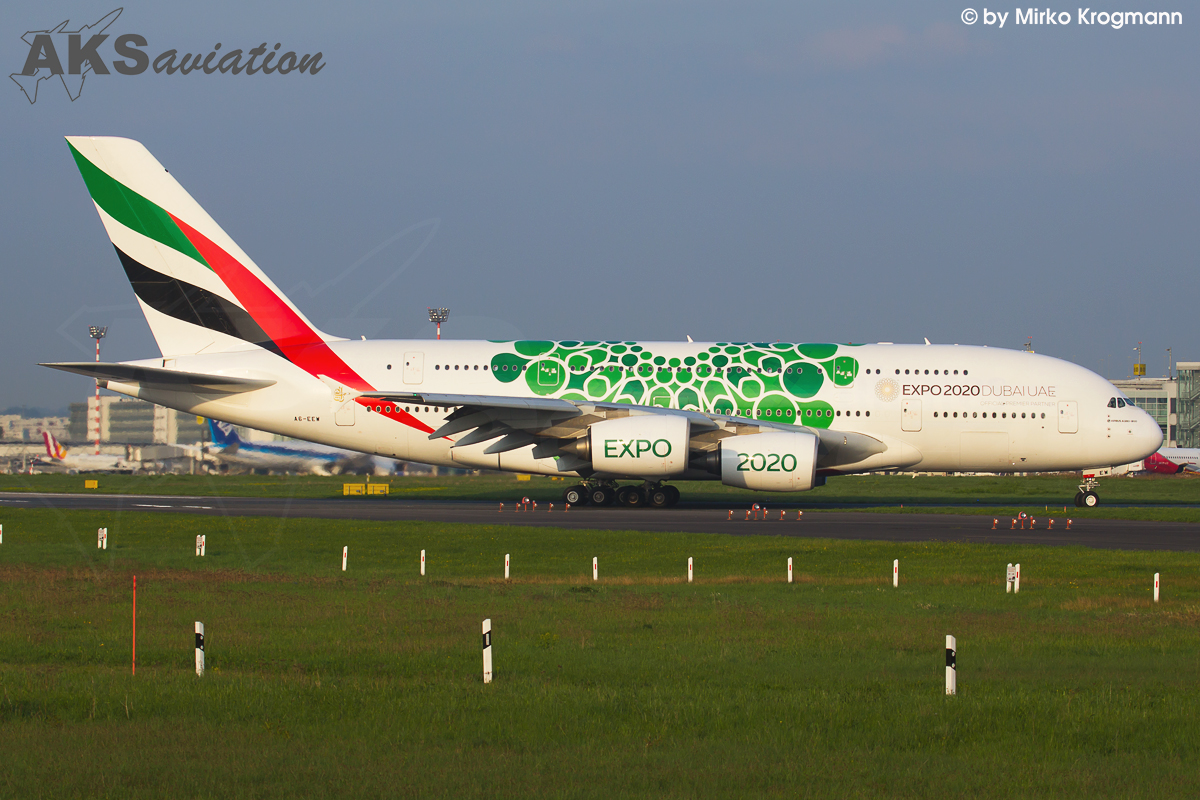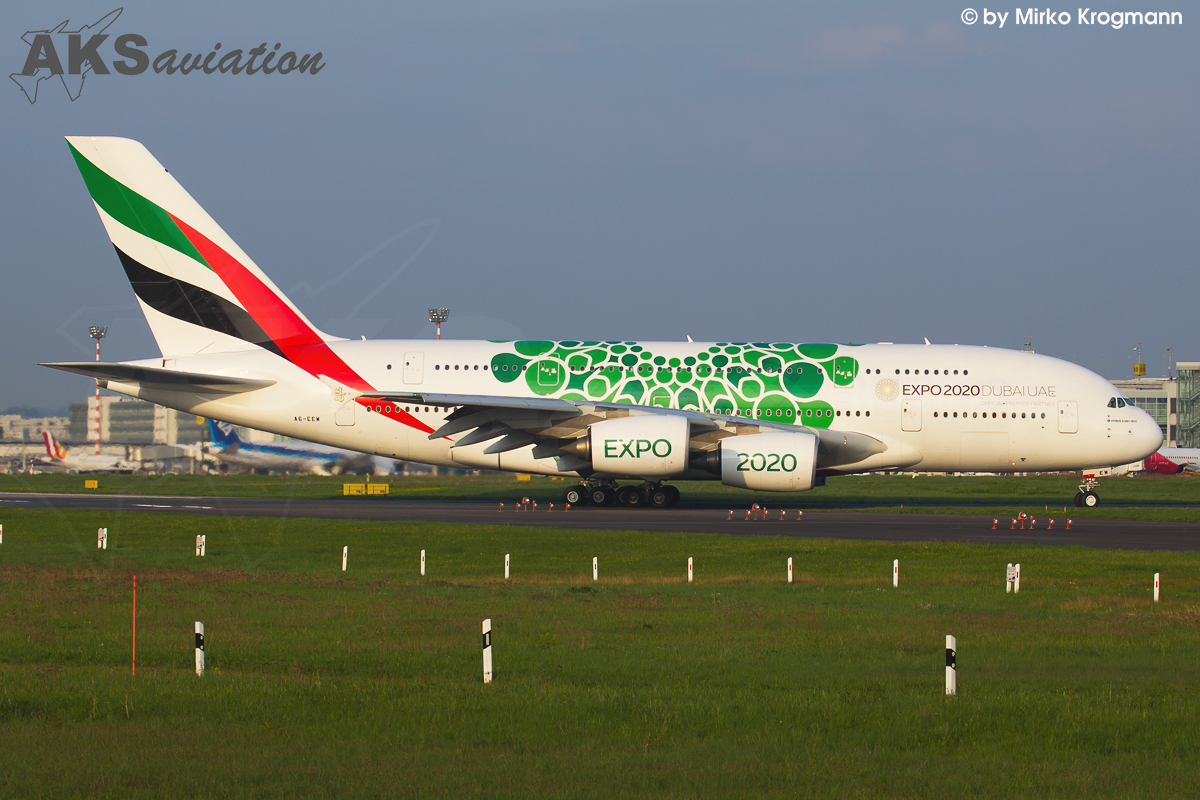 Emirates bewirbt auf diesem Airbus A380-800 die EXPO 2020 in Dubai. Neben diesem A380 sind auch noch einige Boeing 777-300 mit Stickern versehen.
Emirates advertises the EXPO 2020 in Dubai on this Airbus A380-800. Beside the Airbus A380 there are several Boeing 777-300 with different stickers, too.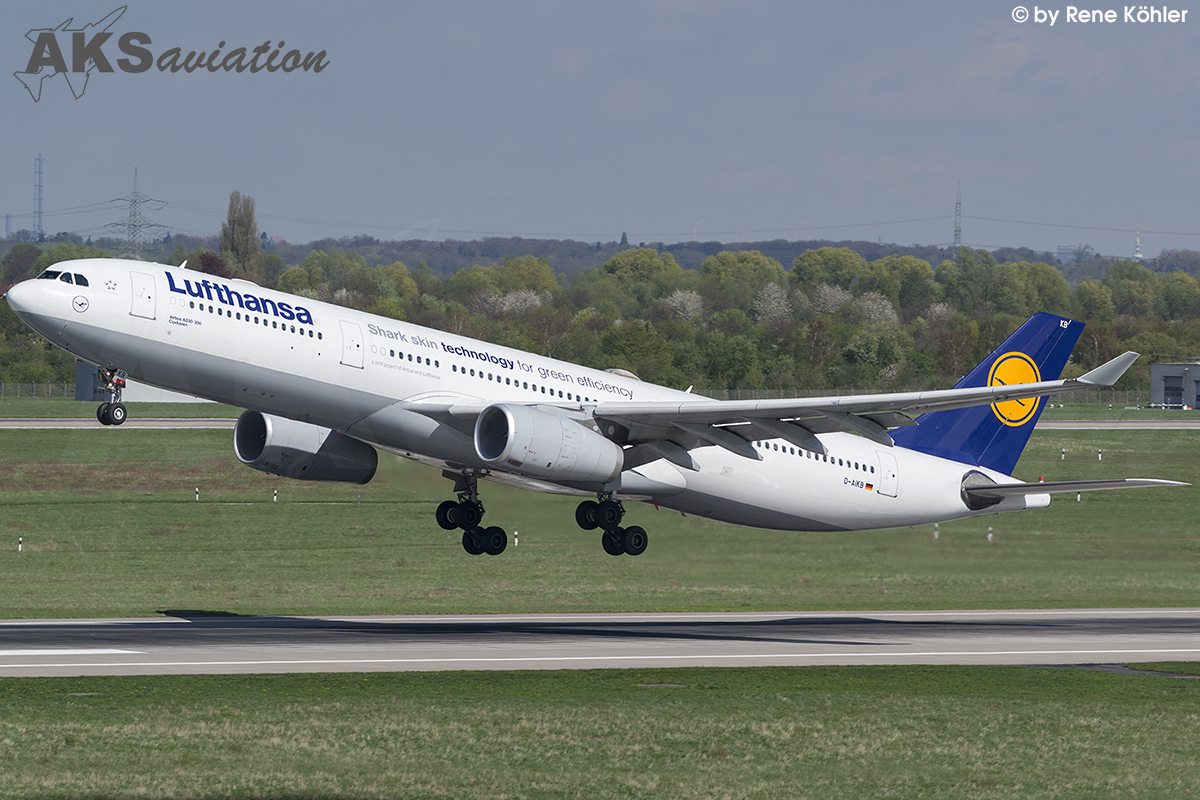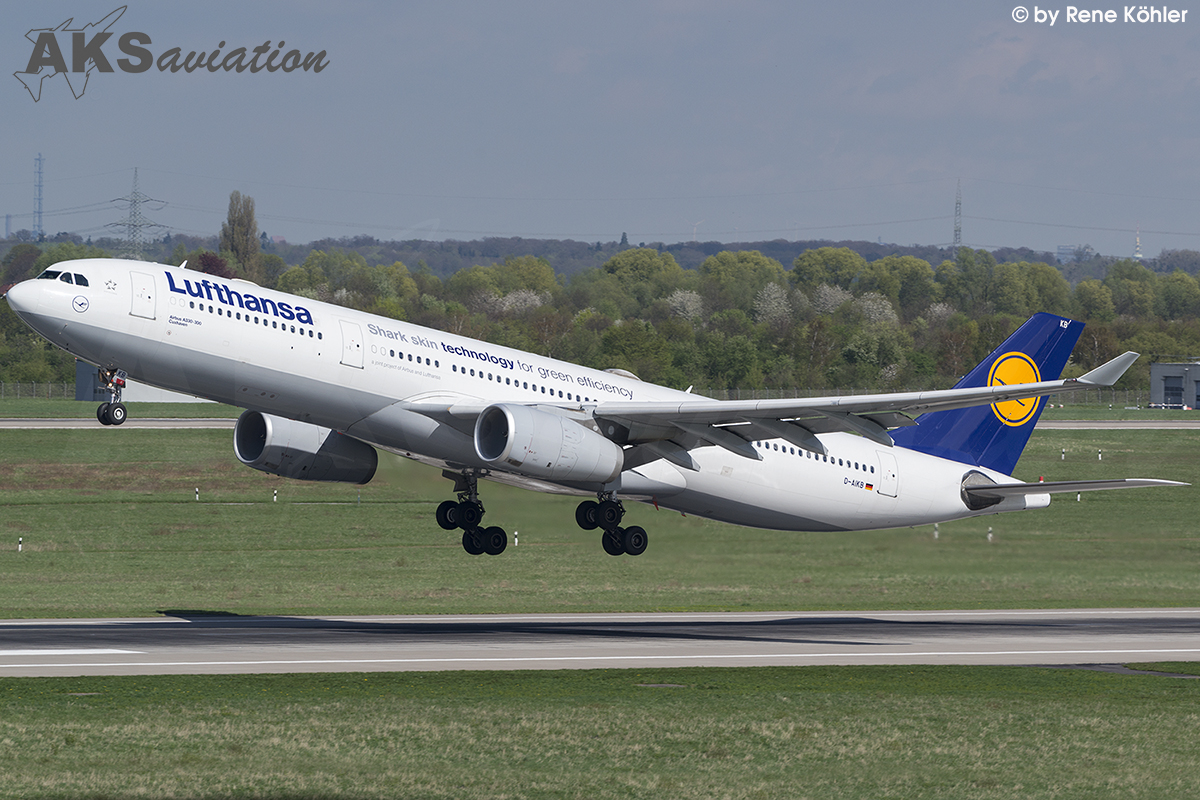 Lufthansa Airbus A330-343X mit Stickern: "Shark skin technology for green efficiency" beim Take-Off auf Runway 23L.
Lufthansa Airbus A330-343X with special sticker: "Shark skin technology for green efficiency" during take-off on RWY 23L.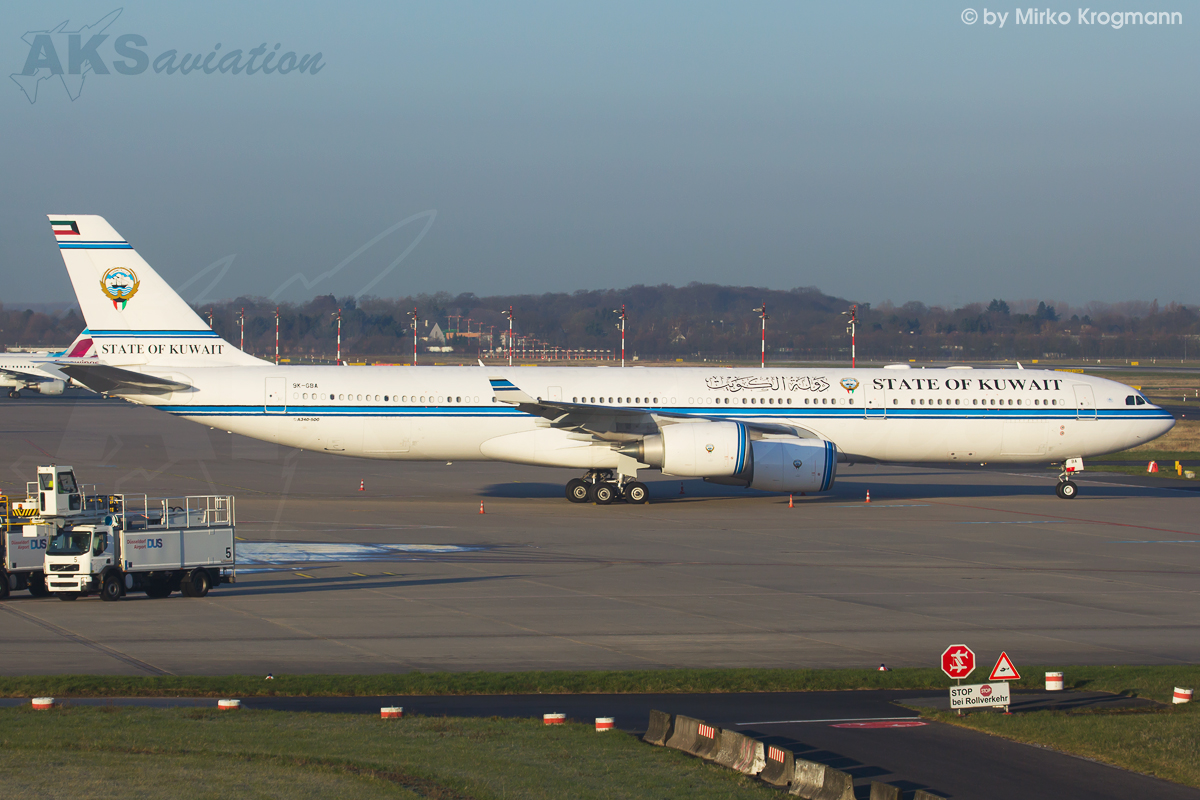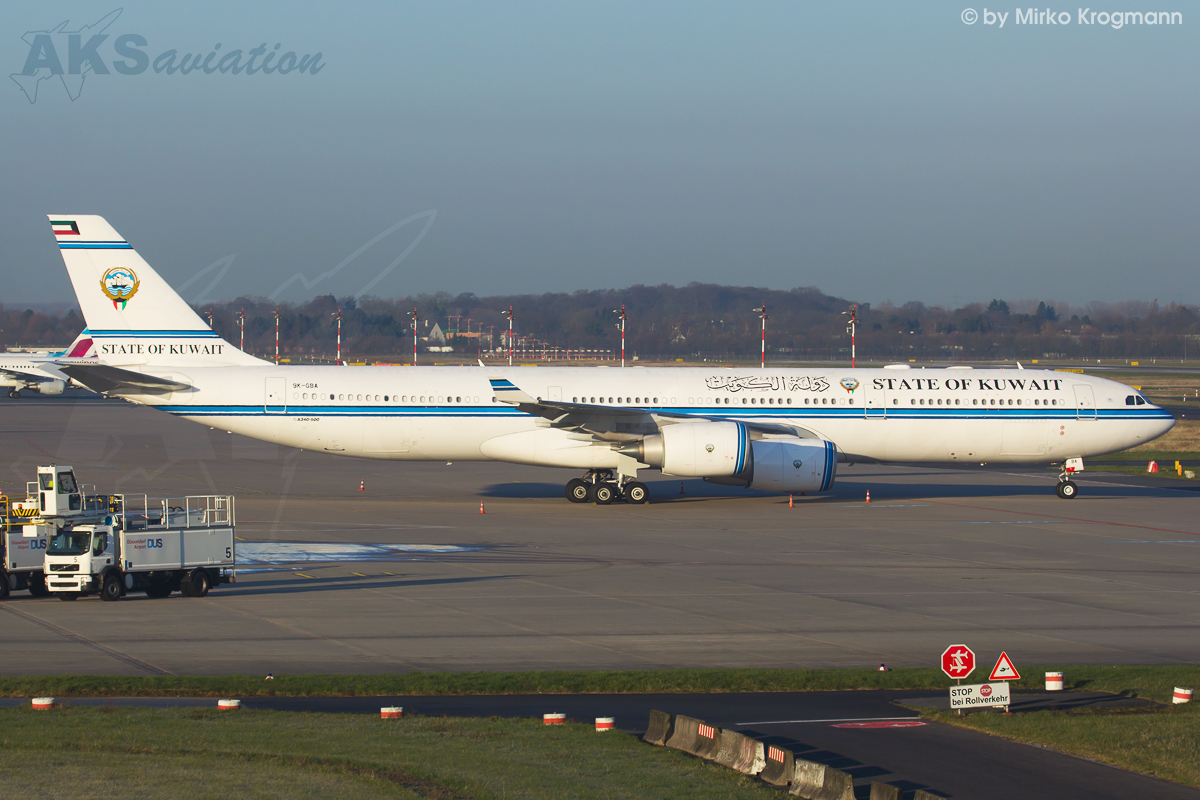 Dieser Airbus A340-500 der Regierung aus Kuwait war zwei Tage lang bei uns zu Besuch. Am sonnigen Morgen des 06.04 ergab sich dieses Bild, aufgenommen am Fernbahnhof.
This Airbus A340-500 of State of Kuwait was resting two days in Dusseldorf. During the early morning, 6th April, this photo was taken from the train station.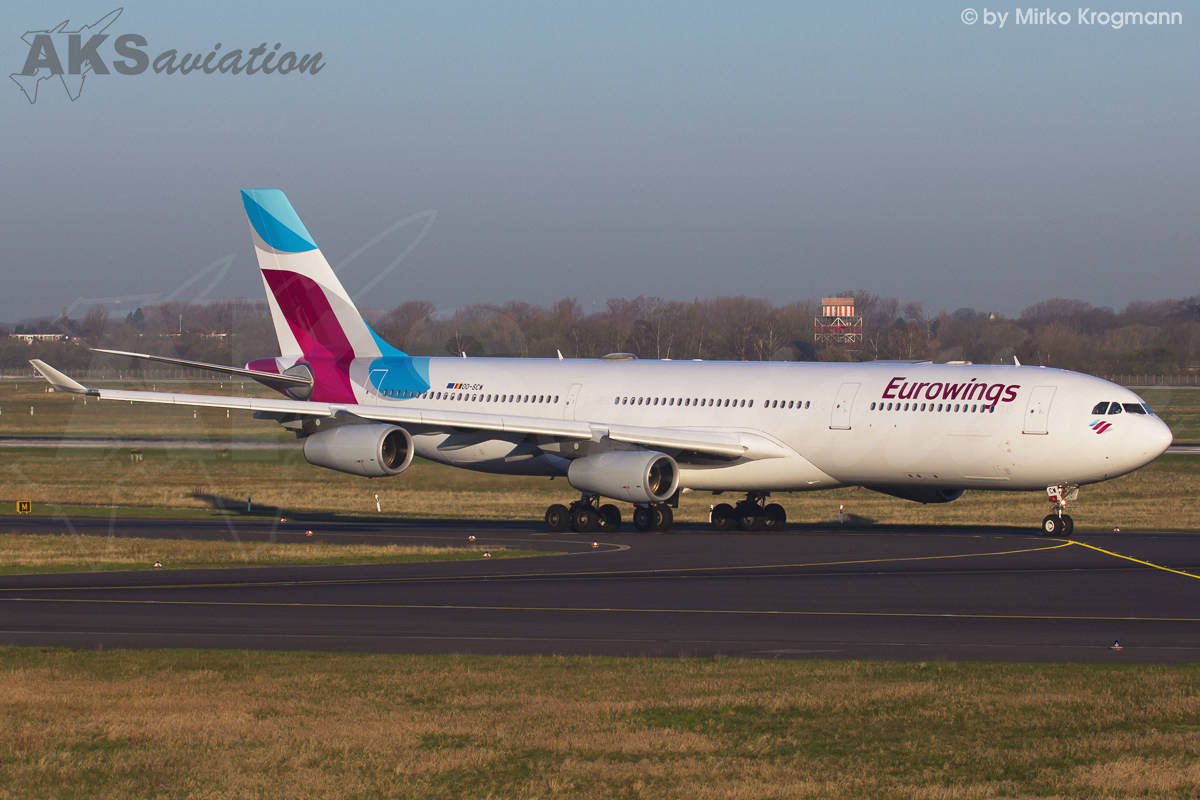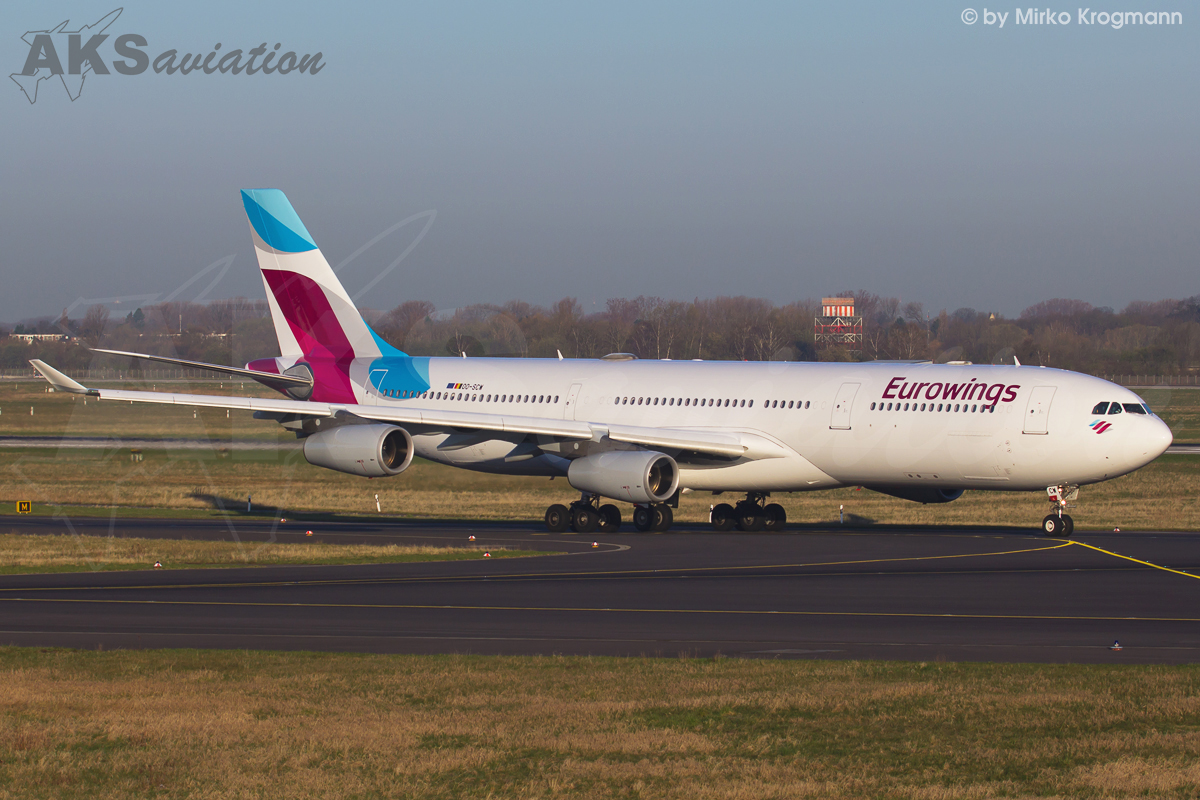 Einer von zwei Airbus A340-300, die Brussels Airlines für Eurowings ab Düsseldorf betreibt, rollt zum Start Richtung Palma de Mallorca. Die zweite Destination ist Wien, ab Mai soll es dann auch über den Atlantik Richtung New York, Miami und Fort Mayers sowie zu den Karibikzielen Cancun und Punta Cana gehen.
One of two Eurowings Airbus A340-300 rolling to the active runway 23L for the takeoff to Palma de Mallorca. These two A340 are operated by Brussels Airlines and they serve Mallorca and Vienna on a daily basis. From May on they are going to operate to New York, Miami and Fort Mayers as well as carribian destinations Cancun and Punta Cana.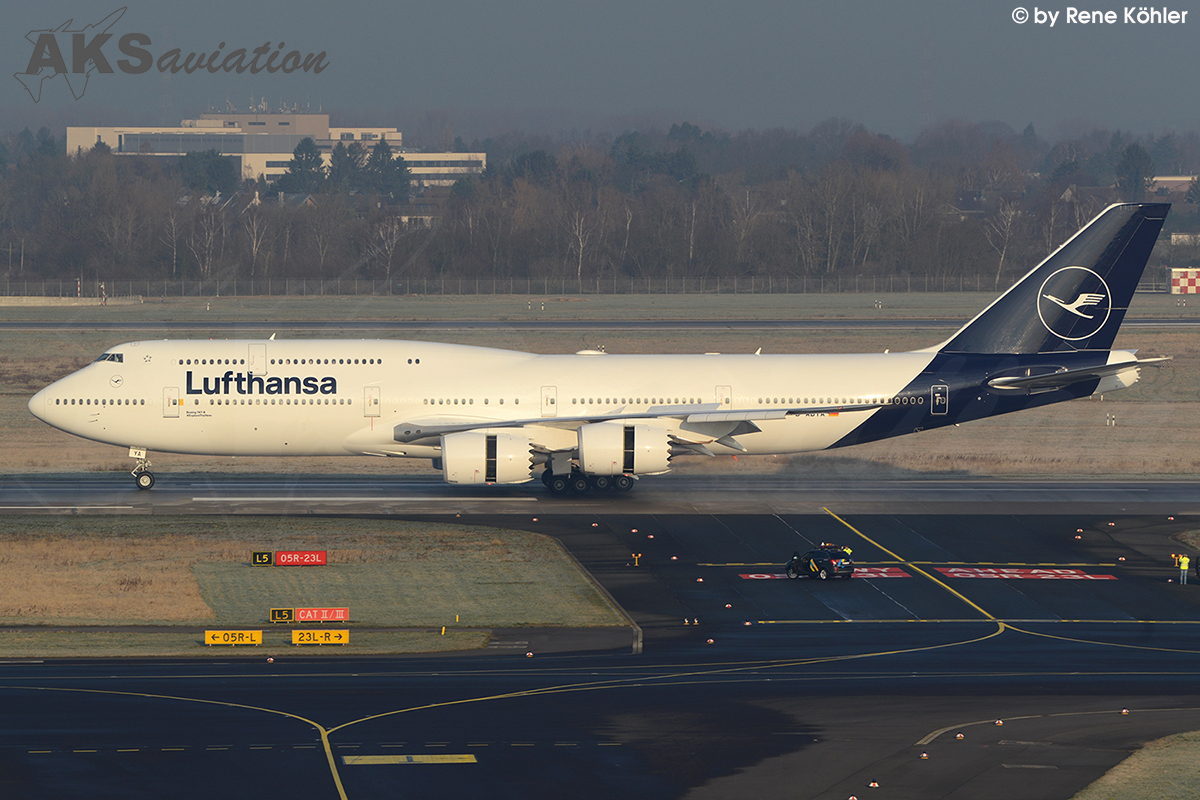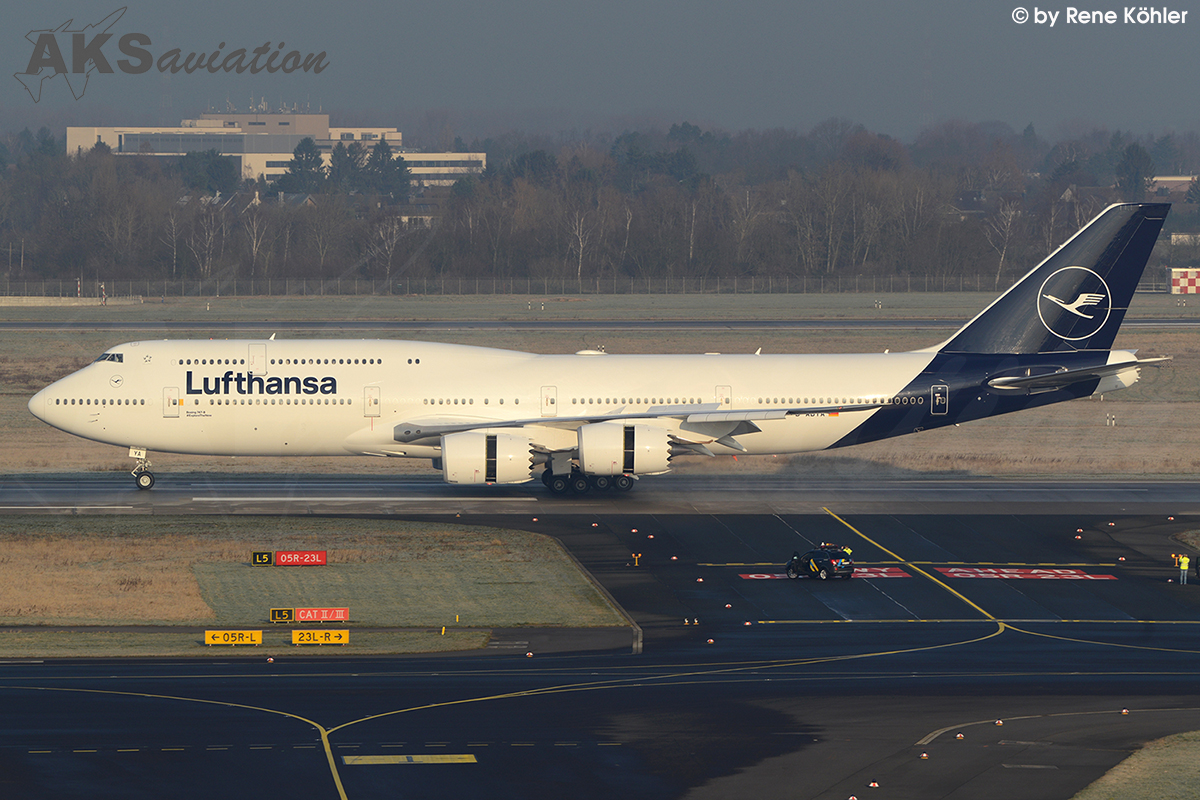 Lufthansas neueste Farbvariante auf der Boeing 747-8 D-ABYA bei ihrer Ankunft in Düsseldorf.
Lufthansa's newest colourscheme on Boeing 747-8 D-ABYA during arrival at Dusseldorf.