Good bye Huey + H145 LUH SAR Vorstellung
Die Heeresflieger in Niederstetten luden im Rahmen der Vorstellung der H145 LUH SAR und der sonderlackierten Bell UH-1D "Good bye Huey" ein. Der Tag startete mit einem Vortrag durch Oberst Peter Göhringer, dem Regimentskommandeur.
The German Army Aviation (Heeresflieger) base in Niederstetten invited for the presentation of the new helicoptertype H145 LUH SAR and the special painted Bell UH-1D "GoodbyeHuey". The day started with a speach of Commander Colonel Peter Göhringer.
Zu Beginn wurden die Strukturen des Transporthubschrauberregiments (THR) 30 dargestellt. Die Aufgaben der verschiedenen Staffeln mit den Typen NH-90, H145 LUH SAR und der Bell UH-1D wurden erklärt. Ein besonderes Augenmerk war der Vergleich zwischen der zivilen Luftrettung, dem Such- und Rettungsdienst (SAR) und die Verteilung der Stationen der Bundeswehr.
During the presentation he showed the structures of the Transporthelicopterregiment 30, the tasks of the different units and their different types of helicopter NH-90, H145 LUH SAR and Bell UH-1D. One main goal for the commander was to show the differences between the civil Air Rescue and the Search and Rescue (SAR).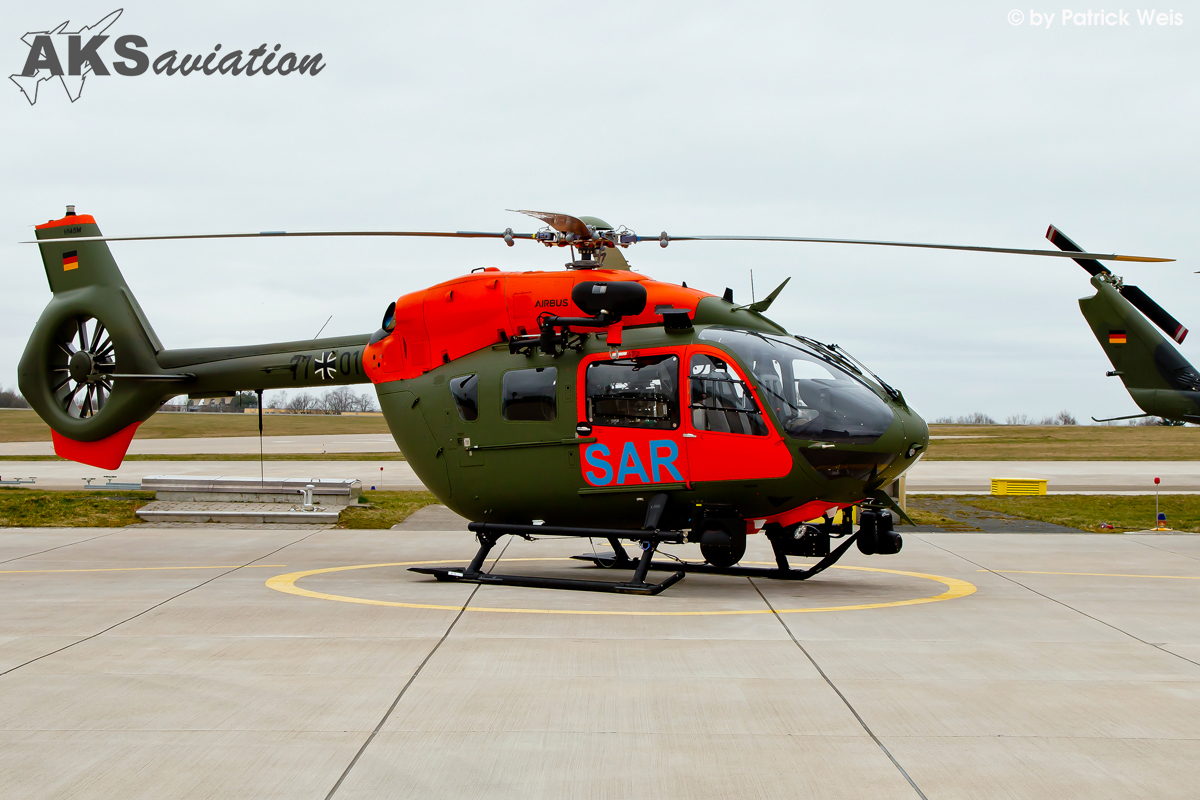 Durch den Generationswechsel von der altbewährten Bell UH-1D zum H145 wurden die neuen Technologien und Möglichkeiten dargestellt. Fünf der sieben neuen H145 werden bis Jahresende 2020 und zwei im ersten Quartal 2021 ausgeliefert. Das erste SAR Kommando das auf das neue Muster wechselt wird Niederstetten im Juli 2020 sein. Ende 2020 wird das Kommando in Nörvenich auf den H145 umgestellt, gefolgt von Holzdorf im Frühjahr 2021. Hierzu werden 53 Piloten und 25 Luftrettungsmeister auf das neue Muster H145 umgeschult.
Trough the change of generation the well-tried Bell UH-1D to the new H145 he showed the new possibilites and technologies of the new helicopter in compare to the old one. Five of the new helicopter will be delivered until the end of 2020 and the remaining two in the first quarter of 2021. The first SAR comando to change to the new helicopter will be Niederstetten in Juli 2020. It will be followed by Nörvenich end of 2020 and Holzdorf in April or May 2021. Therefor 53 Pilots and 25 Air Rescue Assistents will be trained on the H145.
Der Wechsel auf das neue Muster leutet dadurch auch leider das Ende der aktuell noch verbleibenden 25 Huey´s ein. Damit geht am 30.06.2021 ein lange Geschichte der einst ca. 340 Bell UH-1D bei der Bundeswehr zu Ende. Der Huey diente insgesamt über 2,3 Millionen Flugstunden erfolgreich in der Truppe und war mehrere Jahrzehnte ein verlässliches Arbeitstier bei der Bundeswehr.
Changeing to the new type is also sadly the end of the remaining 25 Huey. With that a long history will come to an end at the 31st of June 2021. The Bundeswehr had about 340 Huey in their fleet since 1967 and flew over 2,3 Million flying hours on it. A really reliable helicopter will leave the fleet after more than five decades.
Ein trauriges Ende des sehr beliebten Hubschraubers wurde würdig mit einer Sonderlackierung zelebriert. Diese wird bis Anfang November 2020 eine große Tour durch Deutschland, Österreich, der Schweiz und Italien machen. Die aktuellen Termine können unter www.goodbyehuey.de nachgesehen werden. Eins wird definitiv sicher sein, wo die bunt lackierte Maschine landet, werden die Augen auf Sie gerichtet sein.
The sad end of the very popular helicopter will be celebrated with a really nice special livery for it´s retirement. The Huey will make a big farewelltour trough Germany, Austria, Switzerland and Italy till early November 2020. The dates where it will show up can be looked up at http://www.goodbyehuey.de. All eyes will always be on the Huey wherever it lands.