Bereits 2017 konnten wir die erste Bell 206 Jet Ranger von Motorflug Baden-Baden im Dienst des Internationalen Hubschrauber Ausbildungszentrum in der Luft begleiten. Nach den Feierlichkeiten der NATO in Geilenkirchen trafen wir die Bell in der Nähe der ehemaligen Bundeshauptstadt Bonn. Einige Kilometer den Rhein entlang bis zum Drachenfels war unser gemeinsamer Weg.
As early as 2017, we were able to accompany the first Bell 206 Jet Ranger from Motorflug Baden-Baden in the service of the International Helicopter Training Center Bückeburg, in the air. After the NATO celebrations in Geilenkirchen, we met the Bell near the former capital of Germany, Bonn. A few kilometers along the Rhine to the Drachenfels was our common path.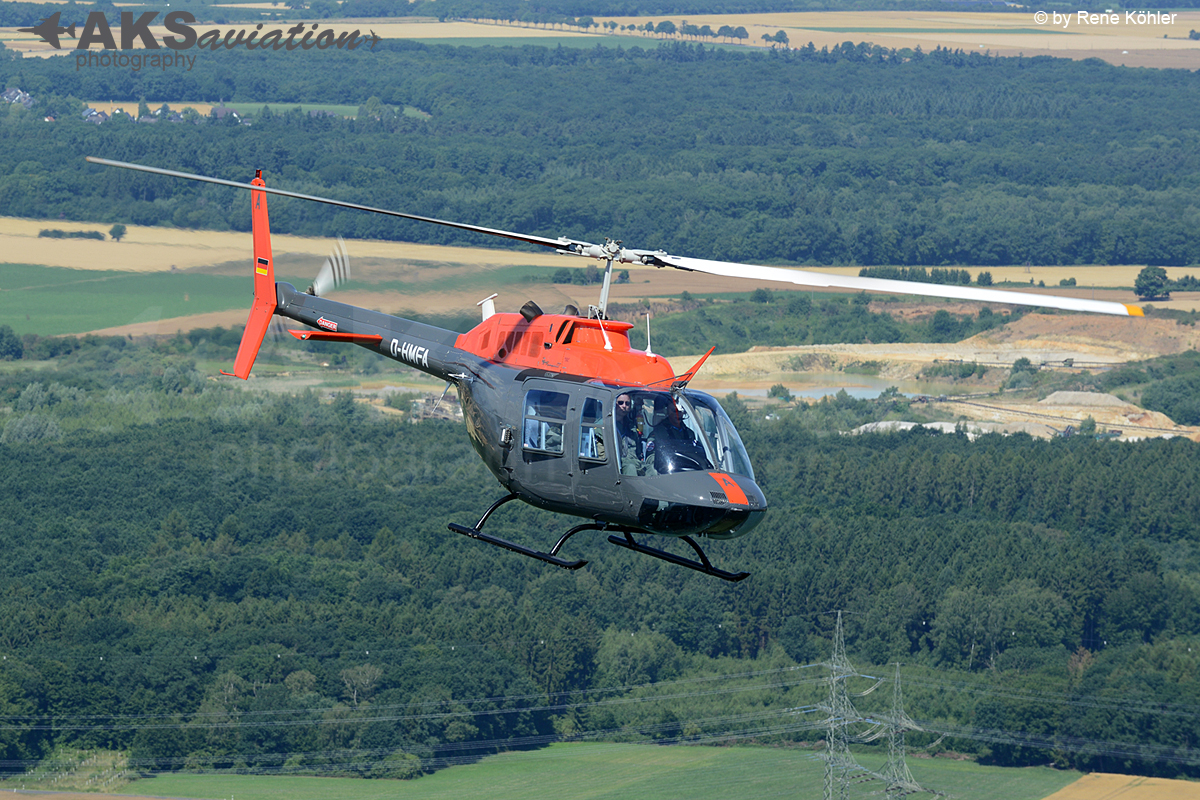 Etwas mehr als ein Jahr später trafen wir erneut auf die Jet Ranger. In diesem Falle waren es gleich drei Bell´s. Nach der Planung ging es früh morgens von Rheine Richtung Bückeburg. Der Heeresflugplatz auf dem wir schon häufiger zu Gast waren. Kurz nach dem Start konnte man schon das Kraftwerk in Lahde in direkter Nachbarschaft der Heeresfliegerwaffenschule erspähen. Nach etwa einer halben Stunde Flugzeit nahmen wir Kontakt zum ersten Jet Ranger auf. Als dann schließlich drei Helis in Sichtweite waren staunten wir nicht schlecht, dass sie ohne hintere Tür unterwegs waren. Bei Außentemperaturen um die 30° Celsius aber vollkommen nachvollziehbar. Nach einigen Minuten nebeneinander in der Luft gingen wir nach Bückeburg zur Landung und die Jet Ranger machten ihr Autorotationstraining in Düdinghausen. Nach der Landung hatten wir ein wenig Zeit, denn wir warteten auf unseren nächsten Fotoflug zusammen mit einer polnischen Mi-17AE.
A little bit than a year later we met the Jet Rangers again. In this case it were three Bell's. After planning, we flew from Rheine towards Bückeburg early in the morning.Bückeburg, the Army Airfield we have been to many times. Shortly after the start, the power plant in Lahde could be spotted in the immediate vicinity of the Army Aviation School. After about half an hour of flight time, we contacted the first Jet Ranger. As three helicopters were in sight, we were amazed that they were flying without a rear door. At outside temperatures around 30 ° Celsius, completely understandable. After a few minutes side by side in the air we flew to Bückeburg for landing and the Jet Rangers did their autorotation training in Düdinghausen. After landing we had a little time because we were waiting for our next photo flight together with a Polish Mi-17AE.